Thunderbirds-R-Us; Miliband to join International Rescue Team.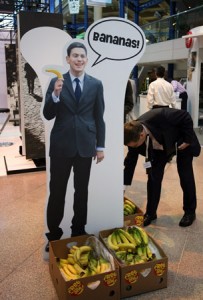 The Brain drain continues. David Miliband, the geeky brother, the one with personality, fully formed ideas and a smidgen of decency about him, has decided to throw in the towel. There is no future in Labour for such a man. Hopefully, there is no future in Labour. Full Stop. The next election will see the comedic creatures of Ed Miliband and Ed Balls still side by side. At least the cartoonists will be delighted. The Tory party too.
The inevitable by-election in South Shields will see a full return to old Labour, the Union hard men uniting behind the chosen one.
South Shields has changed since the days of the Jarrow march and men whose wives pawned their Sunday suit on a Monday morning to feed the bairns. The last ship builder closed in 1984, the last coal mine in 1993. These days the workforce is more likely to be employed in a call centre, and where once the unemployment rate was the highest in the UK, it is now a more respectable 7.8%. Coca Cola, Marks and Spencer's, Vodophone, all vie with each other to snap up anybody prepared to work. These aren't necessarily the sort of companies that attract the type of people likely to blindly vote labour because of their working conditions. They may have other concerns.
Already UKIPs odds have been slashed from 20/1 to 7/1 to win in South Shields. Cllr. David Potts, the former Conservative councillor, has joined UKIP and become their first UKIP councillor in South Tyneside. They will be hoping to build on that start.
Though ironically, South Shields was one of the most successful examples of immigration in British life.
Back in 1909, the local ship building industry was creating a shortage of sailors, and sailors from Yemeni were encouraged to make their home in the area. Tramp steamers – ships that plied irregular routes and required crew willing to work for long periods – were unattractive to European sailors. Into this breach Yemeni workers willingly stepped from what had recently become the Aden British protectorate. Because civic authorities feared cultural mixing, seamen of all nationalities were barred by law from residing in private lodgings with local families. T'was ever thus. They established their own lodging houses, which quickly became a hub for financial transactions, and news of upcoming jobs – though these were mainly below decks, shoveling coal into the furnaces. Near 700 of them perished during the war, unable to escape the torpedoes from their place in the bowels of their ships. When the war ended, instead of being regarded as returning servicemen or British subjects with rights, they were reclassified as 'coloured aliens', barred from receiving welfare and sometimes deported. With a depressed shipping industry and a labour market bloated by demobilised British service personnel, Arab seamen even became the targets of popular hostility.
Thus began one of the very first Muslim communities in Britain. By some estimates, more than one-third of the town's 1911 population was born outside England or born to immigrant parents.
Possibly not the best place in the world for UKIP to campaign on an anti-immigration ticket….



March 29, 2013 at 12:50




March 28, 2013 at 08:51







March 28, 2013 at 08:41




March 27, 2013 at 23:32




March 27, 2013 at 22:17




March 27, 2013 at 20:48







March 27, 2013 at 19:58







March 28, 2013 at 02:42










March 30, 2013 at 00:02










March 27, 2013 at 13:12







March 27, 2013 at 11:32












March 27, 2013 at 11:14







March 27, 2013 at 09:46