For Huhne, the Pryce of Justice.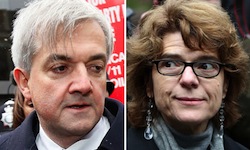 When you're caught in speeding car
Makes no difference who you are
If she takes your points, she gains
A hold on you.
Later when you dash her dreams
You'll regret your foolish schemes
When you cheat you'll come unstuck
As schemers do.
Fate's unkind
She brings to those who cheat
The just fulfillment of their secret wronging.
Like a bolt out of the blue
Fate steps in and runs you through
When you wish your points on her
The joke's on you.
March 20, 2013 at 22:12




March 20, 2013 at 21:29




March 19, 2013 at 12:54




March 19, 2013 at 12:23










March 19, 2013 at 12:11




March 19, 2013 at 12:10







March 19, 2013 at 10:00




March 19, 2013 at 09:56