British Pensioners in 'Third of your Pension' haircut shocker!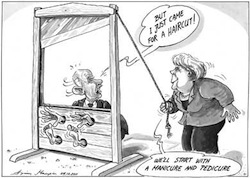 You don't remember that headline, No? Probably because it was never written.
There are around 33,000 British Pensioners in France, where the Euro has been devalued against the pound sterling by a third over the past six or seven years. That means that British pensioners living here, many of whom have only their state pension, have taken a 'haircut' of 33% of their weekly income, as the UK has manouvered itself in the global money markets. The only time the UK press cared to address the matter was with sarcastic articles implying that all Brits live a life of ease, besides the obligatory swimming pool, sipping Sangria…
However, on behalf of 12,000 British pensioners in Cyprus, where the Cypriot government has threatened them with a 6.75% – 9.9% haircut on their savings, not on their weekly income, but on their excess savings – the media is in a furore! The Government is threatening to stop sending their pension to Cyprus to 'save it from being stolen by the EU bandits'!!! The headlines are full of the desperate plight of those poor pensioners…
I love the smell of fresh hypocrisy first thing in the morning.
There is absolutely no difference to your weekly shopping ability between a state imposed 'tax' (albeit if it is in exchange for 'gas tokens'), a dramatic drop in exchange rate in response to the monetary policies imposed by your Mother country, a freeze on pension increases (also imposed by your Mother country, unless you are lucky enough to be protected by European law) or for that matter, 'Quantitative Easing' devaluing your savings – at the end of the day, you are but a pensioner with less money to spend on looking after yourself.
Would somebody please explain to me in very simple terms, why it is the plight of the British pensioners in Cyprus, who have benefitted from extremely low rates of taxation on their pensions all these years, that has suddenly found itself the grateful recipient of outraged articles penned by our main stream media?
Why not the pensioners living on derisory frozen pensions in non-European countries?
Why not the pensioners living in Europe who have seen the rate of exchange drop dramatically?
Why not the pensioners living in Britain who have seen their pensions devalued by ridiculously low interest rates and Quantitative easing?
What is it about those 12,000 British pensioners living in Cyprus that has suddenly made the government care about the plight of British pensioners and the value of their savings?
Is one of them Cameron's Mother or something?
Answers please, I'm puzzled!
March 22, 2013 at 11:37







March 20, 2013 at 21:43







March 20, 2013 at 20:05







March 20, 2013 at 17:18







March 20, 2013 at 18:22









March 19, 2013 at 20:32









March 19, 2013 at 22:35







March 19, 2013 at 23:18










March 19, 2013 at 23:19




March 19, 2013 at 17:53










March 19, 2013 at 18:57







March 19, 2013 at 20:09







March 19, 2013 at 20:50










March 20, 2013 at 08:18







March 19, 2013 at 17:41




March 19, 2013 at 16:18







March 19, 2013 at 16:13







March 19, 2013 at 16:03










March 19, 2013 at 14:21












March 19, 2013 at 13:43







March 19, 2013 at 13:40









March 19, 2013 at 13:04







March 19, 2013 at 13:02




March 19, 2013 at 13:01







March 19, 2013 at 20:43







March 19, 2013 at 12:56