In-Out; In-Out; In-Out; Nu-Labour; Old Ahmed.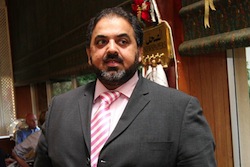 This is where I came in, or rather where I originally fell down the rabbit hole…..it seems a lifetime ago.
Nazir Ahmed and Phillipa Curtis. Nazir on the M.1; Phillipa on the A.40. Both driving at 70 miles an hour. Both had been texting on their mobile prior to hitting a stationary car. Both crashes resulted in the death of the driver of that stationary car.
Phillipa received a 21 month sentence for causing death by dangerous driving. Vera Baird, then Solicitor-General for Nu-Labour thought that this was unduly lenient, and had asked the Court of Appeal to look again at the sentence.
Nazir received a 12 week sentence for dangerous driving… Vera Baird, then Solicitor-General for Nu-Labour, and friend of Nazir Ahmed, didn't think that this was unduly lenient, indeed was so offended by my drawing a parallel between these two cases that she descended on my humble and very new blog to spout out in his defence. It caused a minor stir in blogland at the time…
In the event, Nazir was out of prison in a record 16 days – because being in prison 'would hinder Lord Ahmed's work building bridges between the Muslim world and others'. We will never know what Phillipa's time in prison would hinder, no one was interested…
He was suspended by the Labour party for every one of those 16 days – but reinstated on his release.
We do know, however, much of Nazir's work building bridges 'between the Muslim world and others'. That same year that he demanded to be freed to continue 'building bridges', he was claiming that Jewish student groups were actively recruiting young British volunteers to fight in Gaza with the Israeli army and called for them to be prosecuted for war crimes on their return to the UK. There has been no call by Nazir for young British Muslims fighting abroad to be prosecuted for war crimes on their return to the UK.
He does have a bit of a 'thing' about war crimes. He was suspended by the Labour party again in 2012 for allegedly calling for a 'bounty' on the head of George Bush and Barack Obama as war criminals. He was reinstated after it was found that 'all' he had said was:
"Even if I have to beg I am willing to raise and offer £10m so that George W Bush and Tony Blair can be brought to the International Court of Justice on war crimes charges".
Please note that I am therefore positively NOT calling for a bounty on Nazir Ahmed's head when I say that I am willing to raise money so that he can be bought to trial for his latest attempts to build bridges between the Muslim world and others…..
He has been suspended by the Labour party yet again today for remarks he made in Urdu in Pakistan (his birthplace) last year. He had apparently overlooked the fact that Ed Miliband may be a dyed in the wool Marxist, but he is also Jewish…
He claimed in that speech that his derisory 16 days in prison was as a result of a Jewish conspiracy. The original District Judge had actually referred his case to the Crown Court because he felt that his maximum available sentencing powers of six months were insufficient under the circumstances and the Crown Court was able to pass sentence of up to two years for the same offence. Please note that Nazir had pleaded guilty to the charge of dangerous driving.
Inside Nazir's conspiratorial mind, the fact that the Crown Court Judge, Mr Justice Wilkie, only gave him one sixth of the available sentence, was not evidence of leniency beyond belief, and precisely half of the sentence that the magistrate thought insufficient, but of 'pressure brought to bear by Jewish owners of newspapers and television channels placed pressure on the courts to punish him more severely than was warranted by his offence'.
The proof of this Jewish conspiracy appears to be that Mr Justice Wilkie 'was sent from London' to carry out this sentence, since 'no Crown Court judge, circuit judge or Recorder would agree to deliver his punishment'. That's odd in itself, since Mr Justice Wilkie was the Presiding Judge of the north-eastern circuit (which includes Sheffield Crown Court) at the time and absolutely the right person to have heard his case…
He also claimed that his conviction 'was overturned' – no it wasn't. The appeal court made a point of saying that the prison sentence was justified and that there should not be "one law for the rich and powerful and one law for the rest". They did agree to suspend the sentence so he could carry out his essential work of 'building bridges between the Muslim world and others'. 'Others' obviously doesn't include the Jewish community.
Nazir Ahmed was a humble shopkeeper in Rotherham, who had stood for parliament as an MP – and failed. Tony Blair made him a Life Peer to save him the trouble of getting elected…had he made his inflammatory anti-Semitic remarks in the UK, he might have been prosecuted under the Public Order Act 1986.
As it is, he is now a Life Peer of the noble House of Lords, and we mugs have to work to support his habit of traveling back to Pakistan to rail against 'Jewish conspiracies' which resulted in him spending all of 16 days in prison.
The Public Order Act 1986 doesn't extend to offences occurring outside of the UK. Nor do we seem to have any way of ridding ourselves of this loathsome Peer. Piece of luck eh Ahmed?
Since I am also out of the UK – the Public Order Act 1986 doesn't apply to me either. Ahmed is a rancid little racist, a member of the worst conspiracy to ever visit itself on the UK.



March 16, 2013 at 01:54




March 16, 2013 at 01:55




March 15, 2013 at 13:34







March 14, 2013 at 20:56




March 14, 2013 at 19:40







March 14, 2013 at 19:35










March 14, 2013 at 20:53




March 14, 2013 at 23:18




March 14, 2013 at 19:06







March 14, 2013 at 17:23







March 14, 2013 at 17:13







March 14, 2013 at 17:00










March 14, 2013 at 17:00