Re:Joyce in the Value of Restorative Justice!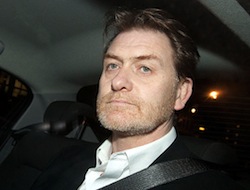 Who says Community Service doesn't work? Why for a whole year Eric Joyce, the charming Scottish MP for Falkirk, stayed out of trouble after being fined £3,000 and ordered to pay his victims £1,400 in compensation following a drunken brawl in the House of Commons Bar. Joyce admitted getting 'hammered' in 2012 and swinging punches at four Tory MPs. It took eight police officers to get him out of the bar into a police van, leaving a trail of broken windows and bloody noses behind him.
It hasn't happened again for an entire year. Until last night…
Last night it took twelve police officers to get him out of the House of Commons bar and into a police van. Is Eric getting drunker these days or are the boys in blue getting weaker?
This time he became overwrought at a Karaoke party in the House. Who knew that this was how our politicians spent their time – screeching 'I will survive' into a crackley microphone? The evening ended with Eric in an undignified rugby scrum on the floor as Eric attempted to put a policeman in a headlock….
Eric is yet another MP suspended from the Labour party – even they have some standards. Incidentally, since Eric was accused of inappropriate sexual behaviour with a 'child' – why are't the main stream media producing photographs of him with bulging eyes this morning and claiming 'Paedophile Joyce arrested again'. An accusation is all it takes isn't it? Ah, but Eric is still alive. Silly me.
On the subject of disgraceful ex-Labour MPs, (a crowded field) I am indebted to my commentator 'Brian' who gave me a link to a fuller article on Phillipa Curtis. It seems that Ms Curtis had also stopped texting 'just minutes' before the accident which resulted in the death of Tori McBryde. Now the fact that Nazir Ahmed was shown to have stopped texting just two minutes before the accident which killed Martin Gombar was the very point which got Vera Baird, then Solicitor-General, so agitated she lowered her august self to the level of this humble blogger to publicly tick me off for comparing the two cases. I'm fast coming to the conclusion that Nazir Ahmed has a point, there may very well have been a conspiracy involved in his sentencing – just not a Jewish one. Two deaths, two motorists doing 70 miles an hour, two motorists texting up to minutes before a fatal accident – one has the Solicitor-General intervening to ask for a 21 month sentence to be increased, one has the same Solicitor-General intervening to say that, in effect, 16 days was perfectly reasonable, 'quite different cases'.
The only difference I can spot is that the CPS made different decisions on charging – I would like to know why? Random event or Conspiracy? Surely the fact that Nazir Ahmed was a friend of Vera Baird's couldn't account for the difference?






March 15, 2013 at 22:13







March 16, 2013 at 17:17




March 15, 2013 at 13:55










March 15, 2013 at 11:09










March 15, 2013 at 11:53







March 15, 2013 at 09:21




March 15, 2013 at 09:19










March 15, 2013 at 08:33







March 15, 2013 at 22:56