Miss Piggy does Porridge.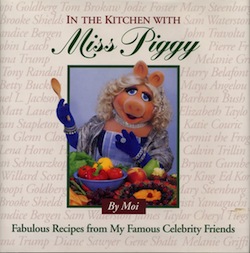 You know where you are when Miss Piggy minces onto your plate encased in her own duodenum; but when the Blonde Mangalitsa arrives in a burger that you have been assured by the 'highly respected' BBC is 29% 'My Lidl Pony' your average Jihadist recoils in horror. There are some tenets of the Koran that simply can't be broken; not when a government agency can be sued for damages.
The Islamic suicide bombers on 'D' wing are in uproar this morning; not only locked away from the 72 virgins they had been grooming, but fed 'traces of pork DNA' in their burger and chips by the infidel prison authorities.
When Shergar turned up in our burgers, Tesco's was still flogging (a dead horse) a week or so later; the prison authorities have reacted with more alacrity. No sooner had the dawn broken over Wandsworth prison, than the Ministry of Justice's contract with the firm supplying them with Halal meat was suspended.
Juliet Lyon, director of the Prison Reform Trust, said: "This lapse will have offended and distressed high numbers of Muslim prisoners and their families so apologising, suspending the supplier and investigating the incident are the right steps for the Ministry of Justice to take."
I am puzzled as to how this 'lapse' was discovered, for the BBC web site says:
[…]the results of the tests, undertaken by an independent agency, became known on Thursday.
A spokesman said: "All prisons have been informed about this very regrettable incident and we reported this issue to the Food Standards Agency immediately.
Surely it is the Food Standards Agency which is the expert body to conduct these sort of tests? Anybody know who was the 'independent agency', and who was paying them to uncover this 'scandal'?
I find it hard to believe that the Muppets at the cash strapped Ministry of Justice decided 'out of the blue' to check that those in its care (who had already broken a multitude of Koranic laws) were being fed in accordance with those beliefs?
I smell Porkies.



February 4, 2013 at 09:58




February 3, 2013 at 15:36







February 3, 2013 at 15:25




February 2, 2013 at 19:13




February 2, 2013 at 18:37







February 2, 2013 at 14:42










February 2, 2013 at 14:49




February 2, 2013 at 14:03










February 2, 2013 at 14:46




February 2, 2013 at 13:27







February 2, 2013 at 13:15




February 2, 2013 at 12:28







February 2, 2013 at 12:26







February 2, 2013 at 11:31










February 2, 2013 at 12:10




February 2, 2013 at 12:18







February 2, 2013 at 18:05




February 2, 2013 at 10:53










February 2, 2013 at 10:44










February 2, 2013 at 11:01







February 2, 2013 at 10:37




February 2, 2013 at 09:57










February 2, 2013 at 18:02







February 2, 2013 at 09:44










February 2, 2013 at 17:58




February 2, 2013 at 09:30









February 2, 2013 at 08:14







February 2, 2013 at 09:45