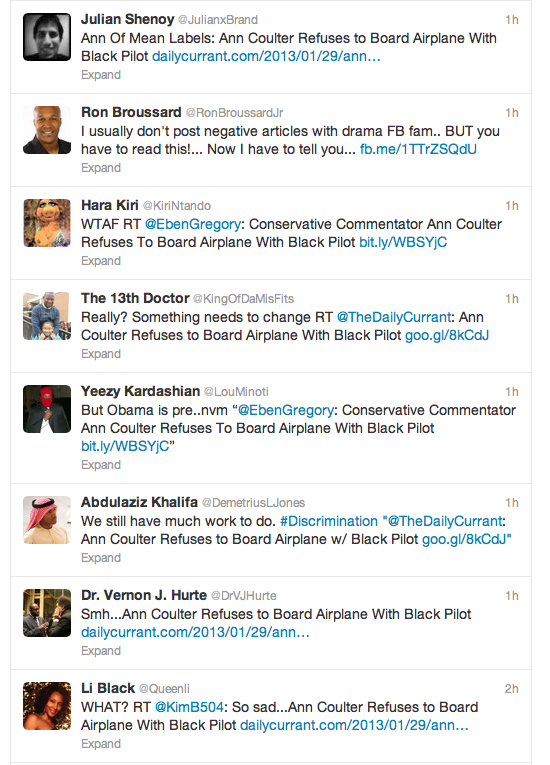 In clinical psychology, a phobia is defined as an unreasonable, exaggerated fear of an object or situation, causing anxiety and distress. Typically, phobias are distinguished from genuine fears by their irrationality: think of your great-aunt Molly, who used to break out in hysterics every time a completely harmless daddy long-legs crossed her path, or was deathly afraid of heights. Lately, the language of phobias has been used to describe dislike and hatred for certain social phenomena — homophobia, xenophobia &c. — as a reflection of the idea hitherto unconfirmed that all hatred comes from fear. The new clinical entity I propose, however, is more akin to good, old-fashioned unreasonable fear.
Just as an arachnophobic will believe tales of man-eating spiders, conservophobics will believe the strangest of tales, and repeat them with utter conviction. This played out just this week in relation to an article in the Daily Currant, a fake news magazine of the same genre, but hardly the same quality, as the Onion. According to the article, right-wing commentator Ann Coulter — she of the rather questionable taste and sense — refused to board an airplane after learning that the pilot was black, fearing he had received his pilot's license by affirmative action. The article was, of course, in bad taste — however, that's Daily Currant's job. What the job of the conservophobic left would have been was to check whether a site named the Daily Currant (yes! currant! not courant!) could, perhaps, just perhaps, be a joke site (because something named after a berry is probably right on par with major newspapers in authenticity). Left-wing twitter posses retweeted and repeated the fake story *ad nauseam*, as one would expect, without even having a sense for the over-the-top humour of the article.
That, so far, is not conservophobia, it's just plain stupidity and the result of a life filled with vituperative bitterness and devoid of humour. Where conservophobia comes in was the sincere belief that this could be, in fact, true. Conservophobia is not merely fear, it is also an irrational conviction that anyone who is an avowed conservative is capable of just about every wrong on the planet. And in a world where the lie could bounce off a dozen of syndicated news websites before the truth has tied its laces and posted its refutation, vast, uneducated masses believe phantasmagories of Romney wanting to ban tampons and 'gun nuts' heckling a father who lost his child in the Newtown massacre. The remarkable thing here is not that such nonsense is dreamed up — the remarkable thing is that there are people who have been so deeply ingrained to fear conservatism that they would readily believe its adherents to be sub-human, man-eating, poor-mincing, slave-driving, blood-sucking fiends toasting each other with the tears of orphans from goblets made of the skulls of secretly murdered benefit claimants. Or something.
Conservatives want to reform the benefits system? Conservophobes immediately paint pictures of the 'grey buses' of Nazi Germany's 'euthanasia' (read: mass murder) programme for the mentally disabled, and shamefully appropriate the black triangle, the identification symbol in concentration camps for those designated as 'asozial': the 'habitually work-shy', alcoholics and, often, the socially marginalised — because to the mind overtaken by conservophobia, it is perfectly reasonable that if today the government of a country party to more human rights treaties than I could readily list here decides to make small cuts to certain benefits, tomorrow all disabled will be herded into gas chambers. Of course, conservophobes — like everyone with a phobia — are easily led, and it took little more than some allusions to Nazism by certain political interests and their spokespersons who style themselves as 'campaigners' and 'activists' to make conservophobes immediately apprehend their deportation and an impeding holocaust.
Conservatives want to limit federal funding for abortion? Conservophobes immediately plaster their rhetoric with abundant mentions of coat-hangers and regression to the 19th century and talk of a 'war on women'. Conservatives want individual responsibility for health-care? Conservophobes bring up the age-old caricature of the wealthy, privileged conservative who wants the poor to wither and die. Conservatives want to protect the constitutional right to keep and bear arms (right or wrong, it *is* in the Constitution)? Conservophobes parade victims of the school shooting in a sickening sideshow with mock heartbreak and crocodile tears, safe in the knowledge that their assault rifle-wielding bodyguards will be the last to be disarmed (if ever).
The shame in generations of conservophobes brought up by other conservophobes filling the state educational system is that they never learn about what it really is they hate. They cannot, may not, ever, learn who the enemy is, what the enemy wants, what the enemy loves and what it disdains. Arachnophobes will not sit down and read "All You Ever Wanted to Know About Spiders". Conservophobes, then, will never learn more about conservatism than their masters and handlers permit them to. For knowledge is a dangerous thing. Knowledge of one's opponent — enemy! — breeds compassion. As Longfellow wrote, "if we could read the secret history of our enemies, we would find in each person's life sorrow and suffering enough to disarm all hostility". If those staunch haters who denounce Coulter could for one moment see her as a person, they would find common humanity with her, and would hardly believe a silly hoax about not boarding an aircraft because the pilot was black.
It appears conservophobia is now an epidemic engulfing the Western world, to the point that satire websites have to make it clear that they are actually satire, lest they be taken seriously by conservophobes (a new low for satire). An oft-repeated point in the rage- and death threat-filled tweets of the tolerant, 'new tone' left was how much Coulter needed psychiatric care. Perhaps, in view of the events, it is not her but the conservophobes who condemned her without scrutinising the evidence that need to seek treatment for their conservophobia.
I suggest they start with a good dose of George Santayana.
February 4, 2013 at 07:55

February 5, 2013 at 01:23

February 2, 2013 at 23:51

February 2, 2013 at 18:09

February 2, 2013 at 10:43

February 2, 2013 at 12:48

February 2, 2013 at 09:20

February 2, 2013 at 01:48




February 1, 2013 at 11:53

February 1, 2013 at 21:33




February 1, 2013 at 08:25

February 1, 2013 at 00:29




January 31, 2013 at 22:19




January 31, 2013 at 22:02

January 31, 2013 at 20:37

January 31, 2013 at 20:31




January 31, 2013 at 19:51

January 31, 2013 at 20:11




January 31, 2013 at 21:12




January 31, 2013 at 23:36




February 1, 2013 at 12:34




February 1, 2013 at 20:06

January 31, 2013 at 18:38

January 31, 2013 at 18:55

January 31, 2013 at 19:44




January 31, 2013 at 20:21




January 31, 2013 at 23:48

January 31, 2013 at 19:00

January 31, 2013 at 19:55

February 1, 2013 at 08:18




February 1, 2013 at 17:17

February 1, 2013 at 12:59




February 1, 2013 at 17:19

February 1, 2013 at 18:32

February 1, 2013 at 19:18




February 1, 2013 at 20:09

January 31, 2013 at 17:53

January 31, 2013 at 16:36

January 31, 2013 at 19:14




February 2, 2013 at 00:09

February 2, 2013 at 01:50




February 2, 2013 at 11:00

February 2, 2013 at 13:05




February 2, 2013 at 17:00




February 2, 2013 at 18:50

February 2, 2013 at 23:42

February 2, 2013 at 23:48