Femspot: Sex on Roller Skates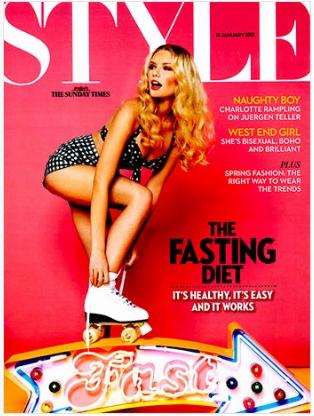 I'm a huge fan of the silliness which can easily find it's way into over-literal analysis from a feminist viewpoint.
This is what "Joanna Allan", the blogger at Your Daughters Will Be Next, had to say about the cover pictured above after spelunking through the Style Section of the Sunday Times for January 13th:
Cover: Photo of a skinny woman who is posing as if she is expecting to be penetrated from behind, penetrated orally and penetrated in her visible cleavage, and who, implicitly, is presently on "the fasting diet"
There is a notable absence of any images of the cover from Joanna's post. It takes about 45 seconds to find one, and my copy is above.
Could it be because the poor girl on the cover is on roller-skates, thereby making the allegation that she is presenting herself for oral, doggy-style or boobjob sex slightly untenable?
I've never tried having sex in these circumstances, but I'm sure it would be an experience.
There's also this:
p. 37: advert for a car whose seats mimic the curves of an attractive woman
If anyone has the paper, I'd love to know what kind of car it was, as I imagine a pair of foam boobs in my back while driving would hardly help with comfort.
The only car part I've ever seen regarded as copying a woman's anatomy were the headlight covers on a Fiat Coupe, as noted over at fiatcoupe20v.co.uk: This is going back almost (Ye Gods!) 25 years.
You can read the rest of the 'snarky and sarcastic' piece here.
Warning: there are 1100 words of feminist lucubrations.
.



February 5, 2013 at 11:39







February 4, 2013 at 20:51







February 3, 2013 at 16:16




February 3, 2013 at 14:51







February 3, 2013 at 19:07




February 3, 2013 at 14:28




February 3, 2013 at 12:33










February 3, 2013 at 12:28







February 4, 2013 at 01:16




February 3, 2013 at 11:56










February 3, 2013 at 12:21







February 3, 2013 at 13:33










February 4, 2013 at 00:09




February 3, 2013 at 23:27










February 4, 2013 at 00:01




February 3, 2013 at 11:38







February 3, 2013 at 11:19







February 3, 2013 at 11:18










February 3, 2013 at 10:48




February 3, 2013 at 10:12







February 3, 2013 at 10:43




February 3, 2013 at 10:01




February 3, 2013 at 09:19