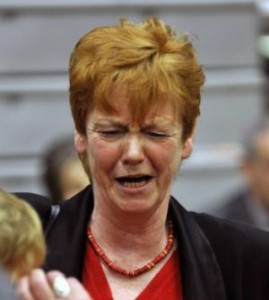 A rare moment of truth for Vera….
Apologies, but it's Our Vera yet again.
It used to be that Council chiefs sat round a table with the police authority and decided together how much local residents could afford to pay for their Police service.
Vera has changed the rules. She announced via the local newspaper that she intended to force through a 3.5% increase on the council tax to pay for her plans to 'improve' police services. Around £3 per household.
Outraged councillors, including some Labour colleagues, are furious – they are trimming services left, right and centre to avoid increasing local taxes for hard pressed residents – and Vera has already taken over £10 million from the £45 million in the Police Reserve Fund.
This is what you get when you politicise the Police.
Can anybody point me to figures showing the Reserve Police Fund, county by county? Can any informed coppers tell me what the Reserve Fund is supposed to be used for and who should have control of it?
February 4, 2013 at 00:00




February 2, 2013 at 17:26







February 2, 2013 at 15:54







February 2, 2013 at 15:30







February 2, 2013 at 13:37