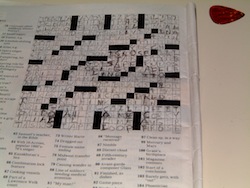 And as the snow lies crisp and even…what will you be doing today?
One of the few pleasures of Olde Englande that I genuinely miss and am unable to replicate in any form here in the Dordogne – even Baked Beans can be conjured up from a tin of Haricot Blanc a la Tomate with a spoonful of tooth rotting sugar added, and guests can be prevailed upon to fill their suitcases with Yorkshire Tea Bags in place of a change of clothes (who cares if the guests then smell, they are like fish anyway, four days after arrival they should be thrown out and my morning cuppa is non-negotiable) – but the Sunday Times crossword on a freezing Sunday afternoon when it is too cold to do anything else is irreplaceable. Paying Five Pounds for a crumpled copy of half the ST on a Monday is just not the same.
Preferably, said copy of the ST should thud – quietly – through the door around 8am, just in time to wake a partner (but not yourself) and send him in search of the kettle so that he can deliver hot buttered toast and an ironed copy of the ST around 8.30. Unfortunately, even when I left England, the newspaper boy was going the way of affordable chimney sweeps – ours was driven by his Mother in a Rolls Royce, no less, for fear that he might get cold, wet or molested on his rounds…
I would start with the Culture section and work my way through to the crossword. The pleasure of deciphering 'Father hit my leg, I see I never walked again' and arriving at 'PARAPLEGIC' with the aid of the pencil kept beside my bed is muchly missed. Though 'muchly' would never meet the strict Ximenean principles of the Sunday Times. The Sunday Times we get here 24 hours later – at twice the price – doesn't even have a culture section, just a 'Best of the culture section' reprinted on two or three pages. Snuggling up with a laptop under the bed clothes is progressivism too far for me. It turns Sunday into just another work day.
We are snowed in, frozen in even, here in the Dordogne. Mr G was leaping around at 5am looking for his torch and his boots to go up into the village and open all the sluice gates – the utter and unaccustomed silence had told him that the water was no longer flooding under our mill house but had backed up and was in danger of turning us into an island, marooned in ten acres of watery fields. Not a car stirs on the roads, there will be no market today, and we will all turn to living out of our freezers before the inevitable power cut robs us carefully stored supplies.
Unlike Britain, our news media will be telling us which roads are open, how to get from 'a' to 'b' without encountering too many problems, the children will still go to school tomorrow – some of them will walk, can you believe, along country roads with no designated footpath! – life will not come to a full halt. The British news is so defeatist – angry travellers swearing blind they will never go on holiday by British Airways again since a mere foot of snow is sufficient to rob them of their Ibiza holiday for 24 hours. A triple dip recession predicted now the worshippers of Mammon cannot get to the shops for a day or so. Stories centered on the one man who had to wait hours for the rescue services to turn up after he ignored warnings not to drive unless necessary in favour of going to check his lottery ticket…
Here, the Maire will tramp round the village, checking on the old and infirm and call in the air ambulance to remove anyone who might be endangered by the power cuts – Oh, we know there will be one, and we all have candles and stores of wood at the ready. It won't come as a terrible shock, something 'unacceptable in modern Britain' – just the normal passage of unaccustomed weather patterns – when we moved here years ago, there were teenagers who had never seen snow in their entire lives. The French media don't seem to have the same determination to depress everybody…
I shall spend the rest of the day cooking any fresh food, turning eggs into pastries and quiches, in case I can't cook tomorrow. The hens are all huddled together in their coop, ignoring the cockerels cries to get up and enjoy the day, the geese have taken pity on the moorhens and allowed them to search for worms in their paddling pool, they've even allowed our disabled drake to get his leg over their precious Ailsa, our one and only duck that they normally guard like the virgin queen. The entire world is settling down to enjoy the day as best they can…
If I just had the Sunday Times crossword, life would be complete.
What will you be doing?
January 23, 2013 at 21:07




January 21, 2013 at 10:55









January 20, 2013 at 20:35




January 20, 2013 at 19:50




January 20, 2013 at 18:28







January 20, 2013 at 18:08







January 20, 2013 at 17:07










January 20, 2013 at 15:14




January 20, 2013 at 15:02




January 20, 2013 at 14:26







January 20, 2013 at 14:29







January 20, 2013 at 15:00




January 20, 2013 at 16:23







January 20, 2013 at 16:44







January 20, 2013 at 14:04




January 20, 2013 at 13:38




January 20, 2013 at 13:35










January 20, 2013 at 13:17










January 20, 2013 at 12:37







January 20, 2013 at 12:36







January 20, 2013 at 12:16







January 20, 2013 at 12:14







January 20, 2013 at 11:40




January 20, 2013 at 11:09













January 20, 2013 at 12:18







January 20, 2013 at 14:15















January 20, 2013 at 11:04










January 20, 2013 at 20:11