A Cyclo-Path crashes and burns…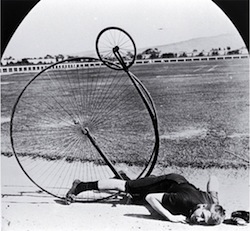 Quite some years ago, a friend recommended that I should read Lance Armstrong's autobiography, "It's Not About The Bike."
For many, including me at the time, it was an inspiring book. It chronicled Armstrong's childhood, his initially good but not originally extraordinary career as a professional cyclist, his battle with testicular cancer, and his recovery to ride in, and win, the world's greatest and probably toughest cycle race.
I had known next to nothing about the Tour beforehand, but I was hugely impressed with what I learned, and in awe of the riders, and amazed by the complexities of the tactics and strategies. Even more amazing was Armstrong's own battle to remission and recovery, which clearly involved extraordinary dedication and effort. He describes, and I have no reason to doubt this, how he rebuilt his body almost from scratch, closeted away in a remote bolt hole in France, aided only by the woman who was later to become his wife. He scientifically mapped his progress using state of the art computer programmes to work out the optimum nutrition and training zones. Slowly as he recovered his physique changed from the lean sprinter to the more powerful bull like powerhouse that was needed to triumph in the key Alpine stages of the Tour.
In many ways it was a very open and honest book, and Armstrong was fairly candid that he was not only an exceptional athlete (he has freakishly high lung and heart capacity, for example); I think he would also agree that he is a difficult, strong willed, indeed highly volatile, even dangerous and hot tempered individual, capable of extreme bursts of adrenalin fuelled anger. The subsequent break up of his marriage and his somewhat convulsive private life since came as no surprise to me.
As for drugs, I very well remember what Armstrong had to say about that. He was clean, he said. He put the matter this way: If you had been through chemo therapy, like I have, and all that went with it, how could you ever imagine I would put another chemical in my body?
Being a trusting chap, and not knowing a great deal more, I believed him. I found it a convincing point.
Now it may be that Lance Armstrong did not use drugs as part and parcel of his rehabilitation. I don't know. But he now admits he rode "dirty", because everyone was doing it, and that put him on the level playing field. From what I know this involved blood transfusions and enhancements during the race, and boosts of testosterone (one would have thought he had enough already) and other hormones to assist power and recovery.
I am not really fussed about that, in the sense that what people stuff in their bodies to achieve a winner's edge does not surprise me. I am not even that bothered about feeling a little let down.
What I do find disgusting about Armstrong is that he was and is a bully. Armstrong admits this, but in a very carefully manicured, PR shaped way:
"Yes I was a bully," Armstrong told Oprah "I was a bully in the sense that I tried to control the narrative, and if someone challenged that I would simply say 'that's a lie, and they are liars'."
No, that disingenuous. He was not a bully in "the sense that he tried to control the narrative". He was a bully in the sense of being willing to threaten, harm and destroy anyone who did not follow his personal agenda.
For example, in 1999 a young French rider called Christophe Bassons gave an interview in which he asserted that the top riders were still doping, and insisted on riding clean. In the 1999 Tour, he was ostracized. Armstrong was in the lead of organizing that, before ultimately Armstrong verbally abused and manhandled him during the race. It sounds a most threatening encounter. Bassons withdrew from the Tour, and ultimately from professional riding. Armstrong's former "soigneur" (masseuse and "PA"), a rather phlegmatic Irish physiotherapist called Emma O'Reilly spoke about his doping and faced a savage legal action with Armstrong demonising her as a prostitute with a drinking problem, and had her hauled into court. Ultimately, a legal settlement was reached. She has spoken about how Armstrong's brutal bullying almost wrecked her life personally and professionally. Anyone or any media organisation that threatened the Armstrong line received the same treatment.
Armstrong's crime in my eyes, is not taking drugs (ho, hum!) or telling fibs (hey ho!) but being a ruthless brutal sociopath who was perfectly happy to crush anyone who got in his way. I have a hatred of bully's from the years of it I endured as a teenager, until a couple of amateurish right hooks (more slaps really) brought an end to the affair. My lead tormentor was like many bullies; a coward at heart.
Not all bullies are sociopaths. I have a particular interest in sociopaths, having come across several people who I would regard as within that category both professionally, and regrettably, personally.
I would be interested to hear Raccoonistas views on this topic. There are various definitions that float around the web, but let me explain what I understand to be the defining characteristics. These individuals are usually of a reasonably high and often very high order of intelligence. Armstrong is not stupid. They can be unusually charming (which in the Armstrong case is probably not the case) but whether they are or not they are always highly manipulative. (Armstrong is; using his laudable fund raising for cancer as a shield was a logical and obvious strategy. But the defining characteristic is what I would call total selfishness and utter disregard for others. It is better expressed as a total lack of conscience. Sociopaths have an utter inability to have regard for anyone else's interests. Sociopaths don't run around killing people in Hannibal Lecter style (I suppose a few do, actually, but not many. There are other psychoses at work in such cases). Nor, I should imagine are sociopaths totally immune from emotions such as affection, even love. But a sociopath loves from his or her own perspective and agenda (what or who he or she wants). And a sociopath will do whatever he or she feels she needs to do to achieve their own defined self advantage. If that involved killing an unwelcome person, and the sociopath could be sure that the crime would be undetected, then that would be the logical course. Some innocent party's ruin, despair or disadvantage are really not relevant, provided there is no come back on them (in the sense of dis-opprobrium, for example).
As a consultant psychiatrist put it to me some time ago, sociopaths simply do not have that part of the mind or the brain which normally gives rise to the phenomenon of "conscience", "guilt" or concern for others. It is utterly missing.
Another feature of these interesting individuals which I have observed is they have the remarkable capacity to believe their own propaganda and lies as objective fact. Truth and falsehood are meaningless to the sociopath. There is only what they want to believe, and can get away with.
I wonder if I would attract many comments from readers if I were to observe that quite a few of our Lords and Masters, those in High Office and Politics, display characteristics on the sociopathic scale. Can I invite nominations? An obvious and topical one is of course good old Jimmy Savile. The problem was not that Savile was "into" young girls. The problem was that he was a sociopath who was into young girls…
I hate sociopaths with a passion. They wreck lives. Lance Armstrong is one. Armstrong is not sorry. He is sorry he was caught. End of.
Gildas the Monk
January 21, 2013 at 13:21




January 20, 2013 at 16:01










January 20, 2013 at 10:29




January 20, 2013 at 01:59




January 20, 2013 at 01:53




January 20, 2013 at 01:22










January 20, 2013 at 10:13







January 20, 2013 at 00:08







January 20, 2013 at 01:57







January 19, 2013 at 20:49







January 19, 2013 at 20:46







January 19, 2013 at 23:40




January 19, 2013 at 20:44







January 20, 2013 at 01:54







January 19, 2013 at 20:27










January 19, 2013 at 22:31







January 20, 2013 at 11:49




January 19, 2013 at 20:18







January 19, 2013 at 19:57







January 19, 2013 at 19:25







January 19, 2013 at 19:27







January 19, 2013 at 19:46







January 19, 2013 at 19:51







January 19, 2013 at 20:14







January 20, 2013 at 00:56




January 19, 2013 at 18:19







January 19, 2013 at 17:40







January 19, 2013 at 17:12







January 19, 2013 at 15:45










January 19, 2013 at 16:18




January 19, 2013 at 15:17