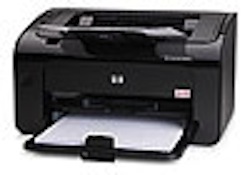 Being a cautious soul, when I bought my new iMac, I double checked with the Apple store in Paris to ensure that all my software and hardware would continue to operate with my new computer. Looked up all the right words in French an' everything, I did. Gave them the make and model of my printer – HP Laserjet Pro P1102w – 'Oui', they said it was compatible. I can't blame Apple for this because that is what it says right there on the HP paperwork.
I have a laserjet printer because I very, very rarely ever print anything. Living in a country where temperatures regularly hit 40°, whenever I did go to print something, like once every six months, I would invariably find that at least one of the coloured inks had dried up and the printer would refuse to work. 30 Euros and a 20 km drive was necessary before running off a quick copy…irritating beyond belief.
Needless to say, the printer resolutely refuses to work with the new computer. It's exactly 12 months and three weeks old, naturally. Bought from Comet. Naturally.
'Driver needs updating' it says. No problem, I'm not a complete dork; living in the middle of rural France I have had to get used to solving my own problems – no PC world to dump the computer in. Off to HPs website to download the 'latest driver for HP Laserjet Pro P1102w compatible with Mountain Lion'. A simple enough task, just made dinner a tad late.
The printer continued to sulk. No way was it going to give me the precious copy of the Sunday Times crossword that a kind reader had sent me to enjoy after dinner.
Dinner bolted, and back to the computer. Google is my friend. 'HP Laserjet Pro P1102w and OS X 10.8.2′. I made friends rapidly, I was not alone in my troubles. The Internet is full of people trying to figure out how to marry these two cyber-souls. A civil partnership would have done, I'm not picky. 'You can't connect via a USB hub' was the answer. 'There isn't such a driver' was the other answer.
On the phone to the Apple store first thing in the morning. Three renditions of Greensleeves, four different multiple choices of extensions to traverse, all in French of course, and within, ooh, about 20 minutes, we have the French speaking technical assistant in Sierre Leon on the phone. 'You said it was compatible, tell me how to do it' – 'HP says it is compatible, you have to ask them, we don't do technical support for HP products unless you buy them through the Apple store'.
Back to the HP website. Dig deeper. Indeed you can't connect via the USB hub. Remove USB cable. What next?
'Upgrade your old computer to 10.6 before migrating to new computer, then your printer will continue to work with an automatically updated driver'. An essential piece of information that would have been so useful at point of sale, but indeed none of the information HP provided to Apple contained this gem. I checked!
'If attempting a new installation of the HP Laserjet Pro P1102w to Mountain Lion 10.8.2, use Airport or connect via ethernet cable'.
Quick Google to establish what Airport is – I don't have it, and it requires an extra £100 to the Apple store to acquire it – let's try the ethernet cable solution…Mr G is sent rummaging in the bowels of the carefully painted panelling to find the other end of the long time redundant ethernet cable.
The HP Laserjet Pro P1102w only has one hub – that takes a USB connection. Nowhere to plug in the ethernet cable. Rats. This is ridiculous. Mid morning now, and the days blog post still not written. I'll just have to phone HP.
'If your HP Laserjet Pro P1102w is out of warranty, we offer technical support for a one off payment of $25 via a US phone number'.
Phew! At least I get free phone calls to the US, is it worth a tenner to solve the problem and get on with the rest of the day? Yes.
Brr-brr, brr-brr, Greensleeves (does everybody use Greensleeves?) and a multiple choice voicemail – at least it's in English. Yes, I want technical support, HP Laserjet Pro P1102w, sales, understand that this may incur a charge, bla, bla, bla, and success, we are through to a human being. In India…
'What is your name please', 'Anna',
'And your e-mail address', 'Anna, that's a, double nn, no double nn, for nobody, yes, another a, ok, lets start again, a, double nn'. Three times.
'Thank you Anna, and how can I help you'.
'I need to buy technical support for a HP Laserjet Pro P1102w' (what was the point of all the voicemail choices, you should know this!)
'I'll put you through to technical support for HP Laserjet Pro P1102w'
'Thank you' – and more Greensleeves.
'Can I take your name please?', 'and your e-mail address?' 'Anna, that's a, double nn, no double nn,"Thank you Anna, and how can I help you?'
And more Greensleeves.
'Where are you phoning from, US or Canada? 'France'. 'Is that in US or Canada?'. 'Neither, it's in Europe'. 'Europe in US or Canada?'.
Grrr!
Having nothing better to do, I was keeping count of the number of times I repeated this conversation; five different people, every one I had to painfully spell out my e-mail address before they would continue the conversation; eventually they gave me a number in England to call. An 0845 number. You can't dial an 0845 number from outside the UK. I explained one more time that France was in neither the US, nor Canada, nor the UK. We settled on an 0844 number eventually.
It was engaged. Constantly.
Back to the forums. A helpful soul, God bless you Sir, gave out an unpublished number for HP. Success!
'Can I take your name please?' 'Anna', 'and your e-mail address?' 'And how can I help you'.
I kid you not, eventually I greeted the 'technical bod' with 'Greetings No 15′ – I was still keeping count!
'No 17, (I was running out of space on my notepad) listened carefully (after taking my e-mail address naturally) and agreed that there was a problem, but she would send me a link in about five minutes that would solve the problem. I had been on the phone continuously for one hour and 36 minutes…
20 minutes later, she graciously sent me the link to, wait for it…the download for Mountain Lion 10.7 that I had found for myself a mere 12 hours beforehand…had I been paying for the phone call it would have cost me around £5 and that is assuming I was on a BT land line.
| | | |
| --- | --- | --- |
| File name: | | |
| System requirements: | | No additional prerequisites |
| Released: | | 2012-10-17 |
| Version: | | 8.0 |
| Compatibility: | | Mac OS X 10.4, Mac OS X 10.5, Mac OS X 10.6, Mac OS X, Mac OS X 10.7 |
The sharp eyed will have noticed that there is no mention of 10.8 there, something which escaped the dozy eyes of HPs technical bods…
I've spoken to 17 different technical gurus, and a few extra at Apple. Every one of them paid the minimum rate for whichever country they were in, everyone of them believing they are doing a decent days work, and every one of them utterly useless.
Here's a free solution from an old age pensioner in France with no technical training whatsoever – connect your old lap top to your printer, and pick up the e-mail with the Sunday Times crossword on your lap top, then press 'print'. Works every time. Repeat as necessary every six months when you need a printer.
Forget buying a new printer from HP – around 400 euros; forget buying Airport from Apple – around 100 euros; and definitely forget spending a penny on technical support from HP, they are all blithering idiots.
Would somebody let me know if HP ever release a driver for Mountain Lion 10.8.2 and the HP Laserjet Pro P1102w?
Thank you. This has been a public service announcement.
January 23, 2013 at 20:49




January 23, 2013 at 16:34




January 23, 2013 at 14:46




January 22, 2013 at 22:47




January 22, 2013 at 20:58







January 22, 2013 at 14:52




January 22, 2013 at 14:19










January 22, 2013 at 14:09




January 22, 2013 at 14:09







January 22, 2013 at 13:56







January 22, 2013 at 13:23




January 22, 2013 at 12:32




January 22, 2013 at 12:27




January 22, 2013 at 12:24







January 22, 2013 at 11:14







January 22, 2013 at 11:11







January 22, 2013 at 10:49







January 22, 2013 at 10:47




January 22, 2013 at 10:23




January 22, 2013 at 10:20







January 22, 2013 at 10:13