Danse Macabre: The Black Death Part 3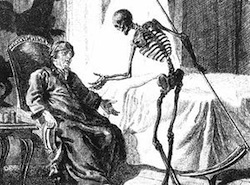 "Death is Coming"
As regular readers will know, just before Christmas I started an amateur investigation into the so-called "Black Death", the deadly plague of unparalleled ferocity and virulence that spread across Europe, Britain and beyond in the late 14th century. It may have killed up to 50% of the population of Britain and Europe, with estimates of up to twenty million or more dead, and it was to hang around in sporadic outbreaks for the next 300 years or so. I have been surprised, intrigued and not a little moved by the results.
To recap, the consensus in the history books has always been that "The Black Death" was Bubonic Plague, which was first properly diagnosed in the late 19th Century. In the previous posts I tried to explain why that explanation is almost certainly wrong; how the disease was spread by human to human contact, and how it was not only hugely more contagious but also considerably nastier than "mere" Bubonic Plague, exhibiting a pathology which is much closer to a modern form of haemorrhagic fever, such as Ebola. I therefore reached the conclusion that although the Black Death may have been biologically related to Bubonic Plague, it was certainly not the same.
It turns out I was partly right, and partly way off the mark.
It is time for some science. Recently, I have had the opportunity to travel to the United States to discuss the topic with some veterinary surgeons in the United States. They have good reason to be aware of Bubonic Plague, by the way, because in parts of the United States (California and Arizona for example, and also and Colorado, where a 12 year old girl was infected after a recent camping trip, but happily survived) it remains an issue, and vets have to be aware of the effects and, indeed, the possibility of infection.
In particular I had the benefit of a long interview with a hugely able and very experienced veterinary doctor who, remarkably, has been a long term follower of the blog and got in touch to put me right. I shall refer to my source by the pseudonym Dr Firenze Pesta. It is a name which she found both amusing and highly ironic.
I had it in mind to do a jokey, rather jovial little piece as a result of this discussion, but on reflection I have decided not approach the matter in that way. After all, what I am about to describe is a phenomenon which carried away the lives of millions, loved ones of all ages, and was an immense human tragedy. And frankly it was a pretty nasty end, and not really a laughing matter.
Dr Pesta is an animated figure who married a very highly trained scientific mind, a no nonsense manner and a hugely warm personality. However, as we discussed the issue in a New England coffee shop the first thing she did was give me a singular telling off for sloppy research and bad science!
Dr Pesta was not too concerned with my discussion of the epidemiology of the Black Death. That is to say, she was reasonably content with my discussion of the rate of spread and the ability to infect. Indeed, she too thought the Bubonic Plague theory was highly unconvincing. The only thing that troubled her was possible research which suggests that DNA of Bubonic Plague had been found in victims of the "Black Death". However, as I have briefly mentioned, there are some real issues about the veracity of that research, not least because of the age of the samples, and because it is not clear whether samples could have been cross contaminated, or even taken from the "wrong" victims. And our discussion made me more convinced than ever that "scientists" and historians who confused the Black Death with Bubonic Plague were making a number of very serious scientific errors.
Dr Pesta began by pointing out the crucial and fundamental error of confusing bacterial infection with viruses. This in itself proved an interesting insight as Dr Pesta explained the crucial and profound differences.
Bacteria (or "bacilli") are relatively big unicellular microorganisms. They are typically a few micrometers long and have many shapes including curved rods, spheres, rods, and spirals. They are in "our" terms biologically complete organisms. All bacteria are surrounded by a cell wall. They can reproduce independently, and inhabit virtually every environment on earth, including soil, water, hot springs, ice packs, and the bodies of plants and animals – as well as left-over food.
Salmonella and E-coli are bacterial infections. So are Legionnaire's disease and, critically, the Bubonic Plague itself. To be specific, Bubonic Plague is caused by the Y-Pestis bacillus. Bacteria can be very contagious and even spread from person to person by direct contact (unwashed hands) in specific circumstances, but often (and perhaps usually) require some form of medium of transmission. In the case of Legionnaire's disease, for example, that mechanism is the micro droplets of water produced as a by-product of an air conditioning system or a water tower, which carry the bacillus into the lungs. In the case of Bubonic Plague, it is usually, but not always, the bite of fleas which have been consuming the blood of infected rats. It has, therefore, a relatively cumbersome and inefficient mechanism of transmission.
A virus, however, is totally different. Viruses (from the Latin noun virus, meaning toxin or poison) are sub-microscopic particles. They can only reproduce inside a living cell. They are not complete in themselves but require a host in order to multiply. Compared to bacteria, viruses are tiny. They range in size from 20 to 250 nanometers (one nanometer is one billionth of a meter).
In some ways viruses are more similar to mechanized bits of information, computer programmes or robots than fully functioning self reproducing organisms. Outside of a living cell, a virus is dormant, but once inside it takes over the resources of the host cell and begins the production of more virus particles.
Dr Pesta helpfully drew me a picture of a common form of virus on her napkin. It looked like a singularly evil looking "moon landing craft", with what she described a kind of "spring" mechanism by which it launched part of itself into the cytoplasm of the host cell like an injection, and then takes over the cell.
Some viruses only have a single strand of genetic code – RNA (Ribonucleic acid) rather than DNA (Deoxyribonucleic acid). I asked Dr Pesta if this meant that a virus was a more primitive organism than bacteria. Her reply surprised me. She did not think so at all. If anything, she said, it was cleverer than bacteria, more sophisticated in its reproduction. They do not simply breed, like bacteria; viruses engage in bio re-engineering.
She also had an interesting and sympathetic word to say for the nasty old virus. Whilst a virus may in certain circumstances become lethal, that is not at all the virus' "intention". The virus aims to live in some degree of harmony with its host. This is logical, because if it were to do otherwise it would kill the very organism that it needs to let it breed. Viruses therefore aim to adapt to their hosts and form some sort of symbiosis with them. If the virus becomes too aggressive and causes severe illness and death, something has gone very wrong, and the virus is in an environment it was never meant to inhabit. It is for this reason that an animal such as a monkey may be stuffed full of a very "nasty" virus such as Ebola, without any obvious signs ill effects. However, it would be a most unwise human who decided to eat a monkey stew, particularly if it is undercooked…
A virus which has been in the news lately is the winter vomiting virus, or norovirus. The virus is capable of being transmitted by fecally-contaminated food or water, by person-to-person contact, and via aerosolization of the virus and subsequent contamination of surfaces. Influenza is a virus, and so is the common cold. As experience shows, therefore, viruses like this are highly infectious and are capable of spreading very quickly without any external agency to assist them.
This is in fact critical for understanding of the Black Death, because the speed of transmission of the infection is really only consistent with a viral infection, transmitted person to person – just like influenza. To take a prosaic example, if you put someone suffering from salmonella poisoning on a plane, they would have to have contact with the food supply (and nasty contact at that) to infect anyone else. I might say that provided the victim was not suffering from the pneumonic version, the same could be said of a person suffering from Bubonic Plague. However, if a person carrying influenza gets on a plane and starts sneezing, then the infection will spread amongst the passengers like wildfire, and by the time the plane has landed and the passengers have dispersed onto other flights, it will be spreading across the planet with them.
Indeed when I outlined the bare facts of the speed of transmission and the spread of the Black Death to three highly able and experienced veterinary surgeons, each of them quite independently had exactly the same reaction; I quote: "That does not sound like a bacteria; that sounds like a virus."
Dr Pesta then set about giving a singular and equally telling insight into pathology – the effect on the body – of the "Black Death", based on the descriptions of the symptoms of the disease and the autopsies I had set out. She was pretty clear what that pathology was, even though she could not define the actual virus, which may now be extinct or merely dormant (!).
To Dr Pesta it was quite clear that what the historical sources were describing is a phenomenon which is perfectly well known to veterinary surgeons, and ought to be known to doctors generally. It is has the technical name of "Disseminated Intravascular Coagulation", but it is more colloquially referred to within her profession simply as "DIC". Over another latte Dr Pesta explained to me in laymen's terms what "DIC" is, and how and why it kills.
Dr Pesta explained that the human body is in a constant state of repair. In particular at the microscopic level the capillaries are full of tiny cuts and tears, and the body has its own hugely sophisticated internal puncture repair kit. Whilst you may not realise it, it is at work within you 24/7, 365 days a year.
Now, imagine that you have suffered a small cut, perhaps whilst shaving or pruning the roses. Blood leaks out. The body needs to stem the tide before you bleed to death. To my surprise Dr Pesta explained that even a small cut can be fatal if not repaired.
In order to do this, the body's first response is to send emergency aid. This is in the form of "platelets". Platelets are bits of cells (they do not have a nucleus) which do something akin to the job of sandbags attempting to hold off flood waters although in reverse, in an attempt to stop the flood going out, rather than the flood coming in. These platelets have a life of about 24 hours before they die off and collapse. In order to make the repair permanent, the blood needs to coagulate. It is the coagulation process that actually finally prevents bleeding and allows the wound to heal. The coagulation process is very complex as the body's repair system moves through a long series of biological transitions and phases. My learned friend Dr Pesta called this process "the coagulation cascade", and each phase has to be completed properly or the process breaks down and the bleeding continues.
This explains haemophilia. Haemophiliacs lack just one essential protein in their blood called a 'clotting factor'. There are normally 12 clotting factors circulating in the blood at any one time, and all play an important part in the rather complex process that helps blood to clot. People with haemophilia A are deficient in the essential clotting factor, Factor 8. People with haemophilia B are deficient in the essential clotting factor, Factor 9. The absence of either causes the clotting to fail. So if any stage of the coagulation process is missing or reduced sufficiently, blood clotting will be affected, leaving an individual at risk of extensive internal or external bleeding.
But, and here is the catch, at the same time the body has to control this process. If the process runs out of control the results are also potentially fatal, just as cancer is often caused by the uncontrolled multiplication of ordinarily beneficial cells. As Dr Pesta explained this is one of the reasons why research into cancer and virology have a cross fertilization – both are dealing with a distortion in the correct cellular process. But I digress…
Now bear with me as I set out parts of Dr Pesta's textbook on "DIC". It is a bit hard to follow, but I wanted to give a bit of medical gravitas, if only to show I am not making this up:
"DIC – PATHOPHYSIOLOGY
• DIC begins with a hypocoagulate state leading to microthrombi in many small vessels…
• Damaged endoththelium promotes thrombin generation which provides feedback activation of the intrinsic coagulation pathway and converts fibrinogen to fibrin. Vascular occlusion follows
• Platelets and leukocytes contribute to these to mechanism…Mononuclear phagocytes express large quantities of tissue factor and produce proinflammatory TNF that activates endothelium. Neutrophils and platelets release cytokines that activate endothelium and cause aggregation contributing to vascular occlusion and promoting inflammation..
• Widespread deposition of fibrin…consumes clotting factors and platelets while initiating uncontrolled fibronolysys…Haemorrhage at various sites follows."
The text then concludes with a chilling simplicity:
• Uncontrolled progression leads to widespread tissue hypoxia, multiorgan dysfunction, and death.
Goodness me! I asked Dr Pesta to explain this to me in layman's language. As I understand it, this is basically what happens. Blood contains a soluble protein called fibrinogen. If the platelets are the emergency sandbags, fibrinogen forms the bricks which are the building blocks of final repair of "the dam". To be a little more precise, when a distress signal is received the fibrinogen is joined by a protease called thrombin to create fibrin (also called Factor Ia), an insoluble fibrous, non-globular protein, which is then polymerised to form a "mesh" that forms a haemostatic plug or clot (in conjunction with platelets) over a wound site, allowing for the repair to take case.
However, when some unnamed toxin or other agent infects the blood, the coagulation system can be disrupted.
Unfortunately, whatever was at work when the Black Death struck affected the blood so badly that the body's normal system of coagulation started to run out of control and "hypercoagulation" occurred. This process begins with the formation of microthrombi, small blood clots, created by an aggregation of the platelets and clotting materials. This is a bad thing.
When there are tears in the lining of the blood vessels (endothelium) the blood vessels and white blood cells send out a distress call via signalling molecules (cytokines) for the coagulation to come to their aid.
But instead of coagulants going to the damaged areas of tissue, the process goes wrong and the miniature blood clots start to grow like snowballs. There is a massive amount of coagulation in the blood, but now in the form of huge blood clots, not going to the affected areas but blocking up the blood vessels with a soupy mix. This is a very bad thing indeed. Elsewhere the breakdowns in the capillaries continue unabated.
Imagine a bottle of milk in a fridge. It has a uniform, milky colour throughout. Now imagine that you have left the bottle of milk for one, two, or three months. You will now probably have a bottle with a thick nasty viscous semi liquid gloop at the bottom, and a thin, watery, anaemic looking liquid at the top. At a very simple level this is the analogous to the effect of DIC. Part of the blood becomes thick, as the coagulation system goes into hyper drive, using up all the supplies of coagulant and clogging up the blood vessels with goo, or as Dr Pesta called it "jello" (American for jelly, I believe). The rest of the blood is deprived of the necessary coagulation to repair the tissue damage – all the supplies of coagulant have been used up. There is then a fatal paradox. The thick gooey clotted blood interferes with proper blood supply, and the organs are starved of the proper supplies of oxygen and the arteries, veins and capillaries are blocked. This creates a vicious cycle. Oxygen is no longer carried to the organs with the result that the organs produce more toxins and an increase in blood pressure. This increases the internal bleeding from the tears or holes in the capillary system….
It is for this reason that the autopsies from 17th Italy described parts of the internal organs and being filled up with thick, blackish blood (ultra heavy clotting) whilst other organs appear to have melted away (unrepaired).
What of the visible signs? On the surface the visible results are bleeding from the body cavities such as the nasal passage and spontaneous ecchymosis. An "ecchymosis" is the technical term for "a subcutaneous purpura larger than 1 centimeter or a haematoma" – commonly called a bruise, caused by the escape of blood into the tissues from ruptured blood vessels. In short there is bleeding under the surface of the skin giving rise to a widespread bruising effect. This is exactly what is described in many contemporaneous descriptions of the Black Death….
Within the body, the effect is all the more deadly. Dr Pesta gave me this example. Typically one quarter of the circulating blood stream will pass through the kidneys. If there is a tear in blood vessels supplying the kidneys which is unrepaired, each heartbeat will pump a significant amount of blood out of the contained blood vessels and into the abdominal cavity. Similarly, if there even a tiny unrepaired tear in the stomach wall or lungs, the blood will flow in and the victim will start to vomit or cough up blood. Dr Pesta stressed to me that these do not have to be visible tears; a microscopic tear is all that is needed. As Dr Pesta put it, "You've got to remember, we are talking about damage at the cellular level." Nevertheless, without the body's auto repair system, the bleeding will be extensive.
I put this question to Dr Pesta: what would be the ultimate cause of death? I suggested a heart attack as the body's system collapsed under the stress. Dr Pesta considered this issue with a professional demeanour as she sipped her latte. She explained that she thought this technically unlikely. She considered that the initial fever would probably fade away (fever being an interesting and problematical phenomenon, by the way) and the victim would more than likely become quite cold as blood pressure collapses. The external extremities (hands, feet) would go cold as the body concentrated its remaining resources to preserve the temperature of the vital internal organs; heart, lungs, liver, kidneys and brain. Dr Pesta thought there would probably be two immediate causes of death. First, a blood clot on the brain causing a massive embolism or stroke. Secondly, "hypo vascular shock" or, as Dr Pesta thought it more accurate to put it, "haemorrhagic shock". I pressed for an explanation of this which would allow me to understand a little more clearly what that that meant. Dr Pesta sipped her latte and frowned. She put it this way:
"Well," she said "On the one hand the blood has stopped circulating properly within the body, and on the other you bleed to death inside yourself."
She sipped her latte again, and picked at a skinny blueberry muffin.
Right…
So, to recap. The almost certain cause of The Black Death was a highly infectious virus, not a less infectious bacillus. Historians who (like me) may have assumed that it was genetically related to albeit a more virulent version of a Bubonic Plague bacillus are getting it completely wrong. They are confusing chalk and cheese.
The pathology of the Black Death is simply not typical of Bubonic Plague. Bubonic Plague does cause swelling of the lymph glands and nasty stuff, but the symptoms described are all much more consistent with the "Disseminated Intravascular Coagulation" or DIC. Just to be clear, DIC simply describes the end game – what happens to the body when there is something extremely nasty going on in or to the blood. It can have many causes; snake or spider bite, a gangrenous infection, an internal cancer such as of the liver, septicaemia, an uncontrolled infection, or even a common cold given the right (or wrong) circumstances. But the pathology is broadly a-typical of Bubonic Plague bacillus, and highly typical and consistent with the viral haemorrhagic fevers such as Ebola, Lassa Fever or Marburg. Equating "The Black Death" with a bacillus like Y-Pestis is like thinking a dangerous dog is a form of nerve gas. It is simply biologically ignorant, even absurd, and completely underestimates the danger.
All very technical stuff. However, as we parted after our coffees, Dr Pesta had one little amusing trick to play on me, and it had a particularly dark but effective resonance.
"By the way," asked Dr Pesta, "Do you know the nickname we have in our job for "Disseminated Intravascular Coagulation?"
"Well, yes," I said, earnestly studying my notes. "You call it "DIC" for short."
Dr Pest laughed merrily with more than a trace of mischief.
"Well yes," She said. "That is the shorthand. But do you know what we say "DIC" stands for?"
I was perplexed. It seemed we were going round in circles. I consulted my notes again.
"Disseminated Intravascular ….thingy?" I ventured.
She laughed again.
"No dear. That is the technical name. But we simply call it "Death Is Coming".
And on that merry note we finished our coffee, and headed into the frosty New England evening. Behind us, someone sneezed.
Gildas the Monk



January 8, 2013 at 13:06







January 7, 2013 at 18:45







January 6, 2013 at 23:08










January 6, 2013 at 22:26







January 6, 2013 at 20:29







January 6, 2013 at 17:49







January 6, 2013 at 16:08




January 6, 2013 at 15:24







January 6, 2013 at 13:25







January 6, 2013 at 19:49




January 6, 2013 at 11:52




January 6, 2013 at 11:28







January 6, 2013 at 18:13







January 6, 2013 at 19:49




January 6, 2013 at 11:18







January 6, 2013 at 09:06