A question for Nigel Farage – Has the UK got room for another million people?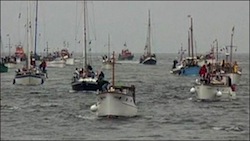 Are there houses for them all? How will the roads fare with another half million or so cars on the road?
Could the hospitals cope? – a particularly pertinent question given that many of them suffer from health problems…will the GPs surgeries be able to improve their act as this proposed influx gets on the phone and demands an urgent appointment to access their medication?
What about the civil service? Are there enough bods on seats to process all the applications for money to be sent to new bank account details? Are Social Services ready with 'emergency loans' when their money doesn't arrive in time?
Sorry, did you not realise that these million souls were poised to arrive? They are sitting on the edge of their seats rights now, waiting to see if 'the moment' is now; the moment when they should pack up their present life and arrive en masse in the British Isles.
They will integrate well, you won't pick them out on the streets – they already speak English and they like to dress in Marks and Spencers finest.
They will be keen to vote too, and take an active part in civic life.
Sadly, many of them will be in dire financial straits, having sold whatever they can in order to arrive at the White cliffs of Dover.
And they will be very, very, angry.
If Britain pulls out of the European Union, as many would like to see happen, every last one of these people will be handed a British passport, and given full rights to avail themselves of all that the wonderful welfare state has to offer. As it happens, they will fare well financially in Britain, being instantly and automatically entitled to a much wider range of benefits than they have at present.
One million people, that is 1/60th of the curent population, a massive overnight increase.
Who are they? Where will they come from? Take your pick, every part of the European Union.
They are, of course, the one million Britons who listened to the politicians who said that now Britain was part of the European Union, they were free to live in any part of Europe. I am one of them.
I have not seen it mentioned anywhere in the media, nor by any politician, that if Britain withdraws from the EU, we will have no choice but to return to Britain. Overnight our status will become the same as, for instance, an American living in Germany.
A large proportion of those living in Europe are pensioners. A few will be able to afford private medical insurance – most pensioners will not, they rely on the reciprocal arrangements between Britain and their present home as fellow members of the EU. Instead of Britain paying a flat £2,500 a year towards their healthcare, the UK will have to fund all their hip replacements, heart ops, and diabetes care….If they stay where they are, they will no longer get the annual pension increase, minuscule as it is – and within a few years, inflation will have reduced them to penury.
Many of them will be forced to sell their houses at the same time – forcing a huge drop in house prices, if they can sell at all – don't expect them to be financially self sufficient when they arrive back at Dover. Who knows whether the various European governments would even allow the wholesale transfer of millions of pounds to the UK, Britain has been known to prevent sterling leaving its shores before now which caused tremendous problems in the Mediterranean countries' tourist trade, a little tit for tat would not be a great surprise.
Few of these people have any say in the matter, it will be decided without reference to them – Britain has long refused to allow its citizens to continue to vote in the country of their birth unless they plan to return within 15 years. The Government spends more time debating whether to allow prisoners to have the vote.
I find it extraordinary that this aspect of the In/Out debate on Britain's membership of the European Union is not even mentioned – if staying in the EU meant a potential influx of another million people to the crowded shores it would be on the front page of every newspaper.
Time and again I am told that the reason so many in the UK will vote for UKIP is because UKIP promises to take them out of the EU – and they are fed up with the mass immigration apparently forced on Britain by virtue of its EU membership? Just thought I'd point out that you'll end up with a different sort of migrant – the penniless, elderly, health resource consuming, English pensioners currently self supporting in Europe.
Tax credits, mmmn, free bus passes, mmmn, TV licence, mmmn, free health care, mmmn, help with council tax – all these things we fail to consume at the moment…
As you wish…
Updated to add: I fear many commentators have misunderstood my point – no doubt my fault. There is no danger that France or Spain or any other country 'would send us packing' or force repatriation upon us – the point is that it is the EU which has protected our interests against the illogical actions of the British Government. It is the British Government which has sought to repay us for not being a drain on Social Services in the UK by freezing our pensions – the EU said that was discrimination and disallowed it. It is the British Government which refuses us a vote unless we promise to return within 15 years. It is the British Government which has now been forced to give us the Winter Fuel Payments despite a campaign against us claiming that we are all sunning ourselves in Marbella, despite many of us enduring harsher winters than occur in the UK. We have all paid into the British Government in exactly the same way as you have – although we receive much less in return. What we do receive is courtesy of EU decisions forcing the UK Government not to discriminate against us.
If we find ourselves once more with British passports, rather than being European citizens, those protections will be removed at a stroke, we will have no say whatsoever in this. Without those protections, many, many people will be forced for financial reasons to leave their home in Europe and return to the UK.
As it happens, I won't be one of them – my husband has lived and worked in France for many years, long before we married; I will stay here with him – but I still feel exceedingly sorry for the many who are being ignored in this saga who are not in that happy position.
Quite why there is so much vitriol towards those who have paid into the British system all their working lives, but then chose not to take out of it their full entitlement and live outside of the UK I cannot begin to understand.
As for taking French citizenship – why would I? I live here to be with my husband, not because I have no wish to be a British citizen.



January 8, 2013 at 22:38




January 8, 2013 at 22:30




January 8, 2013 at 14:10







January 8, 2013 at 10:46




January 7, 2013 at 16:30







January 7, 2013 at 13:21







January 7, 2013 at 13:20










January 10, 2013 at 19:15







January 7, 2013 at 13:10







January 7, 2013 at 13:06







January 7, 2013 at 12:03




January 7, 2013 at 11:44




January 7, 2013 at 11:36







January 7, 2013 at 11:25




January 7, 2013 at 10:53




January 7, 2013 at 10:43







January 7, 2013 at 10:15




January 7, 2013 at 10:14







January 7, 2013 at 09:53







January 7, 2013 at 09:50







January 9, 2013 at 04:04