Saturday Evening Posts Worth Reading – Birthday Edition!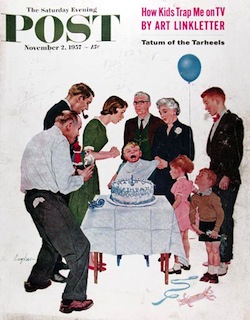 And indeed it is – the Birthday Edition! For this noisy, brawling, lusty blog is four years old today.
2,700 posts over those four years – 1,700 of them I find I have written…an average of 8 a week. I don't believe it either.
53,000 comments over that time. I have had to moderate less than a handful of them, and only banned two people – solely because the infant blog managed to attract a community of wet nurses who have watched over it carefully, endlessly contributing their time and superior knowledge to correct me, guide me, inform me, entertain me – and slowly improve my spelling!
I've no idea how many hits there have been during those four years – I don't follow the stats, ever since my host e-mailed me to say that I'd had 25,000 hits one day and they were moving me to a larger server. It put me in shock and nearly stopped me writing – who are you all?
I was never more grateful to you than when I was ill; there were days when I could do little more than crawl to the computer to check that all was OK with my 'baby' – and you were always there, supportive and willing me on; chatting amongst yourselves, waiting for me to put pen to paper again – and cheering when I did. You will never know what a huge difference you made to some very dark and frightening days.
As if by magic, in time for this fourth anniversary post – some of the original Blogfathers that inspired me to try my hand at this blogging lark have reappeared on the scene:
Devil's Kitchen – couldn't stay away, and returns in fine fettle as 'The Devil's Knife' – please note this is a new link for him.
Ian Dale – has decided to blog on his own once more, and also has a new address. I much prefer Iain's output to the group blog…
JuliaM, whose output puts mine to shame, continues to fillet the unspeakable, and always has a spare few minutes to add comments to everyone else's blog – when does she find time to wash her hair?
A special mention for the anonymous person who has put together the definitive 'Hollie Greig story was a hoax' blog. Debunking that particular story was nearly the end of me as a blogger – at the time, the story had great support, and I incurred the ire of large sections of the blogosphere for disbelieving it and publishing rebuttals to some of the 'accepted wisdom'. As a result I was on the receiving end of the darker side of the Internet, the vicious e-mails, 'outings' and general unpleasantness that the Internet can be capable of – but finally, nearly two years later, the truth has come out, and Hollie's welfare is now under the control of qualified professionals who put her best interests and those of her Mother's first – and not those who would make a living out of appealing to the latent paranoia that lurks in corners of the Internet.
And another special mention for a blog that is barely 10 months old, but has hit the ground running and is well worth following – 'Kebab Time'.
Help yourself from the Bar, make it a double…
January 6, 2013 at 11:28







January 6, 2013 at 02:20







January 5, 2013 at 20:19




January 5, 2013 at 17:23




January 5, 2013 at 16:18




January 5, 2013 at 14:42







January 5, 2013 at 19:48







January 5, 2013 at 13:10