Competition. Fake Journalist? – Meet Fake Charity!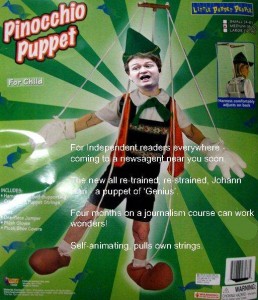 A little light hearted quiz for you on this frosty morn.
If you were in the business of churning out dubious statements, relying on innuendo, gossip and unsubstantiated claims, meddling with statistics – what is the one award, the one badge of respectability, that you would crave above all other?
Come along, you are being very slow this morning, you have been around the Internet long enough to know the answer to this one…
Well done, that's right – Charitable status!
It should have come as no surprise to me that – guess who?
The Bureau of Instigative Churnalism sorry, The Bureau of Investigative Journalism, has been making repeated spirited attempts to persuade the Charity Commissioners to give them charitable status.
Not once, not twice, but thrice they crowed tried! The latest attempt involved the leading firm of 'charity specialist' solicitors – Bates, Wells and Braithwaite writing a report for them arguing their case. I bet that made a hole in the £2 million donation the BIJ received from Labour donor David Potter.
It should have been released to a fanfare of self-congratulatory back slapping next Wednesday. The web site for this 'good news' was set up; the canapés ordered, the invitations sent out. Signed by Iain Overton… editor of the Bureau until his resignation in the wake of the Newsnight disaster.
On Friday night, Maeve McClenaghan of the Bureau sent out a low key e-mail to the invitees saying that 'it had been postponed', with no further explanation…
Shame really, I quite like the idea of a fake charity for broken down old hacks….I can just see the endless afternoon TV advertisements.
'Johann's lies had grown long and convoluted, he was barely able to walk work when he came to us, but the Bureau of Investigative Journalism has restored him to health' – cut to scene of Johann gambolling happily round a pasture of buttercups and daisies…..'Just three pounds a week can help other Johann's'.
Or 'Iain was covered in festering tweets when we discovered him cowering in a dingy garret, he was close to death by libel tort until the Bureau stepped in. £185,000 can save other journalists from a similar fate' – give generously! Cut to shot of Iain munching happily on a bag of carrots, not a stick in sight.
A special prize on offer this week, haven't decided what it is yet, for the most inventive 'story board' for a TV advertisement for donations to the Bureau of Investigative Journalism, should they ever get their charitable status…
Ms Raccoon needs to take a break from writing for a day or so, before her fingers drop off – so step forward bloglands most talented commentators, and make this a comment thread to remember (and preferable not because Ms Raccoon got sued for it!!!)
November 20, 2012 at 17:20




November 20, 2012 at 12:10







November 19, 2012 at 22:16







November 19, 2012 at 20:01




November 19, 2012 at 19:30







November 19, 2012 at 20:29







November 19, 2012 at 16:21







November 19, 2012 at 16:17










November 19, 2012 at 18:48







November 19, 2012 at 15:24







November 19, 2012 at 12:17










November 19, 2012 at 14:57







November 19, 2012 at 06:58