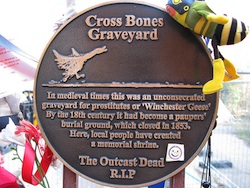 This week I shall say a prayer for the late Elizabeth Mitchell, and maybe go to mass for her. You will probably never have heard of her. I had not either, until last week.
Elizabeth died on 15th August 1851 on the Magdalene Ward of the St Thomas Hospital, Southwark. She was a tiny thing, just four feet seven inches tall. You see, her growth had been stunted by rickets caused by lack of proper food. She almost certainly died alone, and hungry. She was also suffering from stage three/tertiary syphilis which had grossly disfigured her face with pustules, although she had received some therapy in the form of treatment with mercury. One of the side effects of that would have been her badly rotted teeth, and she would have lost her hair, probably. Upon her death she was given a cursory burial in a pauper's grave at the nearby, notorious and grimly named called "Cross Bones" cemetery.
She was just 19 years of age.
Until very recently no one knew about Elizabeth. I would not have known about her either but for a rather well made and interesting television programme called "History Cold Case." I don't watch much television, but last week, having finished my Zumba class and being much refreshed I settled down with a supper and a glass of port wine, whilst waiting for my girlfriend Sister Eva to come back from her regular Mixed Martial Arts class.
Anyway, when surfing the channels I came across the "Yesterday" Channel on my "free view" box. There was a documentary about a forensic investigation into the bones of a man who had been buried in Stirling Castle way, way back in medieval times. It was the programme called "History Cold Case" from the BBC. The premise of the show is very simple. There is a leading department of forensic science at the University in Dundee. The programme investigates historic cadavers and the mystery of their fate using its modern day skills; in short, forensic archaeology.
All television shows are played for dramatic tension but the team is a serious one, and self evidently of high expertise. On the forensic scientific/medical front it is headed up by the formidably robust and professional Professor Sue Black. There is a handy German scientist called Wolfram ("the grandfather of all stabilizer isotope analysts") who can discover details of the person's diet and location through their life. If you want carbon dating, he is your man. On the historical research front there is the rather super Dr Xanthe Mallet, a biological anthropologist and now a lecturer in the School of Behavioral Sciences at the University of New England. There is also forensic anthropologist Dr Caroline Wilkinson, who has the particular skill of reconstructing the faces of the long dead to create a real likeness; a skill used by police forces across the world.
Thus armed with a great deal modern technology and a great deal of nous, the team are presented with a historic "Cold Case", and their aim is to establish the cause of death and as much of the context as possible.
Now, having caught the gist of the investigation into a burly medieval gentleman who was probably a knight, I was most intrigued, and as is the modern way of things toddled off to youtube, where I was able to find the rest of the episodes, and I was hooked.
Can I just say at once that although it is an entertaining programme, it does not disrespect the dead. All the professionals involved have the ferocious curiosity of inquiring minds but are acutely aware that they are, after all, dealing with real people, who lived, loved and sometimes died in the most unhappy and awful circumstances. They are professionals doing the same job they would do for the police in any investigation, but they treat their subjects with the utmost respect. There are not too many episodes for the obvious reason that there will not be many suitable cases.
I was fine with most of the episodes; I suppose a knight dying in a battle or people being killed in a civil war was the kind of trauma I could kind of cope with. But there were two or three cases which I found acutely sad, because something of the situation or plight of the deceased really upset me.
Such as the case of the Romano British or Celtic woman who died around 100 AD and was buried with her three babies. She had a big, strong, rather wise face. For reasons I will not reveal for those who may wish to watch the episode, it seems clear her husband loved her very much. Similarly there is the sinister case of a child whose body was used for medical display. That, too, was a little distressing.
And then there were the bones of a woman at Cross Bones cemetery…
Cross Bones in Southwark, South London, had been a medieval burial ground. It was a lawless place outside the rule of the City of London proper, and since those times it had been associated with "Single Women" (a euphemism for prostitutes). Southwark was a Mecca for prostitutes who were even licensed by the Bishop of Winchester, and received the famous nickname of "the Winchester Geese."
By the late 18th Century it had become a pauper's burial ground where the underclass of London would be interred, but its reputation for association with prostitution remained. By the time it was shut down in 1853 more than 15,000 people were buried there. Many remain on what looks like a piece of scrappy waste ground now.
As I understand it between 1992 and 1998 there were works done to extend the Jubilee Line, and the Museum of London Archaeology was given permission to excavate and re-house the bodies in the way. Tests showed that the bodies buried there were largely the very young, or the very old. The dig in 1992 found 148 graves, a third of which were perinatal, between 22 weeks gestation and seven days of birth. Most of the adults were over 36 and they displayed signs of smallpox, tuberculosis, Paget's disease, osteoarthritis and Vitamin D deficiency. The bodies had been buried in coffins, but they were cheap and flimsy. They had been piled close together and on top of each other, crammed in 8 or 10 deep. One coffin contained the bones of an unknown, unnamed and forgotten woman. Who was she? What was her story?
Enter the History Cold Case team, and their forensic skills. They were able to piece together the details of her pitiful life and death, and even put a name to the body with reasonable certainty, because the Victorians kept good records, even of the poor.
She had vanished from history in August 1851 when Mr. Day the Minister buried her in the cheapest of wooden boxes. She had had a brief, unhappy life. She was probably a prostitute, but she would have had no other way of fending for herself in the ruthless Victorian world.
There was one particular detail of Elizabeth's fate and face which upset me greatly. You see, Elizabeth was just 19 when she died, and had tertiary syphilis. That means she must have been infected a number of years before, perhaps 10. Which in turn would mean that she must have been infected as a child. I understand that it was believed in Victorian Times that sleeping with a virgin was a cure for syphilis.
She was not dealt a good hand in life. Indeed, she died before she could have a life.
I will leave the politics and social significance which might be read into the life and death of Elizabeth to those who may read this post.
One night a month, a group of volunteers gather at the site of Cross Bones Cemetery and hold a non denominational service to remember the Outcast Dead. I commend them. And it seems strange that more than 160 years since Elizabeth Mitchell was crudely laid to rest, a middle aged man can type words into a machine which she could never have imagined and express his grief at her passing and her suffering to the world. And with the strokes of a keyboard, potentially bring her plight to the attention of many people.
I have no idea really why her story upsets me so. I have no idea whether my prayer on her behalf will have the slightest resonance in whatever realm she inhabits now, if any. But I hope in some wider sense that it means that even if she died alone she will not be eternally forgotten, like some worthless piece of rag. And perhaps in the great scheme of things there is a sense that she did not die alone, after all.
A link to the programme can be found here:
http://www.youtube.com/watch?v=hftGJbPXo2w
Gildas the Monk
November 24, 2012 at 16:10










November 24, 2012 at 16:55







November 21, 2012 at 17:31







November 21, 2012 at 23:33







November 22, 2012 at 14:45







November 20, 2012 at 16:48







November 19, 2012 at 16:24




November 19, 2012 at 13:31




November 19, 2012 at 01:13










November 19, 2012 at 08:41







November 19, 2012 at 13:57










November 19, 2012 at 14:11







November 19, 2012 at 14:27




November 19, 2012 at 00:16




November 18, 2012 at 20:57







November 18, 2012 at 20:29







November 18, 2012 at 19:05




November 18, 2012 at 18:42










November 18, 2012 at 15:30










November 18, 2012 at 19:04




November 18, 2012 at 15:10




November 18, 2012 at 14:55




November 18, 2012 at 13:21










November 18, 2012 at 19:02




November 18, 2012 at 13:14







November 18, 2012 at 11:39







November 18, 2012 at 10:13







November 18, 2012 at 09:57