Missing White Woman Syndrome.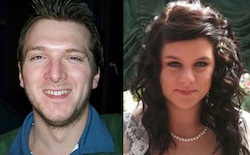 And so the lithe and luscious Megan Stammers has been returned to her rightful owners – she was after all, taken 'without their permission'. Or 'abducted' as our hysterical press prefer to claim.
It has been a miracle wrought by the attentive media, without whose help little Megan would still have been wandering along the Rue Sainte Catherine happily window shopping – en route to a job interview to gain useful employment.
I am well aware of the law – she was less than 16, so could not legally give permission for sexual intercourse, if that is what she has indeed done. I do hope so, for otherwise Jeremy Forest will have been labelled a 'sexual predator' for nothing. I am well aware that he is in a 'position of trust and authority' – and it may surprise British readers who have been given the impression by the British media that 'the French couldn't care less, because the age of consent is 15 in France' – aye, it is, excluding sexual intercourse with 'apparent' consent obtained by abusing a postion of authority. So let's nail that one on the head.
Let's hope that there is more to this story than meets the eye; let's hope that the Sussex police were in possession of unrevealed information giving rise to a belief that she might have been in danger of some extreme physical harm – for if not, I'll wager there will be many exceptionally angry parents in the UK today.
We can start with those parents in Rochdale, who were told that their 10, 11, and 12 year old daughters were 'exercising their choice' in having sexual intercourse with men twice their age. Then move onto those parents who have discovered to their horror that Social Services were actually financially supporting their under age daughters in separate accommodation, the better to continue their relationship with petty thieves, car thieves, joy riders, drug addicts and all the other wholly unsuitable young men that girls can set their eye upon. We can include all those parents who have reported their daughters missing, only to find that they are not 'officially' missing until several days after they have last been seen on account of 'they might just be staying with a friend'.
There is no evidence published so far that Megan and Jeremy's relationship had changed from the unwise one which was already being investigated by the local authority, albeit slowly. Perhaps, just perhaps, they were genuinely fond of each other, which is not as yet a crime. Perhaps once the investigation commenced, they lived in fear that being fond of each other would lead to phrases like 'grooming', 'paedophile', not to mention my particular favourite – 'lured away to Europe', a 'luring' which was achieved by producing her passport showing that she was already a citizen of that same Europe…
You could sense the desperation of the Police as they tried to think of something that would allow them to issue a European arrest warrant; no evidence of sexual activity, no evidence that she had been taken against her will – indeed it was she who (and before you jump up and down, I am well aware that she was legally vulnerable and impressionable) suggested that running away to France was a sensible option; of course he should have refused, but perhaps fearing the institutional panic that was about to envelope them, he unwisely didn't. Finally the Police settled on removing her parent's property 'without their permission'.
I am not railing against the age of consent, nor advocating that teachers be allowed to pillage young pupils virginity with impunity; I do wonder quite what it was about Megan Stammers or Jeremy Forrest that escalated a situation which happens in homes up and down the country without comment into an 'international man hunt' with child protection officers being flown hither and thither, counselling for fellow pupils and the full paraphernalia of paedophile hysteria?
Because I am sure there are a lot of parents out there who fear their daughters are in far more danger than running off with the maths teacher, who would dearly love to know. If any such parent is reading this, contact me. I will happily campaign for you to receive precisely the same attention to mass publicity, especially if your daughter happens not to be white, middle class, and photogenic.
If something emerges in the next few days showing that Jeremy Forrest posed a particular danger, above and beyond the legion of unwise choices made by young girls whose parents only want to have them back home unsullied, then I shall gladly eat my own Raccoon tail.
October 2, 2012 at 16:27







October 2, 2012 at 16:17




October 1, 2012 at 19:37







October 1, 2012 at 16:37




October 1, 2012 at 11:02




October 1, 2012 at 10:12




September 30, 2012 at 19:37







September 30, 2012 at 05:53







September 30, 2012 at 00:17







September 30, 2012 at 00:42







September 29, 2012 at 21:57










September 29, 2012 at 22:07




September 29, 2012 at 21:22




September 29, 2012 at 19:30




September 29, 2012 at 17:50




September 29, 2012 at 15:37










September 29, 2012 at 16:50







September 30, 2012 at 00:25




September 29, 2012 at 14:51







September 29, 2012 at 14:18







September 29, 2012 at 13:55










September 29, 2012 at 14:02




September 29, 2012 at 13:28










September 29, 2012 at 13:24




September 29, 2012 at 13:06










September 29, 2012 at 12:26







September 29, 2012 at 12:02









September 29, 2012 at 10:56




September 29, 2012 at 10:18










September 29, 2012 at 10:12