No! THIS is Sparta – Part 1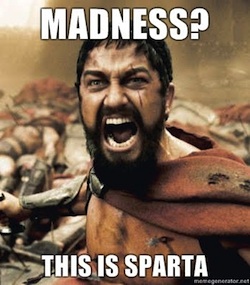 In their quest to create the perfect soldier, the perfect citizen and the perfect State the Spartans created a culture which would inspire many, and appall others. Hitler was one admirer of their ruthless practice of eugenics, weeding out and killing the weak. I have come to the conclusion that they, in turn, would have understood his philosophy all too well. But they would have thought him base, and a bit soft.
A couple of weeks ago, prompted by no more than a fancy, I wrote a piece about the hunt for the real location of ancient Troy. Anna, our learned editor, cautioned me that it was a bit long, but people seemed surprisingly interested. This week, in much the same vein, your armchair Indiana Jones set out in pursuit of knowledge of another classic topic of the Ancient world, Sparta and the Spartans.
I thought I had a rudimentary knowledge; I had after all, watched "The 300", the hugely stylised movie in homage to the Spartans' most celebrated battle. At Thermopylae (the Gates of the Hot Springs) in 480BC, 300 Spartans spearheaded a combined Greek force of about 5-7,000 and held back hundreds of thousands of troops of the invading the Persian tyrant Xerxes in a narrow pass between the mountains and the sea for days, giving the Greeks time to organise, and more importantly inspiring them to resist.
Ultimately, when the forces of Xerxes bribed a hill man to lead them though a mountain path and the Greeks were being surrounded, the Spartans sent the other Greeks home, and faced the Persians alone, fighting to (almost) the last man. One escaped because he had been sent away sick. He recovered from the shame by recklessly plunging into the Persian ranks in a later, extraordinary battle, and dying there instead.
I knew a bit more than the myth of blokes with computer enhanced six packs leaping around in "Speedos" in highly homo erotic manner, all to the strap line of Gerard Butler bellowing THIS IS SPARTA!
But I was a bit hazy. I decided to investigate further.
What I discovered when I plunged into it was astonishing, sometimes crazy, often awe inspiring and at times quite shocking and disturbing. Noting my editor's admonition to be brief, the story takes some telling. So I will do it in parts.
The time of Troy and the wars that went with it marked a kind of "Golden Age" of ancient pre – history. It was a time of enormous wealth, spectacular civilization and heroes, around 2,000 – 1300 years BC. But then, something happened. Whether by climate change, natural disaster, meteor strike (as some suggest), the appearance of the invading, mysterious "sea peoples" or a combination of all those, the grand civilisations of the High Bronze Age collapsed in some fiery catastrophe. The signs of fire and disaster are an archeological constant. The cause or causes are unclear. The first Dark Age had begun.
By 1,000 years BC, Greece had begun to emerge from this. Out of the shadows began to emerge large numbers of City States, all vying for land and power. Peoples called "Dorians" repopulated land in the valley of the Eurotas River in Southern Greece on a plateau to the east of the Taygetos mountain range, which provided a huge natural defence, but also a barrier to expansion. This was the land of Laconia, and amongst its tribes and clans was a particularly aggressive group whose home city was to become Sparta. Soon these Spartans, as we shall call them, established dominion over other clans and tribes in the region, who they treated as second class citizens "Perioeci", or "out dwellers". From the start, Sparta was a type of apartheid regime.
A digression! In order to explain something very, very important about Greek society as a whole at this period, but the Spartans in particular, it is necessary to relate something about how the Greek City States fought and waged war. The Greek City States evolved a system of infantry fighting based on the Hoplite warrior, advancing in the phalanx formation. A Hoplite was a heavily armoured infantry man who was armed with amongst other weapons a long (8 foot) spear, and protected but a large round shield a yard of so wide, made of hardwood but with an additional bronze layer. The shield was called a Hoplon, from which doubtless the soldiers took their name. It weighed between 15 and 20 pounds and was a formidable weapon in itself. The phalanx was a dense formation, perhaps 6 or perhaps 20 deep, and formed in effect a human, rolling tank. It was a hugely effective tactic, but it was not used elsewhere in the Ancient World. When the massively numerical forces of Xerxes invaded Greece, they did not deploy Hoplites.
Historians suggest there is something very significant about this. In a truly effective Hoplite formation (should you be lucky or unlucky enough to find yourself in one) the shields interlock, but your shield does not protect you as much as it protects the man to your left. He must trust you to cover his body. Just as you, in turn, must trust your life to the man on your right. This indicates a very high level of cohesion, and above all a sense of common cause on a personal and indeed political level. In short, it is possible because of the sense of citizenship which was emerging in the city states of Greece, the concept of the State, or Polis, to which you owed allegiance.
This is crucial to understanding the Spartan mentality, because they took this idea of "citizenship" and elevated it beyond anything ever seen before or after in history. Spartans set about creating the perfect Hoplites, the perfect citizen and the perfect state.
But first, a little more history. Across the mighty Taygetos mountain range lay the richer and more pleasant land of Messenia.
The Spartans eyes it greedily. In a 20 year campaign beginning in about 740 BC the Spartans finally overwhelmed the Messenians and achieved victory. Messenia was depopulated by emigration of its natives. Those who did not emigrate were reduced socially to "Helots", slaves or serfs by any other name. They were reduced to total subjugation for centuries.
This was hugely unusual, not because the Spartans had slaves. All Greek states recognised slavery over foreigners. But this was one Greek ruling over another as his slave. This was deeply menacing and sinister for the other Greek states…
And the enslaved Helots did not ever forget that they had been free men ruling their own country. They rose up in revolt, and the Second Messenian War raged.
The Second Messenian War was in many ways much worse in its ruthlessness and bloodshed than the First. The Messenians were desperate to brake through their fate as Helots and regain their freedom and Sparta had to transform itself into a permanently militarised society, to try desperately to keep the Messenians in check, realising that if Messenia was to be allowed to break away, the threat of impending invasion would be other City States. Think Northern Ireland, Bosnia, Viet Nam, all rolled together.
After another 25 years of ruthless warfare the Spartans were again victorious. The helots were to remain slaves for centuries to come, even when Sparta was forced to allow them to fight in its defence. They had finally gained complete control over the land now called Lacedaemon, or Greater Laconia. A big and rich state. A slave state.
But this had been done at a cost. It had been done by force of arms, but the Spartans now ruled a resentful population of Helot slaves who outnumbered them 7 to 1. The Spartan regime was ruthlessly apartheid. That meant that meant that there was no inter marriage between Spartans and Messenians, and no slow melding of the two societies together – as happened in post Conquest England, for example. At any moment, there could be another rebellion. This had been achieved by force of martial excellence. Now, it would have to be preserved by it.
I have thus set out the basic history in shorthand. Perhaps it is rather dry. If so I apologise. In another post I will try to make up for this by explaining the extraordinary nature of Spartan society. The ruthless eugenics, which was to inspire Hitler and others. The abrogation of family life. The slavery. The system of education which trained a child aged 7 and above as if he was a Special Forces soldier today. The beatings, the institutional cruelty, turning them into trained killers by the age of 19, trained to kill or be killed if they survived the cold, the training and the brutal coming of age ceremony as children aged 12 repeatedly ran a gauntlet of whips. The skills in armed and unarmed combat. The use the Hoplon shield, the Kopis sword, and even more chilling, the brutal Laconian short sword with its serrated edges. The blood soup. The compulsory homosexuality and common place lesbianism. The Special Forces Death Squads, roaming amongst the Helots, killing at will. The strange marriage ceremonies with women dressed as boys, their heads shaved and waiting in locked in darkened rooms. The wife lending.
Sparta was insane!
On a closing note, two final points to ponder about "The 300" The film makers were wrong on so many details. For example, a Spartan (to be precise a "Spartiate") went into battle in full bronze armour, not dressed in Speedos! And a Spartiate was always clean shaved; it was their strict rule. But yet, in one sense they were true to one feature of Spartiate life. Spartans, what is your profession!?
Gildas the Monk
October 1, 2012 at 20:11




October 1, 2012 at 01:10










October 1, 2012 at 08:36




September 30, 2012 at 19:37










September 30, 2012 at 20:40










September 30, 2012 at 20:20










September 30, 2012 at 20:41







September 30, 2012 at
22:01


September 30, 2012 at 17:15










September 30, 2012 at 17:40







September 30, 2012 at 13:01










September 30, 2012 at 13:42




September 30, 2012 at 12:37







September 30, 2012 at 11:53







September 30, 2012 at 11:21










September 30, 2012 at 13:23




September 30, 2012 at 09:55










September 30, 2012 at 10:26







September 30, 2012 at 11:25




September 30, 2012 at 09:41




September 30, 2012 at 09:33