The £46 Million Pound Front Page.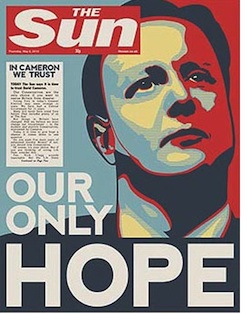 Would the Sun sub-editor responsible for this front page please stand up and take his punishment like a man? Shoot him if necessary – what is one life compared to the carnage caused by his actions?
He so upset Gordon Brown and his henchman Tom Watson, already brooding and vengeful over the demise of fellow Weegie Tommy Sheridan, that they tabled a meeting. Resolution was to be personalised in the form of the take-down of Sun newspaper magnate Rupert Murdoch and his entire organisation. How dare they support a political party. Er, another political party…
A change of government should have seen the end of this posturing vendetta – instead it has escalated into the show trial of the century. Left wing luvies have lined up to say how appalled they were that the world is aware that they hire hookers in Los Angeles to relieve their frustration; ex Prime Ministers respectfully asked their opinion on the solution to it all – 'What do you do with a Git like Media'? The original emotive 'Murdered teenage Millie's phone hacked' has silently morphed into 'Missing teenagers phone messages accessed with help of school friends and results handed to Surrey police'. Yet Prince Harry is still on the front pages dutifully concealing the Crown jewels…and the victims of surely the grossest media expose of all, Prince Charles and Camilla were never called or asked to say what they thought of the 'Tampax tapes'.
It has been a total waste of money that we neither asked for nor wanted. This morning we are told that Gordon Brown has claimed in excess of 13k in expenses despite only speaking on behalf of his constituents four times in the present parliament – yet no one mentions the human cost of that Ego landing on Rupert Murdoch's head? £46 million and counting. Enough to give every policeman in England a £350 bonus for 'endurance in the face of provocation'. Why should we pander to that Ego? Give him that Sun sub-editor on a platter and tell him to content himself with that.
It is not the financial cost which so offends, it is the human cost. The lives blighted in pursuit of this show trial. Not the journalists, they could have been arrested by appointment if necessary; but the families; we have had dawn arrests with Sky in attendance, leaks galore; scantily dressed teenage daughters forced to stand and watch as policemen rifled through their knicker drawers before school, seriously ill wives forced out of their sick beds so that policemen could search under the mattress, precious wedding photographs and children's birth certificates seized, ancient private love letters read, at least two attempted suicides in the wake of jobs and incomes lost, and several nervous breakdowns.
An entire newspaper and all the lives that depended on it has been crushed. For what? To prove that newspapers can be 'owned' by politicians – and woe betide the paper that bites the hand that feeds it? We already knew that.
These things happen to others – the Great Train Robbers, the Brinks Matt crew – but for figuring out that half the population had the default 1234 password on their Vodophone or that underpaid policemen welcomed the odd tenner for divulging information that pleased your editor?
Yes, its a crime, it should be investigated – but the current circus is about humiliating the media and all who work in it, teaching them a lesson that they will never forget.
Certainly Watson, Brown, and his henchmen knew where the bodies were buried – they had been in power for 13 years, knew all about corrupt politicians and their relationship with the media. They were supremely unconcerned by it – until that Sun sub-editor clicked on Photoshop and produced that front page.
185 policemen are tied up in those inquires. It's about time we sent the bill for their wages to Gordon Brown.
We are paying for it. Can we afford to, do we want to, does anybody care what we want?
September 9, 2012 at 18:38




September 8, 2012 at 16:54




September 8, 2012 at 12:44










September 8, 2012 at 09:22







September 8, 2012 at 06:37




September 7, 2012 at 22:00




September 7, 2012 at 19:08







September 7, 2012 at 18:07







September 7, 2012 at 19:05




September 7, 2012 at 17:01







September 7, 2012 at 15:40







September 7, 2012 at 16:30




September 7, 2012 at 14:46




September 7, 2012 at 14:13







September 7, 2012 at 14:56







September 7, 2012 at 12:20







September 7, 2012 at 13:15




September 7, 2012 at 14:03




September 7, 2012 at 12:12




September 7, 2012 at 12:08










September 7, 2012 at 11:48










September 7, 2012 at 11:47







September 7, 2012 at 12:02







September 8, 2012 at 05:26










September 11, 2012 at 22:47