Let them Eat Conservatories!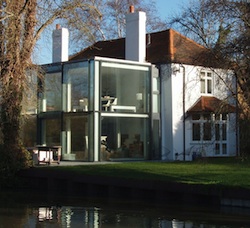 With exquisite timing, David Cameron has found a way to boost the economy. Whew! Just when we thought he was bereft of ideas.
As from today, you can build a bigger conservatory on your house. The very thing for hard-working tax paying heavily indebted families. If you hurry, you will increase the value of your house in time to catch Labour's newest brain wave – the Mansion Tax. Yes, I know you thought that was a Lib-Dem idea, but Labour have annexed it. Its part of the pre-distribution deal – this week's buzz word. Pre-distribution, it's the idea that you can distribute the wealth of the rich before they've even earned it. Brilliant idea, even better than the last Labour one of Tax Credits – tax credits meant you had to go to all the trouble of getting a job to have some of the rich's wealth, but now, hard pressed benefit families are to be saved that inconvenience, and pre-distribution will bring you the benefits of some other bugger's efforts right to your sofa! No wonder some people are predicting that Labour will get reelected!
Anyway, back to Conservatories. All you have to do is increase your mortgage and sign up with one of those double glazing firms (if you can get them on the phone in between all the celebratory parties going on) and you too can have a massive carbuncle on the side of your house. Your house will be worth even more theoretical money. Not that you can actually get your hands on this 'more money' 'cos a) you owe the double glazing firm twice as much as the increase in value, and b) nobody can borrow the money to buy the house from you anyway – but you'll feel better, you'll go to bed at night knowing that you are worth more money, you'll see that a Conservative government is doing something to help you….
Planning requirements have been slashed, planning solicitors are slashing their throats; estate agents are suicidal – no longer will they be able to tell you that 'they could have sold your house if only you had an extra room'. TV advertising companies are gearing up for all the extra business from Everest, regional newspapers are rubbing their hands with glee at the thought of all that classified advertising for 'commission only' salesmen – and you?
Look, all you have to do is find somewhere you can borrow the money from to pay for it all – I didn't say the scheme was perfect did I? Think of yourself as an economy booster.
September 6, 2012 at 19:20










September 7, 2012 at 09:27




September 6, 2012 at 18:10







September 6, 2012 at 17:21




September 6, 2012 at 17:12









September 6, 2012 at 18:11







September 6, 2012 at 14:48







September 6, 2012 at 13:15













September 6, 2012 at 11:03







September 6, 2012 at 10:50




September 6, 2012 at 10:44










September 6, 2012 at 19:56







September 6, 2012 at 19:59







September 6, 2012 at 09:50




September 6, 2012 at 09:17







September 6, 2012 at 18:41