Wonderful Radio London … news around the clock !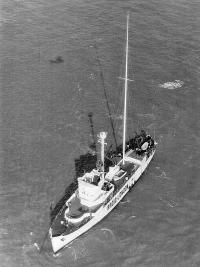 45 years ago to-day the illegal Wilson régime proscribed the best wireless stations in the land (well, actually just off the land) and renamed the B.B.C.'s stations in line with the Labour Party's aspirations : to remodel the United Kingdom along East-German lines.
O, for the days when Jack de Manio presented Today on the Home, the test match was on the Third and The Navy Lark on the Light !
The British government's obsession with the regulation of broadcasting is so intense that it's really quite surprising that the country has cellular wireless (mobile telephones) at all.
Parenthetically : The licence fee is a thoroughly inefficient way to fund the B.B.C. (and now a few other stations) ; it were much better simply to fund public broadcasting out of general taxation, thereby eliminating the cost of the fee's collection. The only reason for the licence fee is to 'justify' the state's spying on the citizenry. You might think the centre of espionage is G.C.H.Q. ; in reality it's Ravensbourne.
ΠΞ
Marine &c. Broadcasting (Offences) Act, 1967 (15 & 16 Eliz. II cap. xli)
August 23, 2012 at 21:50







August 23, 2012 at 22:38




August 17, 2012 at 13:57




August 16, 2012 at 21:27




August 16, 2012 at 21:26




August 16, 2012 at 14:46







August 16, 2012 at 11:47







August 16, 2012 at 19:45







August 17, 2012 at 14:13




August 15, 2012 at 19:15




August 15, 2012 at 14:54







August 26, 2012 at 20:03




August 15, 2012 at 13:11







August 15, 2012 at 12:54




August 15, 2012 at 12:20







August 15, 2012 at 11:24




August 15, 2012 at 11:21




August 15, 2012 at 10:17







August 15, 2012 at 09:20







August 15, 2012 at 10:23










August 15, 2012 at 15:18







August 20, 2012 at 17:05










August 20, 2012 at 19:28




August 15, 2012 at 20:16




August 15, 2012 at 07:55







August 15, 2012 at 07:44










August 15, 2012 at 07:45




August 16, 2012 at 22:40




August 15, 2012 at 07:30




August 15, 2012 at 06:35




August 15, 2012 at 06:15