Premature Articulation yet again.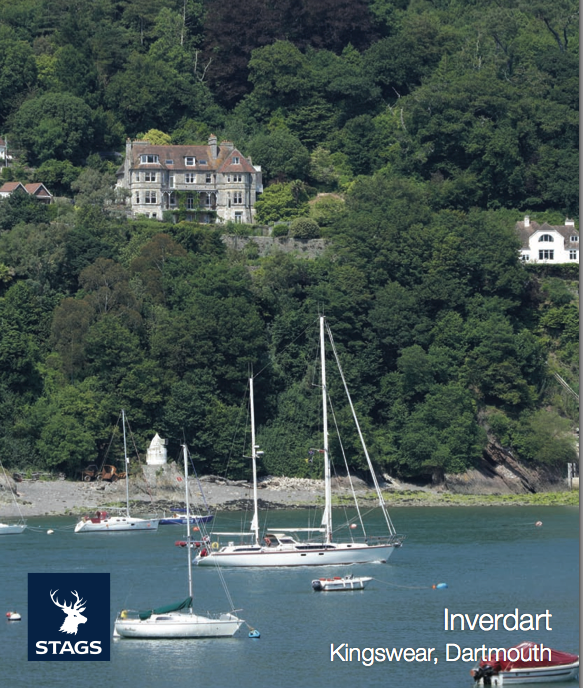 50 odd years ago, Frank and Chick Plant were laying out the pineapple squares and fish paste sandwiches in preparation for a grand party. They lived in the idyllic property illustrated. It was bought in extraordinary circumstances – blind, you might say – since neither of them had seen the house or knew of the area before it was offered to them for the minuscule sum of £5,000 by the head mistress of the African bush school where Chick had been teaching 10 years beforehand. The head mistress had recently inherited the property; Chick and Frank were returning to England after a hasty – whoops! – shotgun marriage.
Out of those difficult beginnings grew a love affair; both with each other, with the child, Christopher, who duly emerged, with a truly incredible house and with the small village of Kingswear.
They overcame other difficulties; not least the discovery that Chick had been engaged to my Father for six years – the same man who had once been the detested employer of Frank. A small world indeed. Chick and my Father had an enduring and unbreakable bond. He had once been the youngest Captain in the Royal Engineers, a bomb disposal expert in London during the latter part of the blitz. She was the much older woman, a 'Mother' figure perhaps, in the Auxiliary Territorial Service in charge of sending those young men out to perform their dangerous task. Although my Father had broken the engagement, unkindly by Telegram to marry my Mother, a woman he had only met six weeks beforehand, they remained as close as ever. How close will never be known.
After Christopher, another child was born, John. John sadly did not live for long, born with profound physical and mental handicaps. He was buried in Kingswear churchyard. Chick and Frank resolved to take their yacht, and Christopher; rent the house out and take up employment in St Kitts for a year or so, a fresh start, but with the much loved house, and John's grave, to return to.
There was no room on the yacht for all the possessions they would require for a year in the Caribbean, and so several of the old fashioned hoop topped steamship cabin trunks were acquired. The sort that have a tray that fits in the top, two tiered affairs. Duly packed, they sat in the garage awaiting collection by the commercial carriers. With nothing left to do, they made arrangements for their leaving party. All Kingswear was there. A small community in those days; they had many friends.
Christopher was put to bed with the promise of a bed time story in due course, and the guests started to arrive. The wine flowed, the conversation sparkled. Inverdart was an exceptional house, built for the Chairman of the Great Western Railway which stretched from London to the nearby town of Paignton. In those days the house was surrounded by a conservatory which stretched round three sides, overlooking the Royal Naval College, out to sea, and Dartmouth castle. It had a boathouse and the only piece of foreshore not owned by Prince Charles. Acres of winding gardens, filled with rhododendrons and exotic plants bloomed on all sides – there was much for the guests to discuss.
It was 10pm before Frank made his way upstairs to read Christopher his bed time story – and Christopher was not in his bed. Frank looked in the other bedrooms, he went back downstairs and checked the playroom. He looked in the garden. Panic was setting in, quickly, as it does with any parent. He found Chick, discretely, unwilling to startle the guests. They both searched, no sign of Christopher. The guests were told of the problem, over 100 of them. They searched. They searched the house, they searched cupboards, they searched the garden, they searched neighbouring gardens.
The Police were called, they arrived en masse at midnight. They fanned out through the village, assisted by virtually every occupant of the village, and searched every outhouse, every boat house, every nook and cranny. They double searched the house.
A stranger had been seen in the local pub. A local artist was enlisted to draw his image which duly appeared in the local paper, trilby hat pulled down sinisterly over his eyes, trench coat collar pulled up, surely this individual was responsible for Christopher's disappearance? A reward was offered. To no avail, Christopher had vanished without trace. 12 years old.
The village supported Chick and Frank in every way they knew, daily the house was full of people making tea for the police who by now had sent down frogmen into the harbour, and were combing the undergrowth. The entire area was a hive of activity. Frank was interviewed by the Police, quite correctly, as the last person to have seen Christopher. Chick, as you may imagine, was inconsolable. She had already lost one child, now another was missing. In her grief, she confided to a waiting Policeman – for they had never left the house – that Frank had never loved the child as she had. Untrue as it happens, but I can understand the circumstances in which it had been said. For part of the reason for the move abroad was that they had tried hard for another baby, with no success. Frank had visited the local Doctor, tests had been made, pretty rudimentary tests given that it was 50 years ago, and Frank had been told that it was unlikely he would ever Father a child.
Not surprisingly, the finger of suspicion had fallen on the ever present spectre of my Father. His relationship with Chick was an intensely private one to both of them. Letters flowed backwards and forwards between them on a weekly basis. 50 years later those letters were still kept. She was, she told Frank, just supporting him through his 'nervous troubles' which resulted form his war time experiences, something only she could understand. Frank held a much darker view of my Father, born of his experience in working for him in Liverpool. I will never know the truth, I have read the letters, and quite honestly, they are ambiguous, you could read into them what you wanted to.
This intensely personal piece of information should never have escaped the confines of the Police – but it did. It became common knowledge that Frank was unlikely – embroidered to definitely not – the Father of Christopher and John. It became common knowledge that Frank, rather than Frank and Chick, was the last person to see Christopher, and as the days of searching wore on Frank became aware that tongues were wagging. He was, quite literally, furious with Chick for her confession. There was no time to discuss the matter though, for the house was still filled daily with policemen and villagers supporting the unhappy couple.
Thus it was, an entire week later, that Christopher's body was discovered. He had been dead for a week. He had climbed into one of those hoop topped boxes, under the second tier, and pulled the lid down on himself. A game of hide and seek gone wrong. There was no foul play. At least three people, including a policeman, attested at the inquest that the cabin trunks had been opened – but discovering them filled to the brim, no one had thought to dig down and remove the second tier. No one had noticed the pile of belongings neatly stacked on the side that should have been under the second tier – placed there by Christopher as he made room for himself. The trunk appeared full, a pile of surplus possessions nothing unusual in a household being packed up.
If you have ever wondered why I am so adamantly opposed to idle speculation in these matters, to the armchair detectives who 'know' exactly what has occurred – now you know. I have spent my entire life watching the damage wrought, not just by Christopher's death, but by the speculation as to who was responsible. Frank ultimately drank himself to death, nursing a life long hatred of my Father. Chick succumbed to several nervous breakdowns and finally a debilitating stroke. They were good people, destroyed by wagging tongues. Incredibly, I didn't know the full story until I was in my late 30s; I knew them as 'Uncle' Frank and 'Aunty' Chick, never quite sure where they fitted into our complicated family, but much loved as the couple where my Father parked me frequently as a child. They treated me as their own (and bear in mind how difficult that must have been for Frank) never a word was uttered, until my Father committed suicide shortly after Chick's death, and the whole story came tumbling out from various other family members. Frank came to live with me, along with his collection of wine bottles and grumpy spaniel. We were, we joked, the founder members of the 'Donald should have married Chick in the first place' club. When he died, he left me the right to live in Inverdart – I couldn't bear to any more than he could by then.
It is scarcely surprising that I am minded of this in the light of the tragic Tia's death.
The media and the armchair detectives are quite sure that a body couldn't lie unnoticed in a house for a week. Yes it could.
The 'retired detectives' are quite sure that if they had been in charge, they would have ripped the house apart 'floorboard by floorboard' on the first day. 270,000 teenagers go missing every year, one every three minutes – you are really going to tear apart every house of every truculent teenager that goes missing?
The McCann 'haters' are out in force – 'the dogs never lie' they cry. Cadaver dogs should have been sent up into the loft on day one. I'll grant you that you can train dogs to run up a step ladder, but when you can train them to only step on the rafters rather than plunge through the plasterboard ceiling just in time to land in the lap of said returning teenager to howls of protest from the Daily Mail – 'Why was this much loved family home ripped apart like this for the crime of reporting a missing teenager'? – then I'll listen.
The speculation, the body language experts, 'you could see his shifty eyes' remind me of the days spent following up on the shady stranger with his trilby pulled down over his eyes. Definitely him.
The innuendo, who fathered whom, who slept with whom – and all this before anyone knows how Tia died, when she died, why she died, for God's sake she hasn't even been formally identified yet!
Yet 'the community' are annoyed and traumatised because the police 'let' them search for a missing teenager who was dead all the time!
The media appear more preoccupied with the alleged Police 'shortcomings' than with waiting to find out what happened. As does Twitter. Even the bitter army of retired policemen.
Why not wait until the facts emerge? You might be proved right, Stuart Hazell may be a murderous scum bag – you'll have plenty of chance to bang on the side of his prison van if so. The parents could be neglectful arseholes – you'll get your chance to say so.
Just try and avoid the premature articulation, I am mindful of the fact that there can be entirely innocent tragedies, and that they are only compounded by idle gossip. Believe me, the reverberations can last for generations.



August 16, 2012 at 10:08







August 15, 2012 at 15:15







August 13, 2012 at 09:40







August 12, 2012 at 23:42







August 14, 2012 at 01:08







August 16, 2012 at 01:00







August 12, 2012 at 22:07










August 12, 2012 at 19:34




August 12, 2012 at 17:18







August 12, 2012 at 16:41




August 12, 2012 at 13:42










August 13, 2012 at 00:08