Ian Brady & Julian Assange – Twin Souls in the Narcism Stakes.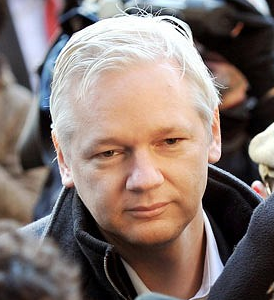 I was struck this morning by the similarities between Ian Brady and Julian Assange – the individuals, not their crimes.
You cannot compare the cruelty and callousness of Brady's child murders with Assange's alleged offences, though if you throw in his apparent callousness towards those Afghan informers whose lives he was prepared to throw to the wolves – "Well, they're informants. So, if they get killed, they've got it coming to them," he reportedly said – you are in the same league of callousness.
Debating point? Surely Wikileaks are 'Informers', are they not?
The similarity lies in their reaction to being taken to task for their behaviour. Neither believe that the authorities have any business questioning any whim of theirs. Both believe that the law should be bent to exclude them from the restrictions made on ordinary men. Both enjoy the spectacle of tweaking the authorities noses as they garner world wide press and support for their chosen activities. Both believe that being held to account for their activities amounts to 'persecution'. Quote, Unquote. Neither show an ounce of empathy towards those affected by their behaviour.
Until Assange took refuge in the Ecuadorian Embassy – 'I'm thrilled' said Julian's ex-host in an amusingly ambiguous comment when Julian was formally offered asylum by Ecuador – both of them have for years racked up enormous bills at the tax payers expense as they set about proving that 'they' were different.
With considerable media accumen, both have managed to persuade sections of the media and the general public, that the campaigns for which they have become icons are soooo important that they almost preclude any consideration of their behaviour. Brady has become the poster child of the 'Right to die' campaigners, with scarcely a backward glance at his victims; Assange, whose left wing 'Right to Free Speech' campaigners would be frothing at the mouth under normal circumstances should an unwashed, uncouth, male of the species dare look at a woman in a manner she found offensive, airily dismiss the right of two Swedish women to even complain about his sexual habits.
Only one of them has been formally declared insane….
Assange went to Sweden in the first place because he was so admiring of their legal system. Until they dared to question him. Then it became the most backward judiciary in the world, and he fled to Britain – possibly the country most inclined to hand him over to the US should they request that, which they never have. When it seemed that the UK was going to abide by International Law, he decided that the only country in the world whose legal system could be trusted was Ecuador; now he sits in a small, poorly lit room, surrounded by policemen, with an exercise treadmill, and takeaway chinese for dinner and relishes his 'freedom' from persecution…interesting that it is Brady who is declared insane.
Brady meanwhile has handed an envelope containing possibly his recipe for chocolate cup cakes, possibly the site of Keith Bennett's grave, to his mental health advocate, whilst declaring that 'it will bring serenity' to the Mother of Keith Bennett, a beautifully judged piece of innuendo designed to rake the ashes, and which so far has resulted in said mental health advocate being arrested for possibly preventing a burial. Possibly, because nobody, not even the mental health advocate, knows what is in the envelope. She will be hauled through the courts and forced (maybe) to break her professional code of confidentiality, whilst Brady continues to hog the headlines.
More test cases, more legal fees, more worry lines, more expense to everyone other than these two jokers. Have you ever noticed that neither have a single line on their faces?
If Narcism was an Olympic sport, we'd have racked up another pair of gold medals. August 27, 2012 at 19:04







August 22, 2012 at 07:41




August 21, 2012 at 23:35







August 21, 2012 at 20:16










August 21, 2012 at 15:55











August 19, 2012 at 11:22







August 19, 2012 at 11:16







August 19, 2012 at 11:03










August 19, 2012 at 08:52










August 19, 2012 at 08:50




August 19, 2012 at 07:59







August 18, 2012 at 21:26




August 18, 2012 at 19:09










August 18, 2012 at 09:38




August 18, 2012 at 09:29










August 18, 2012 at 12:28










August 18, 2012 at 13:02







August 18, 2012 at 20:02







August 18, 2012 at 21:21




August 18, 2012 at 08:31







August 17, 2012 at 23:37




August 17, 2012 at 22:39







August 18, 2012 at 06:48




August 17, 2012 at 22:20







August 17, 2012 at 22:09










August 17, 2012 at 21:43




August 17, 2012 at 20:52




August 17, 2012 at 19:28




August 17, 2012 at 17:33







August 17, 2012 at 16:54










August 17, 2012 at 17:44




August 17, 2012 at 16:26










August 17, 2012 at 21:02










August 17, 2012 at 16:02










August 17, 2012 at 17:28










August 17, 2012 at 18:03







August 17, 2012 at
18:52





August 17, 2012 at
21:21


August 19, 2012 at 18:28







August 21, 2012 at 08:09