The Sunday Ramble : Panem et Circenses, Sonor et Lumen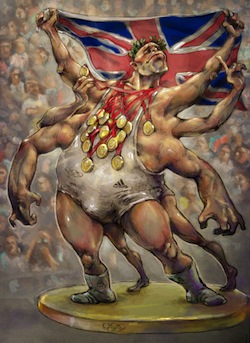 Not sure about the Latin grammar, but there you go. I have scribed some mumbling carping about LOCOG and the "Olympic Family" and the general bloated and often corrupt corporate culture that goes with it before, and I remain of that view. On the other hand, I have no problem with athletic excellence and courage and pure souls competing. Of course I have been in large measure seduced by the Games. That was inevitable, and quite proper.
On the whole, I feel Britain has done a very creditable job in hosting the Games. We do have a skill in providing organization and a bit of spectacle. And there have been some moments of competition which did by varying degrees raise the hair on the back of my neck or even force a tear. They are not necessarily the moments of greatest success and glory. Bolt in the 100 and 200 meters finals for example was extraordinary but did not move me as such.
This is my list of personal "wow" moments when I felt that chill of awe and excitement, and which will stay with me for a long time. And some boo moments to go with them.
Boo!
Dancing NHS nurses and an opening ceremony that featured children being traumatized by goblins. Shami Chakrabarti carrying the Olympic flag. Oh, please! Why not Abu Qatada while you are at it, Danny?
Empty seats, thanks to the "Olympic Family", who can't be bothered to turn up and watch
Wow!
Cycling. In the team road race, the riders in glittering colours snaking through the Surrey hills and Richmond Park viewed from a helicopter. Massed crowds cheered them on, and England was resplendent at its most beautiful.
More road cycling. Bradley Wiggins was awesome, but I was more moved by a pretty slip of a girl Lizzie Armitstead giving it her all up to the finish line in the pouring rain and getting silver on the women's road race.
Adlington winning bronze with sheer guts in a time which was faster than her gold four years ago.
Boo!
Tom Daley being abused by a troll on Twitter.
Wow!
Watching Michael Phelps win a gold and become the most successful Olympian of all time
Boo!
In the Badminton, four pairs trying to lose in order to get a better draw in the next round.
Wow!
Rowing. Well done all crews, especially the machine like men's coxless fours for retaining gold in the Blue Riband, the ultimate prize. Superb. But, for my personal "wow" factor ones that will stay with me; these. Gold for Grainger and Watkins imperiously winning in the women's pair in imperious form (reducing your scribe to tears). Bronze for the men's VIII, because I recall what it is like to be so nearly, nearly there and the ultimate pain they must have gone through. Winning washes away pain. For these guys, third is hell. And gold again in the women's double sculls for Katherine Copeland and Sophie Hosking. Copeland is delightfully goofy, and her "Have We Won The Gold Then?" face full of shock, surprise and joy and innocence at the end of the race was brilliant, perhaps the defining picture of a British Games. Because the delightful Copeland is almost the exact opposite of the joyless professional drug cheat winner, except that she is a winner.
And the Eton Dorney Roar! The noise as the crews came in front of the grandstands in about the last 500 meters was visceral, joyous, thunderous, wild, passionate, joyful fitting companion to the excellence of the crews. It was the people who were making the Games. Time and time again it is the sheer volume and quality of noise from the crowd that has left me in awe and moved, because you can't fake it.
Boo!
Yet More rowing. The men's lightweight four miss out on gold by about 0.2 of a second when the lane should have been re-allocated.
Wow!
"Super Thursday" It all really started to crank up for Britain on "Super Thursday". I came out of work and turned on the radio to hear commentary on some boxing, as a British heavyweight overcame the Mongolian favourite. The hugely knowledgeable boxing journalist Steve Bunce almost totally "lost it" with delight and praise, and took me with him. And once again the noise, a terrific, guttural, physical wall of noise as the crowd went crazy, crazy, crazy!
And suddenly it ALL went crazy. In short succession as I drone home a Brit bagged a gold in the shotgun, and Britain was in the lead in the C2 slalom, and the last run down was another British boat. Britain won silver and gold, and once again the crowd were going absolutely mental with excitement, carrying me with them. In the car I yelled and punched the air!
This continued in the evening with a crescendo as there was an incredible climax to the men's gymnastics winning bronze in an extraordinary contest with the last routine of the day. I thought my radio was going to explode.
It went on and on. Now Hoy & Co were going like an express train in the Velodrome and winning gold in a total blitz. More utter hysteria. Is this crowd really British? Where are these super human, passionate, almost demonic supporters come from? Not from staid, dull old Britain surely!
Boo!
The delightful "Queen" Victoria Pendleton and partner get disqualified, for some alleged infringement. I suspect sabotage, and the French. But the next day she goes like a train and wins gold! Then an Australian, a very bad person in my book, leans on her and gets her win cancelled because of some minor infringement. I sense a conspiracy.
Wow!
"Queen Vic" retires and breaks down in tears. Your scribe joins in. Again. *Sigh*
Super Thursday morphed into Super Saturday. After a quiet day for Team GB, three gold medals in a 40 minute blitz. And perhaps the stand out moment of the Games. Jessica Ennis, a tiny, bonny straight talking girl next door from Sheffield somehow leads in the heptathlon – a true Olympic event. Realistically she only needs to run a safe race in the 800 meters to win. Just jog round, and make sure she has no injuries. So she goes out like a rocket, storming ahead. She is young, she is leading the field in the Olympic Games in her home country, 80,000 people rise to salute her and a wall of flash lights from cameras and roars from the crowd threatens to engulf her. What would that experience be like? The field catch her but she fights back to win. I am in awe.
Boo!
"Olympic tennis" and Grumpy Andy gets the gold. As you have probably guessed, I am not a fan of either. Come on Federer!
Wow!
Yet more cycling, almost too much to say. The delightfully sweet girl next door, a slender reed with an engine like a nuclear power plant called Laura Trott wins my heart and the small matter of two golds, at age 20. She giggles through interviews and brightens my day. She has a will like steel and a smile like sunshine.
And of course, Sir Chris Hoy again. Seemingly making a tactical error in the men's Keirin, but with half a lap to go in an act of supreme power and sheer will he pulls through to win. Can we knight you twice? On Twitter someone calls its spot on with a very short and sweet tweet: "Hoy. Boom." Quite.
Boo!
Whoever defaced the post box painted gold in honour of Jessica Ennis. Welcome to Sheffield.
Wow!
Dancing Horses! An odd one this, a bit left field. But somehow very memorable. The elite, remote sport of dressage becomes from nowhere something like a national obsession for a day. I missed it mostly, but it was amazing to watch my Twitter time line fill up with more and more dramatic and startled observations about "The Dancing Horses". Because the beautiful horses and the rather sexy toffs who ride them are doing what sport at its best always does, becoming a thing of beauty which you may not understand, but is nevertheless compelling. One tweet from a cynical serial "ranter" read: "I have just spent 2 hours entranced by dancing horses ridden by posh nobs. I am overwhelmed! What is happening to me?" What indeed! But when I finally get to see the gold winning routine by Charlotte Dujardin riding the quite gorgeous Valegro, you can see why. Especially with its cunning use of "British" music like Land of Hope and Glory. Pity she didn't get the "Dambusters" theme in, but there we go. Can't have everything.
David Rudisha winning the 800 meters final in a world record time. Watching Rudisha run is and extraordinary experience. He is not a machine like Bolt, but a thing of great beauty. It may seem strange to describe the way a man runs as a thing of beauty, but it is. It is flowing, smooth, balletic, seemingly effortless, powerful and totally graceful. He radiates quiet joy as he runs. He is the most beautiful athlete I have ever seen.
And finally, women's boxing. In back to back fights Britain's Nicola Adams and Ireland's Katie Taylor win golds in hugely accomplished and professional performances, as the Anglo Irish crowd fuelled by adrenalin, nationalism and Guinness and pundit Steve Bunce (him again) goes absolutely delirious and threatens to lift the roof. Then a tiny girl from Wales goes and wins gold in the Taekwondo. Delirium.
And that really was that. It's party time now for the athletes, and they can get to work using up the 100,000 condoms which LOCOG have thoughtfully supplied. As is well known the Olympic Games always degenerates into a gigantic and seedy shag fest. So, we can all put away our "feel good factor" for a while. Back to work, oh units of economic production! The Games are over. Now, satisfied, we must pay our Lords and Masters their taxes! You didn't expect the cynicism button to be turned off completely, did you?
Gildas the Monk



August 13, 2012 at 11:35










August 14, 2012 at 19:41







August 14, 2012 at 22:23




August 12, 2012 at 19:10







August 12, 2012 at 20:54







August 12, 2012 at 22:39




August 13, 2012 at 07:42




August 13, 2012 at 08:12







August 13, 2012 at 11:04










August 13, 2012 at 11:40







August 13, 2012 at
17:48





August 13, 2012 at 19:51










August 13, 2012 at 23:16




August 12, 2012 at 14:41




August 12, 2012 at 14:02







August 12, 2012 at 11:27




August 12, 2012 at 10:50










August 13, 2012 at 19:45










August 13, 2012 at 23:16




August 12, 2012 at 10:16




August 12, 2012 at 10:06




August 12, 2012 at 10:04