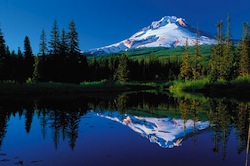 Oregon. It's that wide open state of mountain and forest where American's dream of a life of self sufficiency, fish for your supper, shoot your breakfast, camp fires, and a thumping great 4 x 4 to tear along the forest tracks…
It is the American dream, a return to the lifestyle of the pioneers. Take care of yourself, take care of your own, live on the bounty of nature. Even in Oregon the State is encroaching. Those who dream of a similar lifestyle might care to take note of the result of a court case that has been on going there for ten years now.
Water, that most essential ingredient of life for mankind. It doesn't belong to mankind though, even when it falls from the sky. It belongs to the State. Allegedly.
A Oregon man has just been jailed for 30 days and fined $1,500 dollars for allowing rainwater that fell from the sky onto his 170 acres farm to drop into the ponds on his farm, thus depriving Medford Water Commission of its rightful drops of water…
Garry Harrington lives in an area of extreme wild fires:
"When it comes to the point where a rural landowner can't catch rainwater that falls on his land to protect his property, it's gone too far,"
"The government is bullying. They've just gotten to be big bullies and if you just lay over and die and give up, that just makes them bigger bullies. So, we as Americans, we need to stand on our constitutional rights, on our rights as citizens and hang tough,"
In the UK, we have become used to hosepipe bans, even as our homes flooded. There is some rationale there, the water companies do pipe the water to our homes; this is going further, this says that even the water that falls out of the sky belongs to the water companies, or the State.
You will buy the very essence of life from the State.
At what point do people rise up and shoot the lot of them?
July 31, 2012 at 21:29




July 31, 2012 at 20:25







July 31, 2012 at 21:24




July 31, 2012 at 19:59







July 31, 2012 at 21:26




July 31, 2012 at 18:00




July 31, 2012 at 11:34




July 31, 2012 at 09:29







July 31, 2012 at 11:09




July 31, 2012 at 09:15










July 31, 2012 at 09:00