The Sunday Ramble – Standing Room Only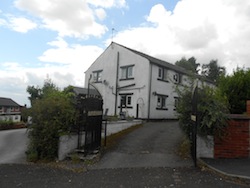 This is the house where Chris used to live. It is a half timbered effort, dating I guess from somewhere in early 1800's. As you can see, it is not situated in bucolic seclusion, at least not now, but rather on the edge of what used to be the middle class enclave of this once prosperous northern mill town and near a main road, although there is a pleasant little park nearby. It was, however, fortuitously situated from Chris's point of view, because it actually adjoined the car park of a decent pub.
I am going back maybe nearly thirty years now, to when I was still a young man. Some of our younger readers may not recall, but in those days pubs, as opposed to "bars", were numerous and quite popular. This one was perfectly adequate, if not spectacular. It was quite a busy, social place. In those days the pub attracted a decent cross section of younger and older customers, a proper mix of students, working men and women, and teachers, accountants and small town solicitors and the like, just an ordinary community where people would meet and drink, and talk to each other.
In those days, as I recall it was a pub that sold Boddingtons and Oldham Ales – I think the former owned the latter brewery – and fine golden Boddingtons beer was my choice. The landlady was a fearsome looking but kindly woman who looked like a painted dragon, a true landlady from a sea side postcard. But I well remember the home made sandwiches and local pies being handed out for free at Christmas time and so forth, when it was "Standing Room Only" at the pub.
Now as for Chris, he was something of a fixture in the pub, at least as I recall at weekend evenings. I did not know him very well, and perhaps nobody did. He was a small, reasonably dapper man, in his mid fifties or thereabouts. He had a sandy moustache, and used to always wear a jacket and tie. He looked a bit tired and had that watery eye of someone who has drunk a bit too much for a bit too long. As I understood it, he had always lived at the house with his father and mother, and latterly when they passed on, on his own.
Of an evening he would park himself on a stool at a corner of the bar at the pub. His tipple of choice was gin and tonic, and he would quietly and steadily imbibe all evening. That was in the day when no one turned a hair at smoking in pubs and public places, and he would steadily chain smoke as well. He never offended anyone, and would engage in the kind of polite, uncontroversial pleasantries and platitudes with other regulars that caused no offence. And ultimately at closing time he would wobble his way back across the car park, on his own, to his house about twenty yards away.
Looking back now with a little more wisdom and understanding than I had then, he was clearly a very shy man, perhaps yearning company but unable to break down whatever barriers held him back. I never really had a proper conversation with him, though he would always nod and smile a hello, before ordering another "G and T". I did not even know (and still do not) what job he did. I can only assume it was something which did not involve confrontation or leadership, perhaps a book keeper or clerk.
Now Chris didn't always look in the best of health, as the lifestyle I have described might suggest. And indeed, perhaps inevitably, there came the day when I noticed Chris sitting at the bar, sipping his customary gin and tonic, but with his throat swathed in bandages. The years of alcohol and tobacco had taken their toll, it seemed, and Chris had cancer. Nowadays, such are the advances of medicine, perhaps he might have survived. In those days, there was no chance of treatment, and Chris was told to continue his vices for as long as he had, for there was no point giving up by that stage
And so, shortly afterwards, sadly and inevitably there came the day when Chris no longer occupied his place by at bar any more.
Other changes have taken place too. The once famous Boddingtons and Oldham Ales brands seem to have disappeared, victims of incompetent management by new fangled corporate executives, and also the pressure on pubs in general caused by the supermarkets and government taxes. The pub is still there, but the landlord seems a surly man. Perhaps that is understandable. The middle classes have fled the centre of the town in what I think can only fairly be called "white flight". A very great deal of what used to be the middle class area round and about is now inhabited predominantly by the Asian Muslim community, and going down the pub is not really high on their agenda of a Friday night, for obvious reasons. The pub is no longer very busy, or very welcoming.
Some may say that this is a sad story. Certainly the "Health Police" would jump on it as an example of the horrors and dangers of drinking and smoking. Others may say that this is the story of a lonely man who lived a "little" life. I can see why there would be force in these points.
However, it seems to me that is not the whole story. Chris did no harm, and that is the first rule of the good doctor, as I understand it, and no mean feat in life. And as it seems to me, there is no "one-size-fits-all" pattern for the soul, or prescription for what a successful life should look like. The life which seems for one a failure may be quite the reverse for someone else. Chris doubtless found a kind of solace in his quiet evenings by the bar, and he had his life to lead, and his destiny to follow, not anyone else's. And then it was time for Chris to call time on what may have been a lonely life, and find true peace, away from the bar.
And consider this. I have been to the funerals of "successful" men who had been noisy instruments in the great orchestra of life, but where there has been a distinct lack of atmosphere, or love.
Let me then add a postscript to this story. For Chris' funeral took place in the local Catholic church (my church, as it happened) which is a quite large and imposing Victorian one. I went. It turned out I was not alone. You see, it seemed half the bloody town had turned out, and no one had a bad word to say about Chris. It was packed: indeed it was "Standing Room Only", and I had to stand at the back, next to the almost inconsolable dragon landlady. I don't think she was crying because of lost revenue, either. Others cried too. And so, perhaps it was not such a "little" life after all.
And I wish I were back there, thirty or more years ago. Would I tell Chris to put out his cigarette and order a fruit juice? No, I would buy him a large gin and tonic, and shake his hand.
Tonight I shall raise a glass to him. The toast shall be:
"To Chris! We remember you fondly! Bravo!"
Gildas the Monk



July 31, 2012 at 08:53




July 30, 2012 at 23:48










July 31, 2012 at 08:23







July 30, 2012 at 22:52










July 30, 2012 at 22:47




July 30, 2012 at 18:09




July 29, 2012 at 22:15










July 30, 2012 at 07:26




July 29, 2012 at 19:39










July 29, 2012 at 21:25




July 29, 2012 at 19:25










July 29, 2012 at 20:03







July 29, 2012 at 20:13







July
29, 2012 at 21:26





July 29, 2012 at 21:55

July 29, 2012 at 21:36




July 29, 2012 at 17:39










July 29, 2012 at 21:24







July 29, 2012 at 14:58




July 29, 2012 at 14:46







July 29, 2012 at 12:59










July 29, 2012 at 13:17







July 29, 2012 at 10:50




July 29, 2012 at 09:15







July 29, 2012 at 08:53