Just colour me Dormouse….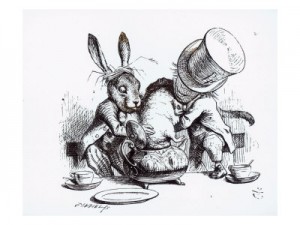 Don't fight it, don 't panic, just pack up your things quietly and leave the country.
No wonder they've called the military in to guard the Olympics, who could they hire in the civilian world? This fellow?
A MAN got his hand stuck in a teapot while trying a fish out a teabag.
He called the Fire brigade, naturally. That's what the 999 service is there for isn't it? Fire-fighters from Whiston attended the call-out at an address in St Helens shortly before 9am.
Did they fall about laughing? Did they berate him for wasting their time? Nope, they thought they might have spotted a teensy weensy bit of blood on his hand, and they called out an ambulance.
We requested an ambulance as we could see some blood but did not know how badly his hand was cut.
The Fire Brigade cut the tea-pot up into little bits, the ambulance staff inspected his hand and decided it was such a teensy weensy little cut it didn't need any treatment, and they both called out the local newspaper reporter to practice his joined up writing and fill the space where the news ought to be. He didn't do much to impress either! "Trying a fish out a teabag". What, was he trying to eat a fish out of a tea bag? Proof reading kiddo.
9am and this plonker was still having his tea, eh? I do hope he was a night shift worker, I really, really do, I cannot bear the thought that taxpayers are supporting such an utter waste of space.
Is there no problem in life so small that you couldn't consider solving it by yourself? Trying the old washing up liquid trick? Tying the tea pot to the back bumper of a car, you'll soon get fed up running after it? Even walking round to the Fire Station in desperation? How did Britain win the war?
July
21, 2012 at 22:01


July 17, 2012 at 10:51







July 17, 2012 at 08:19










July 16, 2012 at 21:20










July 16, 2012 at 21:48




July 16, 2012 at 20:01










July 16, 2012 at 20:05




July 16, 2012 at 21:09




July 16, 2012 at 18:58




July 16, 2012 at 18:44




July 16, 2012 at 17:20




July 16, 2012 at 16:37




July 16, 2012 at 16:05







July 16, 2012 at 15:38







July 16, 2012 at 15:22







July 17, 2012 at 17:12