Nappy Days are Here Again.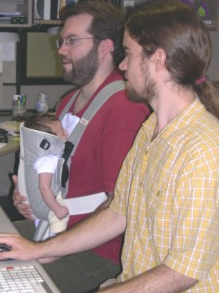 Not for me Thank God, just watching the BBC2 documentary on Taxi firm Addison Lee was enough to send shivers down my spine.
Following on from yesterdays post, I bring you the latest in Feminism. Paying too much for child care? The answer is take the baby to work with you.
You might have guessed that the Head of Human Resources at Addison Lee was a woman, no man would ever have dared to suggest this chaos. As if your average call centre was not sufficiently Hell on wheels to dissuade you from turning up to work, Clare Mitchell has decreed that in order to 'support staff through early parenthood', bringing a few dozen screaming infants and disruptive toddlers into the workplace is the perfect solution.
As workers battle with the logistics of getting 3,000 taxis a day into the right place at the right time, they must do so against the insistent wail of angry new borns, bored two year olds, and a cacophony of discordant voices trilling lullabys to the little darlings in order that Mummy can get some work done. Keyboards sticky with breast milk, computer screens covered in felt tip 'art works', the office microwave permanently scattered with the remnants of puréed apricot and grass fed lamb with hand made pasta, the right leg of My Little Pony protruding from the electric socket, and you will find a toddler seat wedged into the loo when you finally escape there to get some peace and quiet.
I predict that the mini-cab wars will start up again and be far more vicious than anything seen before. Incidentally, if Addison Lee are so family friendly, why can't you order a baby seat in one of their taxis?
Work is where men and sane women go to escape rug rats, how can anybody concentrate with someone else's inarticulate toddler tugging at their shirt sleeve? When you order a taxi for the 6am run to Heathrow, will 'Sorry Justin spilt his eggy soldiers on the keyboard' be the new excuse for it not turning up?
Nicola Horlicks was interesting, 'People make a business, and if you want the best people you need to invest in them. That means making sure you offer family-friendly policies.' The implication is that the best people are women, and women with children…I don't agree. The best people for any business are those who have their minds totally focussed on the business – what say you? Fancy going to work surrounded by children? What is wrong with a crèche if you are determined to attract young Mothers to your work place?
Babes in the workplace, yes; Babies, no!