Don't mention the 'F' word.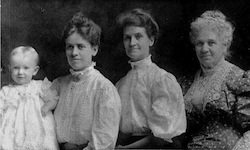 We have the likes of Cosmopolitan magazine circa 1960 to blame for modern women's fear of the 'F' word. They sold her the idea that to have a fulfilling life, she must have a 'C' word in her armoury. A Career.
So off to work she went – but who was to look after her children? Why, further down the food chain, in 'Take A Break' magazine, women 'B' was being sold the idea that to have a fulfilling life she must have a job – so off to work she went. Looking after woman 'A's children…how come she can be fulfilled by looking after A's little brats, but 'A' can't? Eh?
Because 'A' was in a higher class job, that's why. 'A' was collecting some Banker's dry cleaning, rushing out to get his sandwiches at lunchtime, and answering his phone for him.
That's fulfilment folks. It's also a double dollop of taxation for the government. Which is just as well, because someone had to look after woman 'B's children whilst she was out at work, and she couldn't afford to pay much, so the government gave some of the lovely taxation money to woman 'C' to provide cheap child care. It's a whiz of a system, because it left the banker's wife with nothing to do all day except wander round the shops wondering whether to buy the £750 shoes or the £900 shoes.
Nobody ever mentioned the 'F' word.
Now woman 'A's Mother has got old and cantankerous, and somebody has got to pull her knickers up for her and make her a cup of tea, and woman 'A' can't do it 'cos she's too busy collecting the Banker's dry cleaning and being fulfilled and everything, and woman 'B' can't do it 'cos she's looking after woman 'A's children, and woman 'C's looking after woman 'B's children, so she can't either.
So poor old Mum gets looked after by women 'P', who's only over from Poland for long enough to buy a house back home and really doesn't give a shit about woman 'A's Mother, but she does get minimum wages, so someone has to pay her. Guess who? Yes, it's the government out of taxation on woman 'A', 'B' and 'C'. And there isn't enough of that to go around, so we've had a two year Dilnot Commission to work out how to do that without woman 'A' losing her inheritance that she'd banked on from Mum's house.
Cos 'Mum forced to sell house to pay for care' really wasn't a good headline, and didn't endear woman 'A', who is still voting, to the government. They've come up with some corking suggestions, and all the interested parties are piling in with even more.
And nobody is mentioning the 'F' word.
First of all, Mum is not going 'to be forced to sell her house'. No, no, no. Even though she's not living in it any more. So that gets rid of that headline. Not the problem, just the headline. No, Mum is going to be given a loan to pay for her care. A bit like a Student Loan, we can call it an 'Imprudent Loan' if you like. It'll be Woman 'A' who is going to pay it back, out of her inheritance, and she can't very well go on television and whine that 'Mum's heartbroken about her house' now, can she? 'Cos Mum's still got her house, and woman 'A' is still out looking after the Banker's dry cleaning, and everyone is fulfilled. Especially woman 'P' who is halfway to buying a house in Gdańsk, even though she still doesn't understand a word of what Mum is saying to her.
This week, the British Medical Journal, house magazine of that venerable body of Hippocratic oath takers, has come up with an even corkier suggestion. 'I know', they said, or at least a venerable Professor of Philosophy said, one of those especially deep, deep thinkers. 'I know, stop feeding Mum, in fact stop giving her any water either, that'll save on the water rates, and in ten days or so, the problem will have gone away'. No really, that is the alternative that is being suggested to Mum having to take out a loan to pay for her care. Starve the Bitch. The philosophical solution. You know it makes sense. You'll be fulfilled. You'll keep your inheritance. You can all go on looking after someone else's husband, someone else's kids, and the government will get lots of taxation.
Mum would like to put forward a solution of her own. Since there is no one else around to translate for her, I'll have to do it. Prepare yourself for a liberal use of the 'F' word.
'For Fu*ck's sake', said Mum, 'What about Family' (Sorry about the 'F' word, I know you haven't heard it for years, and it's carefully kept out of all the learned solutions being put forward, but that is what Mum said…
'Family' – there, she said it again.
Stay at home, look after your own kids, look after your own man, collect his dry cleaning, make him a sandwich at lunchtime, make Mum a cup of tea – if other women can be fulfilled doing it for you, so can you! All you are achieving with your drive for 'fulfilment' is more taxation. In fact if you stop what you are doing and get back to the old Family way of doing things, the Banker's wife won't have so much time to go shopping, and he might not need the bonus to pay for those shoes. It's win-win all the way.
Never mind Starve the Bitch, Starve the Beast.
July 21, 2012 at 19:12







July 20, 2012 at 22:24




July 17, 2012 at 02:30







July 16, 2012 at 15:15







July 16, 2012 at 12:23







July 16, 2012 at 12:03







July 16, 2012 at 11:43









July 16, 2012 at 10:48







July 16, 2012 at 10:07




July 16, 2012 at 09:58