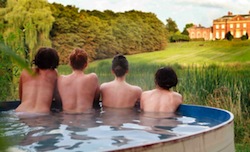 Well over a decade ago, a motley collection of dreamers, thinkers, artists, radicals and romanticists decided to get together under the stars over a summer weekend. We wanted to make a place to party, free our minds, lose our hearts, learn, discuss and be inspired and see what is achievable as a community.
So says the Shambala Community. Amongst other earth shattering events, they invented The ShambOlympics. A measure of the success of this event can be seen on the front pages of the Daily Mail today – The ShambOlympics have become a world class event, requiring several brigade sized dollops of our shrivelled army to monitor, (currently 17,000 and rising!), an army of 8,000 students, and now several hundred police are to be drafted from country forces to fill the gaps in security which appear by the minute.
You might wonder how G4S, the company with the £60 million pound contract to staff the security, could get it so badly wrong; who was advising them of the requirements of a modern security system, how many men would be needed, what calibre of men to employ?
Step forward the legal firm of White and Case. Ooh! Who is that pictured on the landing page? Tom Winsor? Couldn't be the same Tom Winsor who is advising the Police on the requirements of a modern policing system, how many men would be needed, what calibre of men to employ?
Now when G4S previously successfully bid for the £200 million contract to run a Lincolnshire Police Headquarters, Theresa May was specifically asked whether there was any conflict of interest between White and Case advising G4S, and their senior partner Tom Winsor advising the Home Office on Police reform and how they wouldn't need so many policemen in future.
'Absolutely not', was the reply, 'perish the very thought'. Why Tom Winsor never even noticed dozens of G4S executives rushing around the office of Case and White during the run up to the negotiations, he had no idea that the firm was advising them, he wrote his report on Police reform 'in his private capacity' not as a partner of White and Case. Good, glad that's cleared up then.
I just wonder whether Tom Winsor noticed dozens of G4S executives rushing around his law firm's offices whilst they were negotiating to provide security for the ShambOlympics? You know what I mean, that sort of deja vu feeling – 'Hello, haven't we met before' as they pass in the corridor? Not that I'm suggesting a conflict of interest or anything, not in a top law firm, I'm not that daft…but wouldn't you think that when Tom saw the same people reappearing to speak to his partners, he might tip someone the wink – sort of 'Don't rely on the Police to fill the gaps, I'm busy telling the Home Office she can pension half of them off' sort of thing……? This independent advisor business is difficult to get a handle on.
City of London normal banking procedure is to come to a halt during the ShambOlympics, flights over London suspended during the ShambOlympics, Anti-aircraft guns mounted on journalists roofs, Buses suspended during the ShambOlympics, Cycle Lanes suspended during the ShambOlympics, Boris's much vaunted cycle hire suspended during the ShambOlympics, monstrous queues at immigration – now that we have ensured that neither home grown terrorists nor blow-ins from dusty shanty towns in the middle east can possibly get to the ShambOlympics, who are all these army bods and extra policemen going to be watching over? The army of tin pot dictators from African states zooming around the zil lanes?
And who exactly is going to be left behind to guard those parts of Britain that attempt to carry on as normal? Surely any self respecting terrorist would be looking to strike elsewhere?
Do yourself a favour – go to the real ShambOlympics, no transport problems, no accommodation problems, no zil lanes, no lottery for tickets, naked women in hot tubs, no contest.