It was 50 years ago today…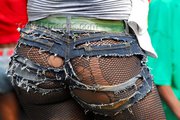 The evening news was full of interviews with The Rolling Stones, '50 years since they played their first gig at The Marquee Club'. I'm puzzled by the dates.
For a variety of reasons, Ms Raccoon knows precisely where she was exactly 50 years ago today. She also knows where she was six months later. She was hitch hiking along the Staines by-pass, as you do; it was midwinter.
A most peculiar car stopped in the lay-by; I'd never seen anything like it. Unsurprising, for it was the first convertible mini in Britain. Driven by possibly the craziest man in Britain. He went by the name of John Mansfield, and he told me that he ran a club in Windsor called The Rikki-tik. The Rikki-tik was a sort of 'mobile' club, it popped up wherever John and his partner could persuade someone to rent them a venue.
Ms Raccoon loved to dance, she would dance all night long, and John told me that he had an amazing new band playing that night. There was only one problem, Ms Raccoon was dressed in jeans and a charcoal grey v-neck pullover, I cannot help but remember precisely, for it was the only clothing I possessed; nor did I possess a 'home' that I could go to in order to change into something more suitable for a night dancing. One thing led to another; not that sort of 'another' for this was 1962 and gentlemen were still gentlemen. E'en so, we find ourself in the back office of John's club along with a pair of scissors, in hot pursuit of the challenge that I had been set. Turn the jeans into hot pants, and an old t-shirt into a top, and you can have free entry to the club tonight. The outcome proved that Ms Raccoon was indeed the sort of girl who would 'chop her drawers for a ten bob note'. Ten shillings being the club entry fee.
The band was the Rolling Stones, and even though I must have met them, given that I was being ardently wooed by the club owner, they made absolutely zero impression on me as people, can't remember a thing about them – their music was a different matter. I danced 'til my legs near fell off. Windsor's first pair of hot pants being a great success. I can even remember helping John count all the ten bob notes – for the club was packed, business was booming. No scintillating memories of The Stones though…
The venue for the Rikki-tik at that time was a back room at the Star and Garter in Peascod Street, and I understood that The Rolling Stones had first played there, that this was something of a momentous event, their first gig as a proper band – so how come The Marquee is claiming all the glory? Even given the reputation of English summers, I know it was midwinter that night – I near froze to death for some weeks after until someone donated another pair of jeans to the Raccoon cause! So what's with The Marquee in mid July?
The Rikki-tik eventually moved to a derelict manor house on the outskirts of Windsor, everything that stood still was painted black (shades of 'I was Lord Kitchen's Valet' in Carnaby Street many years later, where we painted the entirety of the interior of the old Piccadilly 'Boot's Chemists' black in one long, very long, night in order to open for business the next day as an 'edgy' new tourist shop! – Black is the most forgiving of interior design!) and John had a successful business there for years, I think the local council put paid to it in the end, but until then there was Geno Washington, Zoot Money, the Yardbirds, the Animals, so many groups that later became famous.
Sadly the wooing of Ms Raccoon came to an abrupt end, Mssr. Mansfield, frustration having got the better of him, I suspect, found a prospective partner of legal age, and he married a Dutch lady. An event he announced to me by postcard, received three months later on account of how he'd posted it in Amsterdam with three Green Shield stamps on it instead of proper stamps. The humiliation lingers 50 years later.
Weirdly I had been thinking of some of these things just a few days ago when we had our annual Bodega in the village. Five different bands and thousands of visitors cram into the narrow medieval streets and boogie the night away. Last year I was too sick to manage more than ten minutes of the heat and the noise – this year Ms Raccoon was dancing behind the Garage Samba band for all of two hours before she gave in, closely scrutinised by the ever watchful Mr G from the sidelines in case she keeled over. (Mr G wouldn't dance if you fired a .22 at his feet!) No hot pants this time, just cut off jeans – below the knee. One has to make some concession to growing old gracefully, don't you think?