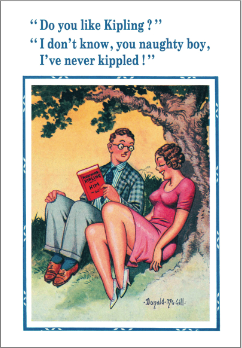 Over six million people bought this Donald McGill post card and weren't offended. However, local councillor's were on his tail, and in 1953 he faced a show trial, and was ultimately fined for his 'obscenity'.
It seems that local councillors are just as easily offended today.
COMIC seaside postcard-style art erected by Cleethorpes In Bloom has sparked a stern response from North East Lincolnshire Council – which has failed to see the funny side.
The first shows a man walking in dog waste, while a man berates his dog saying "No, I said sit". The second shows a man peering at two bikini clad ladies on the beach while his wife makes a supposed sexist comment.
Councillor Shaw said: "The council support all the In Bloom campaigns, but the pictures of the man stepping in dog mess is not funny.
Complaints have been made so the boards must be removed.
Eh, ba gum, they're a humourless lot up in Cleethorpes. Are you offended? Do tell Councillor Shaw on http://www.annaraccoon.com/politics/for-the-easily-offended/chris.shaw@nelincs.gov.uk ! Better still, send him postcard…