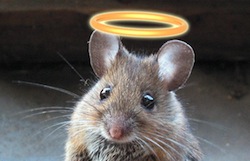 My parents' house was invaded by mice recently. Now don't get me wrong, I love all God's creatures. So when a tiny mouse about the size of fifty pence piece poked its wiggling nose out from under the TV cabinet during Question Time I actually "oohed" and "aaahed".
But that was only the start. Little droppings started appearing in cupboards and in kitchen cabinets. Looking back, it was obvious something was going to happen. To borrow a quote from The Lord of the Rings, it was "the deep breath before the plunge".
My parents are very elderly and could not be expected to deal with the situation on their own. The burden fell on me. But ever the pacifist, I was slow to react. I hoped sense would prevail. Perhaps a compromise could be thrashed out? Surely there could be a dialogue and give and take on both sides? But deep within their lair (which I take to be somewhere under the floorboards in next door's house) the Mouse Lords issued their inexorable orders. First a scout cheekily leaped around on my elderly mother's bed side cabinet. She reacted as elderly mums are wont to do, with plenty of screaming. Then the full scale invasion began.
It seems that the mice had been studying classic military history. They appeared to adopt a form of "Schlieffen Plan", breaking from next door in through holes in our lines in the corner of the kitchen and radiating out via various cupboards and skirting boards in encircling manoeuvres into the front lounge and the sitting room. In the morning there would be the tell tale droppings all around the kitchen work surfaces. I understand that the mice also have incontinence issues, so although less visible there was a real health issue. One day a packet of cream crackers was found chewed open and ravaged. A big one interrupted Antiques Roadshow by zipping about the front room before disappearing behind the fireplace.
I considered the options. A cat? In fact they have a cat, sort of, a formerly totally feral beast that I have managed to largely domesticate over a period of about three years (a post in itself), but he still cannot be kept in the house at night. Since the mice appeared to operate largely nocturnally using state of the art night vision technology, this was a problem.
I considered other "green" alternatives. A python? Once when I was a little boy I witnessed the grizzly fate of a live mouse left in a python's tank in a pet shop window (it was not done for show; they did not expect anyone to be around late on a Sunday evening, but naughty little boys are often abroad when they should not be…). I have had a phobia of snakes ever since, and this option had to be rejected. The novel concept of a bird eating spider went the same way.
I consulted an American friend. His immediate response was to suggest a drone strike. I however, in the spirit of Gandhi or Kofi Annan, responded with what I hoped would be calculated "non-violence". I therefore purchased a number of clear plastic boxes with maze like interiors into which the bait is placed. The idea is that the mice are enticed in and are then unable to escape the maze and a trap door. Once the mouse has been safely taken prisoner, it can be taken away and let loose, free to invade someone else's house. They were perfectly useless and the mice left their droppings all over them in an act of calculated humiliation.
It seemed all would be lost, but resolve hardened my heart. Like some latter day Stalin resolved to throw back the invading panzers at all cost, I geared up for all out war, and engaged the full might of military-industrial complex.
First a complex line of "Big Cheese" self contained mouse traps were laid out. These are quite big and appropriately enough look like miniature pill boxes. The idea is that once again you place the bait inside, wind up the internal trap with a clockwork dial and the mouse goes in and – this time, snap! But you never have to see the dead mouse or touch it, you just throw the unit away. Since I am squeamish that was a distinct advantage. I laid them out all over the house like some miniature Maginot Line. But they were about as effective as the highly mobile panzer – mice just manoeuvred around them.
I scaled up with rather more formidable traditional traps, and some strange looking little plastic ones which looked like miniature radar domes, all baited with chocolate. It seems that chocolate, not cheese, is the bait of choice by the way. That was the word on the street at "HomeBase" anyway (other retailers are available).
Still no joy, as the mice proved cunning, even though they were now moving in an environment that resembled a deadly junk-yard from their perspective. It was time to face the unpleasant truth that I needed to raise my game. I had to make some unpleasant decisions. I felt the lonely burden of command. I had to go for the biological and chemical warfare solution. How would history judge me if I succeeded? But how would history judge me if I failed?
There seemed to be two choices. One was the "mouse glue". As I understand it this horrific little product does exactly what you imagine, as the poor little blighter gets stuck on the pad. After reading one particularly graphic review of the unpleasant and cruel results on Amazon I vetoed this. Even a latter day Stalin must have his limits.
The other was, unfortunately, poison. After long research into the matter (reading the customer reviews on Amazon, which are really very helpful) I purchased a whole load of appropriately sinister sounding Rentokil PSF135 units. The poison is inside the plastic units, which are placed at strategic places where the mice where the mice run. The poison is both attractive and potent, apparently, and the units can be safely used with cats and so forth around, because only mice sized things can get in.
These proved effective, and slowly the tide of battled turned. One was found in the front room, clearly groggy and dizzy, and I suppose on its way out. The cat came into the room, but just seemed utterly baffled and bemused by the little creature and although it observed it left it well alone. Perhaps the cat assumed rightly that there was something not normal about the thing.
And finally one morning a static trap yielded the prize of an extremely large, and hopefully very cleanly dispatched rodent. As you will know from watching any "alien invasion" film, in the end you have to destroy the alien's Mother Ship, and it looked to me that that was pretty much what had been achieved. It was the beginning of the end. There were desultory further invasions, but the tide had been turned, and they have more or less gone now.
In fact, I felt sorry for the poor little things. They are just struggling to get by, like we all do, I suppose, playing the hand nature has given them. Next door have had some work done by a sloppy builder and it has caused damp in the foundations. I wonder, therefore, whether the poor meeces may have been provoked into moving by a touch of flooding. That makes me feel even worse. A casualty of the awful summer.
How will history judge me now I have blood on my hands!
Gildas the Monk
July 13, 2012 at 10:42




July 12, 2012 at 18:41




July 12, 2012 at 18:18







July 12, 2012 at 14:01










July 12, 2012 at 12:51







July 12, 2012 at 12:42




July 12, 2012 at 12:18










July 12, 2012 at 12:39










July 12, 2012 at 12:40







July 12, 2012 at 11:45










July 12, 2012 at 11:44