Blogging Police Inspector Unmasked!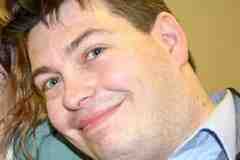 God God! – Is Inspector Gadget really a teen age belly dancer in Scunthorpe? An unmarried Mother of four different brats with a Brazilian wax and 'I shagged John Terry' firmly tattooed on the left buttock?
Quite possibly, going by this mornings revelations. Inspector Gadget may be maintaining anonymity, so far, this morning, but Inspector Winters has been unmasked. I haven't been so shocked since 'Gay Girl in Damascus' turned out to be a 40 year old male student in Edinburgh.
Inspector Winters, the Telegraph's much vaunted 'inside track' to the Tottenham riots turns out to be not an Inspector, not a policeman, but a well known con artist. Ellis Ward.
Inspector Winter was the darling of the police social media scene. At the height of last summer's riots, he tweeted and blogged about his experiences on the front line — comforting people who had been burnt out of their businesses in Tottenham, arresting suspected rioters in dawn raids and drinking tea with bedraggled fellow officers in rescue centres.
His fan base of more than 3,000 Twitter followers included police and the media, and he was even commissioned by The Daily Telegraph to write a first-person piece that described the "chaos" of policing the riots.
Judging by the number of comments on his blog, he succeeded in diverting a fair bit of attention from the genuine police officers who were writing about their experience. Curiously, in the past few minutes – it was there when I started writing! – his Telegraph article has vanished from sight…http://www.telegraph.co.uk/news/uknews/crime/8689411/London-riots-police-officer-tells-of-Tottenham-terror-in-anonymous-blog.html now returns a 404 error.
His real name is Ellis Ward and he is in prison awaiting sentence having pleaded guilty to a series of credit-card frauds. More seriously, he is under investigation for impersonating a police officer relating to his conduct during the riots, his Twitter account and his media appearances.
He was wanted by police for fraud in 2009 but he was released from a previous prison term before detectives were able to question him. He spent the next two-and-a-half years on the run, effectively hiding in plain sight by visiting police stations, mixing with officers and pretending to be one of them.
[…] Ward's claims ranged from the believable to the implausible. In Ware, Hertfordshire, he posed as Ethan Winchcombe, a major in the Royal Military Police. He told local residents he had a false leg after an incident in Afghanistan, had served in Northern Ireland and owned a series of restaurants and a garden centre. He drank at the town's Royal Legion club and even participated in the Remembrance Day parade last year wearing an RMP uniform.
The Inspector Winter Blog is still up – I guess there's not a lot he can do about it from a prison cell. A great shame, for he is obviously a talented writer – Johann Hari anyone? – his 'resignation statement' was a tear jerker.
Writing the letter asking to leave the job was one of the hardest things I think I've ever done, I sat there at my desk thinking about everything that had happened to me in my service, the good times and the bad, I think there were more good than bad really. Being at the scene of so many memorable events, getting to do things that most people would never even think about. […] Briefly, it broke me to see my troops sleeping on the floor of a police station, it broke my heart to tell someone special that I was having to cancel our trip out again because of work. […] How many times have I had to call or text to say I can't come out, how many parties have I missed? I did it all with a smile though (mostly) because I was in love with policing. I get to drive fast cars, and do cool things and I get paid for it. How many people can say that? I used to wake up excited about going to work, if I'd slept at all which sometimes was rare…
Will Old Holborn turn out to be a 74 year Grand Mother from Ohio, is Obnoxio really a snake hipped transvestite Spanish waiter, is Guido Ed Balls's better half? We should be told.
July 15, 2012 at 07:49




July 14, 2012 at 00:30




July 13, 2012 at 23:00




July 13, 2012 at 21:37







July 13, 2012 at 21:44










July 14, 2012 at 13:31




July 13, 2012 at 20:48







July 13, 2012 at 17:32




July 13, 2012 at 16:01




July 13, 2012 at 14:34










July 13, 2012 at 13:40