Out of the Closet, into Housing Benefit.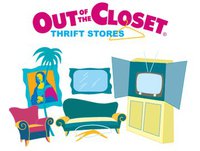 Much anguished fluttering of the bent-to-the-left petticoats this morning. It seems that the government's decision to make housing benefit a financial helping hand for adults, rather than a free for all, is unfairly targeting 'gays'.
Young LGBT people in particular are already at much higher risk of homelessness than their straight and cisgender counterparts, with around 25% of the young homeless population in urban areas identifying as lesbian, gay, bisexual, or transgender. Parental rejection is still an issue for these young people; many face the prospect of losing their homes on coming out, or increasingly, in the age of social media, being outed. Still more are living with parents or family members who are openly hostile or even violent. For some, the price of staying at home includes attempts by family members to 'cure' them of their sexual or gender identities, through reparative therapy, religious ritual, torture, corrective rape or forced marriage. Is it reasonable to expect them to remain at this cost? Is it fair to withdraw the housing benefit that gives them somewhere else to go?
Who would have thought that staying at home with your parents would have resulted in 'corrective rape', eh? Even if that hysterical sentence was true in .00001% of cases, which I doubt, its not the actual 'staying at home with your parents' that causes the problem, is it? It's failing to keep your mouth shut, in more ways than one, that results in Daddy showing you the door.
Let us take the hypothetical case of a young Obnoxio Clownius, who famously wishes to spend his life pleasuring himself with a gutted sardine. Mind you, if I was the Sardine, I'd be gutted too, but that is by the bye. What do you imagine would have been the reaction of Daddy Clownius upon being informed of this over the breakfast table? After beating the Sardine into a fish paste, I suspect he might have shown young Obnoxio the door, all 'you're no Clown of mine, begone'. We can assume that Obo had the good sense to keep his mouth shut until he was old enough to afford his own rent and his own blog….
In short, there is no other sexual passage of life that involves this ritual 'Hey Daddy, guess what I'm going to screw', breakfast table confession. Do we know if 25% of young homeless people are sleeping on the streets because they professed their love of dogging? Nope, but then despite the popularity of the occupation, there simply aren't the writers or researchers dedicated to reducing every political decision to one of discrimination against Doggers.
What is really at stake here, is the Fabian desire to separate parents from children; to destroy families; to foster the illusion that you are all alone in the world apart from the caring hand of the State. They have already managed to ensure that the fastest route to a council house is either to get pregnant or be an immigrant. Getting pregnant by an immigrant is a win double, a fashion begun by Ronnie Biggs if I remember correctly.
Housing Benefit shouldn't be there to help you move out of the home you are in, but to preserve the home you are at risk of losing, should misfortune befall you. It shouldn't just be tied to age, but to proven ability to support yourself. Perhaps a year of having to pay the rent yourself, before you are offered help with it? Those with no ability to earn more than the basic wage might not be so keen on living in Bishop's Avenue if that were the case.
Even the left wing creed is 'To each according to his need', not 'to each according to his want'. Nothing illustrates the difference between 'need' and 'want' more clearly than the gulf between shopping in the UK and shopping in France. I dread the English visitor, asked what 'they would like to do this afternoon', who replies, 'Ooh I'd like to look round the shops'. Especially if it is a Monday. Everything, including the banks, is closed on a Monday.
You see, in France (excluding Paris, which is another country) shopping is something you do because you need something. It is not unusual to find a shop in total darkness on say a Wednesday morning. The shop isn't there to seduce you into wanting something, with delectable displays of things you never knew you wanted – it is there to supply you with that which you need, and when you go in and announce your particular need, providing it is the season for such needs, (God help you if you want to buy bottling jars when it isn't fruit bottling season…) they will turn the lights on and spend hours explaining the difference between the three different types of bottling jars. They just don't cater for people wandering round bankruptcy-inducing illuminated displays wondering what it is that they might want.
The fact that we don't have credit cards, overdrafts have always been rarer than a smiling bank manager in the UK, and as for a bounced cheque for those high heeled trainers that were just so cute you had to have them – you don't want to go there; instant closure of your bank account, and a five year wait before you are allowed to have another one. Consequently, cheques have much the same status as a Banker's Draft here, we don't need cheque cards. You can, and I have, write a car dealer a cheque for 30,000 Euros, and he will hand you the keys to the car with a smile on his face.
In the UK, by contrast, there is a five mile queue on the M25 to get into Bluewater Shopping nirvana on a Sunday morning. Cambridge High Street is a hive of activity. Heavens, you might suddenly be overwhelmed by a desire to purchase a hunting, fishing, t-shirt outside of the shooting season, and they are there, staff on double pay, shop rents readjusted to take account of the seven day sales opportunity, fluorescent lights burning a hole in their pocket – just in case…
The UK has lost the ability to see the difference between want and need. 18 year olds may want to upset Daddy over the breakfast table, and have the rent on a flat paid for them, but Taxpayers shouldn't feel the need to oblige them. Welfare Benefits are supposed to be a safety net, not the answer to all your desires.
What say you? Housing Benefit for the under 25s or not?



June 27, 2012 at 22:06




June 26, 2012 at 18:08







June 26, 2012 at 17:27







June 26, 2012 at 17:31







June 26, 2012 at 18:05







June 26, 2012 at 11:03







June 25, 2012 at 21:00




June 25, 2012 at 20:23




June 25, 2012 at 19:44







June 25, 2012 at 20:56




June 25, 2012 at 18:17










June 25, 2012 at 16:45







June 25, 2012 at 16:37




June 25, 2012 at 15:16




June 25, 2012 at 15:01




June 25, 2012 at 14:36







June 25, 2012 at 13:25







June 25, 2012 at 13:37




June 25, 2012 at 12:48




June 25, 2012 at 12:33




June 25, 2012 at 11:28













June 25, 2012 at 12:04













June 25, 2012 at 19:01










June 25, 2012 at 19:28







June 25, 2012 at 20:28




June 25, 2012 at 22:09










June 26, 2012 at 06:55







June 25, 2012 at 10:41




June 25, 2012 at 10:26




June 25, 2012 at 09:53







June 25, 2012 at 09:34










June 25, 2012 at 09:20




June 25, 2012 at 21:02




June 26, 2012 at 06:58