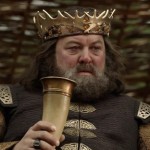 So, the virtual pub has had a bit of a make over. And I rather like the new look. And as a virtual pub, the first choice I will have to make is this: what is to be my tipple? I used to love my beer, but I have wondered away from the True Faith for a few years now and stuck to wine. But I feel it would only be right and proper to have a proper British beer in the newly made over Raccoon Arms, and so what is it to be.
I saw a pub advertising IPA the other Sunday, and that took me back to student times. Is it an East Anglian brewery? I had the great good fortune to live near a pub called The Griffin once, a real old fashioned place that sold Robinson's ale, fresh from the nearby brewery, for 99 pence a pint. Lovely. Theakstons Black Sheep featured on the radar when I could get it. But maybe a fine pint of Timothy Taylors Landlord would be appropriate. Any other suggestions?
And so, beer purchased and propping up the virtual bar, upon what would opine to my new virtual acquaintances.
Well, I know a lot of Madame La Raccoon's customers don't like the topic, but we would have to talk a bit of football, wouldn't we? Well, come on we are in a pub and I am a bloke! And it has to be noted that there is a Euro Championship going on, and England have been doing sort of OK.
Not that I am an unmitigated fan of the England set up. I wrote a piece for another blog (sorry Anna, I am such a media whore at times) just before the last World Cup comparing watching England's progress to that of a sad old tramp, dying a slow, unedifying death in a back alley somewhere, a pitiable but inevitable result. As it turned out it was rather prescient.
I had a different feeling about this one. I don't expect England to win it, but they have done better because they have a half sensible manager in Roy Hodgson who is adept of making the most out of average players. He has adopted one or two rather clever strategies. First he seems able to speak to the players in English, which is something the previous manager was unable or unwilling to do, despite his six million quid a year or whatever it was salary. I felt that was causing certain difficulties in communicating instructions. Second, he has realized that England are actually not very good, and the players are on the whole rather dim, which is one of the reasons our continental cousins so often run rings round us. To counter act this he seems to have given them very, very simple instructions about where to stand (You! Stand THERE!) and simple instructions (KICK IT FORWARDS!) in a rigid 4 – 4 – 2 system which our moronic players can actually understand. Finally he has cunningly adopted a policy of playing players in more or less the right place. So they can make the most of their limited brain power and play by rote. Thus England have become obdurate and hard to beat, and hard to beat is better than nothing. Rocket science it is not. We might even squeak past the Italians.
With football done, we can move on to the next staple of pub talk: the telly. Not for me the diet of soaps that consume the hoi polloi! In fact I don't watch much. But last week I bought a DVD of a Sky/HBO mini series called Game of Thrones on DVD. I missed it when it went out earlier this year. Twenty quid on special offer from Tesco (other retailers are available. Well not many, but that is another rant…)
It is not a program about Toilet Fetishists.
For those who are not aware of this, it is based on fantasy novels or a novel with the title "A Song of Fire and Ice" by somebody I have never heard of. The premise is a standard one for a fantasy story I suppose: There is one kingdom and one throne, but seven powerful families are in various degrees fighting to obtain or, as the case may be, defend the throne. It is set in a sort of miniature medieval Britain called "Westeros" which may have never existed, or may represent the future after some apocalyptic ice age event, and the threat of the return of the great winter which never ends hangs over the land. At the north of the country is great wall, which protects the Kingdom from the unseen evil which lies in the ice fields beyond. An evil which some believe is now, after thousands of years, is no more than a myth. But as we learn from the first menacing and indeed truly scary scenes, seems to have awoken once again. The hideous White Walkers are back! And they don't take prisoners….
Now don't get me wrong, I am not actually a big fan of standard "sword and sorcery" novels. I find them too intellectually slack. Is the hero in a tight corner? No problem! The might Sword of Zardoz can invoke the Power of the Floobly Dooblies! And Kazaam! The Evil Ones of Nachtior are thwarted! And more such drivel. I am bound to say I found a bit of Harry Potter like that. In a tight corner? Quick spell and off down a chimney you go. Nah, not having that.
But there is very little sorcery in Game of Thrones. There are some dragons about, but that is for another day. What there is is plenty of plotting, politics, intrigue, and power plays as the seven warring families go at it, with the main battle between the largely noble and true Northerners the Clan Stark, and the vile, money and power mad House of Lannister who hold sway in the West.
It has high production values. It is beautifully shot in both Malta an Northern Ireland. There is tense, well written, compelling dialogue. There are characters that are flawed and with whom you can empathise because they are not wholly good or wholly bad.
There is also an astonishing amount of really explicit and graphic violence and sex, which commends it to me immensely. I think the first main scene after the prologue is the dwarf Tyrion Lannister (the excellent Peter Dinklage, reveling in a great role) having it off with a lady of easy virtue (played, should you be interested, by Britain's Queen of Burlesque, the very naughty and rather sexy Miss Esme Bianco. We get to see and awful lot of Miss Bianco, by the way. Really. An awful lot…!). And as I recall one critic writing at the time it was aired, any programme which featured an innocent child being hurled to his death after accidentally witnessing some incestuous sex has a certain brio to it!
But as ever, it wouldn't work without the superb acting of its largely British cast, including Sean Bean in top form as the middle aged Eddard Stark, reluctant guardian of the ageing, fat King – a stand out performance from Mark Addy. And Lena Headey, a striking actress I have noted since she played a tragic teenager in a film called Waterland many years ago is wonderful as the truly vile queen, with an equally vile and psychopathic teenage son.
It got rave reviews, and if you haven't seen it a trailer is here:
http://www.youtube.com/watch?v=ylbqdj1WJX4
It is compelling stuff. People get killed in this. Good guys die, and not just baddies. People you care about. So for my twenty quid I got more than ten hours of entertainment, which is decent value in my book. A useful antidote to the footy, if that is your wish. I commend it. A second series is on the way, which delights me.
So that's the telly done. How about politics? A dangerous topic, and perhaps even more so when it involves race. But Red Ed has dared to open the box this week, and venture to suggest that Labour got it wrong with an open door policy vis a vis workers from Eastern Europe. It was, as I recall, faithfully promised that there would be no more than a trickle. Instead a flood (emotive word alert!) of migrants from Eastern Europe swept in (more emotive word klaxons!). To be candid I find all this a bit laughable. Any man with even half a wit would have told you what was going to happen. Apparently in Slough the "locals" have adopted a jokey new town slogan: "Come to Slough! Everybody else has….!"
What I find laughable about this mea culpa is that it is so mealy mouthed. It seems to have been the deliberate policy of the Left since the sixties to force multiculturalism on a largely deeply sceptical and unhappy "indigenous" population, and to voice any concern about this at all was met with vitriolic abuse the like of which was akin to risk being burned at the stake.
As it happens, I rather think it may have been a good thing. These people seem to me to work hard, and anecdotally they take the jobs our feckless underclass are too lazy and too pampered by benefits to do. I am quite happy with my local Polski "Sklep" (have I spelt that right?). You know the one, next to the halal butchers and behind the mosque that used to be a church.
Anyway, I have to admit that some of these Eastern European girls are, well, how I can put it, pretty bloomin' gorgeous!
And on that suitably sexist note, I finish my pint, and I bid you good day, Enjoy the weekend!
Gildas the Monk
June 25, 2012 at 14:44







June 25, 2012 at 12:41







June 25, 2012 at 07:20










June 25, 2012 at 10:39







June 25, 2012 at 14:27




June 24, 2012 at 23:43




June 24, 2012 at 22:57




June 24, 2012 at 19:20










June 24, 2012 at 18:21







June 24, 2012 at 16:45







June 24, 2012 at 15:12




June 24, 2012 at 14:35




June 24, 2012 at 11:36










June 24, 2012 at 11:17




June 24, 2012 at 11:07














June 24, 2012 at 09:50







June 24, 2012 at 11:26







June 24, 2012 at 09:46







June 24, 2012 at 09:29




June 24, 2012 at 09:13










June 24, 2012 at 08:50







June 24, 2012 at 07:47







June 24, 2012 at 07:39







June 27, 2012 at 17:59




June 24, 2012 at 07:33












June 24, 2012 at 14:49