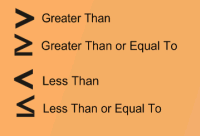 Wherever we go today, one of the great rallying cries is that inequality is bad. Inequality is measured around the globe and countries that are "more equal" are praised, countries that are "less equal" are vilified.
People on "the left" aspire for greater equality in outcome, people on "the right" espouse greater equality of opportunity.
There's only one problem with it: it's all utter bollocks.
Human beings are not created equal. It is true to say that one human life is not worth more than another, but in every other way, humans are not equal.
The combination of talents, interests, motivations, values and desires are unique in each one of us. Even if the bleak, dull, grey world of completely equal opportunity existed, what we all did with that opportunity would inevitably differ. And soon enough, the opportunities would be unequal.
But first, just think about the horror of a world of equal opportunities: every school you went to would have the same dreary, formulaic education. Lessons would be delivered by drones, or by video. Every restaurant would have the same menu prepared to the same standard – if restaurants were even allowed! Maybe the opportunity to eat out would have to be given to everyone equally, so on Friday nights, you'd have to go out for dinner and fight with the rest of the country for a table. Every job would have to have the same career path, and your career progression would be as inevitable and slow as everyone else's. Well, there wouldn't be career progression, because if there were, some people would not be equal to others.
And that's without the truly egregious horror that is equality of outcome. Imagine if the most brilliant and successful salesman or financial trader or doctor earned the same as the person delivering newspapers. Imagine a stultifying world where no matter what you did, how hard you worked, how hard you studied, no matter how often you "went the extra mile", you still got exactly the same pay packet as someone who just sat there scratching their … nose.
But it's all (wonderful-sounding) nonsense. People aren't equal. It's not something to aspire to, because it's completely counter to mutual co-operation and specializing in things you want to do or enjoy. It's far better to accept difference and celebrate the many good things our inequalities give us. Banish the endless beige tedium of equality.
Vive la difference!
Joe Public
May 17, 2012 at 11:42

KM
May 17, 2012 at 11:54

Joe Public
May 17, 2012 at 14:04

Caedmon's Cat
May 17, 2012 at 12:12

Anna Raccoon
May 17, 2012 at 12:12

JuliaM
May 17, 2012 at 13:17

JimS
May 17, 2012 at 13:25

auralay
May 17, 2012 at 13:30

Twig
May 17, 2012 at 21:36

binao
May 17, 2012 at 14:23

Engineer
May 17, 2012 at 14:53

SadButMadLad
May 17, 2012 at 15:54

Engineer
May 17, 2012 at 14:57

Backwoodsman
May 18, 2012 at 11:49

Châtelaine
May 17, 2012 at 19:53

john malpas
May 18, 2012 at 00:50