Red Headed Goddess Protection League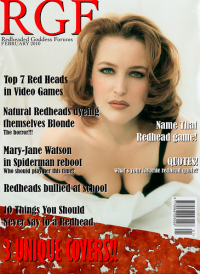 OK, I admit it. I have a problem with redheads.
My name is Randy Hack. And I am a redhead-aholic.
I really do have a thing about redheads. And I have form, serious form for this, going back to my first, glorious girlfriend when I was in my teens, and who so nearly became my wife in my late thirties.
And in between a veritable cavalcade auburn-red-come-ginger haired women spectacularly lit up my life. And I am going to go for the cultural/sexual/sexist stereotypical prize here because I can categorically state that all those generalizes stereotypical comments about redheads being hot in the head and hot in the bed are true.
So I love redheads. As long as they are girls, that is.
Blokes just look minging, of course. I mean, think Neil Kinnock.
Julius Caesar was a ginner by the way. And he had a comb over haircut. That explains a lot. No wonder he got sliced up.
But I digress. Back to Rebekah.
Rebekah tics all the boxes. All that pre-Raphaelite hair spilling out, the big doe eyes (I do hope they are green, I bet they are!), surrounded by black rings no doubt because of the worry of it all. The porcelain skin, and the wide mouth. Re. Beh. Kah!
Even the name is sexy with is funky little off beat spelling.
And she goes riding too (phnaar phnaar!). On a really big horse the police sent her. That seems ironic, on reflection. Pity it's with that oily toff Flashman, but I bet she is in shape though. You know what I mean.
So when I see her being hounded by a bunch of self serving, egregious, sanctimonious and up their own arse with moral rectitude MP's (Keith Vaz, for Christ's sake….!), all my chivalrous quality comes out. She looks so tired, weighed down by the endless publicity, the gaze of the press, Inspector Plod poking around, asking questions, the uncertainty, all played out in the public eye. I want to save here from the mob.
It was the same when she was in front of Leveson the other week. Sitting in the "dock" looking so forlorn, being endlessly probed (not in that way) by a QC who looks like Mr. Tumnus, having personal texts poured over by a judicial inquiry I get all the same. How sweet she looked in that black and white sort of Puritan look outfit, all the better to highlight those glowing locks. The same sad, resigned smile, the same sad eyes, if anything etched a little darker with shadows of worry.
I wanted to punch the droning Mr. Tumnus on the nose and escape with her through an open window, like Zorro. Huzzah!
And now she has been charged with "perverting the course of justice". I think that means not telling Plod the truth.
I have no view on whether she did, or did not tell a few fibs to Inspector Knacker. I really don't care one way or the other.
Now I have carefully and freely confessed that I am biased for the reasons given above, but even taking that into account, I really don't care. The "arraignment" of Brooks before the Commons Select Committee had all the flavour of a Cold War East European show trial to me. I though that it was a nasty, febrile little occasion with MP's grand standing and behaving like bullying school children. It was less a Select Committee, more Lord of the Flies.
Leveson is more polite, more forensically astute, but more of the same. What a complete and utter total chattering classes' moral panic zillion pound waste of money. How much is this costing Joe Tax Payer? Mr. Tumnus QC I am reliably informed, was paid £1 million "on the brief". For those not in the trade, that is his upfront fee for preparation. He gets a daily fee as well. God knows what it will be. He is very boring so I expect it will be huge.£10k? "£30? Who knows, who cares, the public are paying!
Here are some facts. Rich, powerful people talk to other rich, powerful people. Sometimes people do naughty things. They can be naughty things which upset people, like listening in to their messages, which is indeed naughty. And if that is illegal they deserve to be told off and have a fine.
Or they can do other naughty things, like starting completely unjustified wars on trumped up evidence, getting people killed, assassinating their character and driving them to suicide, passing stupid laws which interfere with people's lives, or spending so much on utterly misconceived and wasteful projects that the country can be all but bankrupted and the rest of us and our children's children will all have to work until we drop down dead and never retire.
And they can do these naughty things whilst awarding themselves huge pensions from the public sector or the bank they have just ruined which needs to be bailed out by your and my taxes.
I am not trying to defend a criminal activity. Phone hacking is a criminal offence, but not a very serious one in the great scheme of things. Punching old ladies in the head and stealing their pensions, or child exploitation. These are serious things.
My real point is that this is just pointless, disproportionate to the real issues facing this country and a spectacular waste of resources. If the police prosecuted everyone who told them porkies we would be building new jails faster than Tesco opens new stores.
What a waste of money when there are real people losing homes, jobs, business, lives.
So leave "Brooksie" alone, she has had enough. What possible benefit to the public would it be to lock up lovely Rebekah in one of Her Majesty's one star Gulags?
Not fussed what happens to her husband though. They can throw away the key for him.
She can come and stay with me.
Randy Hack
Randy Hack is a wit, author and raconteur. His latest book, "The Vodka Games"is out soon.
May 19, 2012 at 12:32




May 17, 2012 at 21:13




May 16, 2012 at 21:08




May 16, 2012 at 19:29




May 16, 2012 at 14:32







May 16, 2012 at 18:47







May 16, 2012 at 13:56










May 16, 2012 at 14:29




May 16, 2012 at 12:10







May 16, 2012 at 13:59







May 16, 2012 at 11:31




May 16, 2012 at 11:05







May 16, 2012 at 10:55




May 16, 2012 at 10:34










May 16, 2012 at 14:07




May 16, 2012 at 10:03




May 16, 2012 at 09:23







May 16, 2012 at 08:52