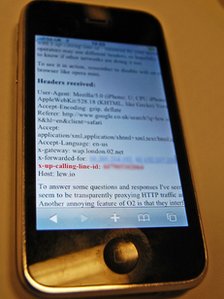 When the Data Protection Ombudsman opens his mail in the morning.
If you're reading this news article using your O2 mobile phone, you'll be pleased to know that O2 have already sent me your mobile phone number within the HTTP headers which normally contain information about how content can be displayed on your device.
Fortunately for you, I am not technically savvy enough to retrieve this information, nor bitchy enough to send you a text message on your mobile phone in the middle of Coronation Street this evening apparently from the local STD clinic or worse…
Other web sites you visit might not be so well mannered or considerate.
For example, if you open an e-mail which includes references to external images, the mere action of opening the e-mail would divulge your phone number. This could be used by anyone undertaking a phishing attack or other scam to get more information from you. The opportunity to abuse this is potentially endless.
This glitch in O2s software was allegedly revealed by the thinkbroadband site this afternoon, but worryingly, a little research reveals that it was identified 12 months ago by a young hacker at the CanSecWest conference in Vancouver. Quite amazing that a full year later, the same glitch existed.
There is a site here where you can check whether O2 are handing out your mobile phone number to every Tom, Dick and Harry you surf to meet…..it means potentially giving your phone number to Lewis Peckover but at least you will know who you've given it to!