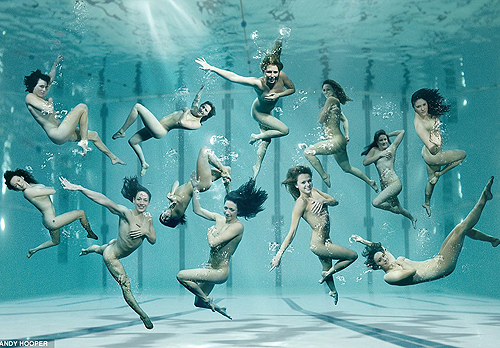 The Labour Party has clasped the clitorally vulnerable victim-hood of the Feministas to its bosom and bitterly resents any attempt to portray an ideologically opposed female as representing 'Feminism' at any level. Witness last night's riveting Newsnight battle between Louise Mensch and dear little Laura Penny, sometimes known as 'PennyRed' (for good reason).
Laura 'there's no reason why I shouldn't sport a bloodstained rat over my left eye, I'm not to be judged on my hairstyle' was off to a flying start of denigration, by pointing out that Oswald Mosley supported the Suffragettes 'therefore it was possible to be both a Fascist and a Feminist' – not that she was accusing Louise of being a Fascist, no, no, perish the thought. She just wanted us to know the association of Feminists, Fascists and Tories that lay in her mind. There was, she opined, such a thing as 'wrong Feminism', a lame opinion which rivals British Rail's 'wrong kind of snow'.
Louise 'just because I pose for GQ magazine I shouldn't be labelled Tory Tottie' put up a spirited defence, more intelligent than I had previously given her credit for; neatly nipping Paxo round the ankles when he chastised her for straying from 'the point' and she belted back 'I should know my place I suppose'. Indeed Louise. PennyRed can stray from the point because she is the right sort of Feminist in Paxo's eyes, not the Nadine Dorries variety who want to give women a choice in the counselling they receive regarding abortion, but the sort who only display strength of mind on behalf of those victimised women who truly believe that sex and pregnancy is something which just 'happens' to them, inflicted on them by brutal uncaring men. It's OK to be strong and opinionated on behalf of the vulnerable, but woe betide you should be strong and opinionated for your own sake.
The synchronised Feminista wimmin haven't merely contented themselves with giving Newshite a chance to re-run old footage of '1960s Tory women in hats'; in the past few days they have mounted a full frontal attack on the Leveson Inquiry. Tuesday saw the massed forces of Four groups – Eaves, End Violence Against Women, Object and Equality Now – hijack the end result of the Guardian's claim that News of the World journalists had hacked 'dead Milly's phone', thus setting in progress a sequence of events which resulted in 500 first class journalists and editors losing their jobs.
Now that the Guardian's speculation has been found to have no evidence to support it, the massed harridans of the Left have abandoned their Feng Shui and candle making classes to badger poor Leveson into agreeing that 'something must be done' about the 'highly sexualised images' of women which appear in newspapers. They apparently have no objections to highly sexualised images of David Beckham in his knickers…..
First up was Marai 'dedicated to the creation of an equal world. Committed to ending violence against women and girls' Larasi, who seems to have no problem with violence against men in her equal world. She wanted a regulatory body set up to ensure that women were portrayed in a different light by the media.
Then we got Anna van Heeswijk, from Object, a lobby group against the 'objectification' of women. She wants legislation banning pictures of naked or semi-naked women in newspapers, arguing the images would not be allowed in the workplace because of equality legislation, and should not be sold in an "unrestrained" manner at "children's eye-level".
Leveson was dutifully polite, saying his powers were limited and such a change would require "rock-solid legislation", thus neatly avoiding a caustic comment such as 'this has naff all to do with this inquiry' which would not have gone down well in the pages of the Guardian. The man deserves a medal.
All of these off-side assaults were enthusiastically cheered on during the day by a series of Tweets from the Boiler-Suit-In-Chief, Vera Baird. She, of course, is smarting from the mighty smack down administered by Lord Chief Justice Lord Judge who allowed the appeal by Jon-Jacques Clinton. Clinton will now face a retrial that can include the evidence that his wife's 'goading' regarding her sexual infidelity can form a partial defence to a charge of murder. Vera was particularly proud of the legislation which stated that those accused of murder cannot use evidence that their victim was unfaithful to them as part of the reason why they snapped and killed them, she had no problem with the fact that women are allowed to use premenstrual tension as a mitigating factor in sentencing – testosterone is the 'wrong sort of hormone' and not an acceptable defence in her book.
They are such hypocrites these women, proud of their campaigning strength on behalf of the rest of the sisterhood which must remain dependant on them, and through them, the State. They want to see true equality as much as Diane 'racist Tweets' Abbott.
Good grief – I just noticed, Vera's banging the 'Female Bloggers Cry Rape' tambourine. Cause and effect Vera, cause and effect; if you, and dear little Laurie, want to bang on endlessly about men being such utter bastards that should be neutered at birth, you can expect them to respond, and yes, it is liable to be as sexist as your views were in the first place. Just as Diane Abbott is likely to engender racist comments to her racist Tweets, or those who claim superiority of one religion over another.
It's not Equality the synchronised 'wimmin' are after, it's Superiority.
Men should know their place. Test tube. Fridge. Now.



January 28, 2012 at 19:02




January 27, 2012 at 11:36







January 27, 2012 at 11:53










January 27, 2012 at 19:52




January 26, 2012 at 21:39







January 26, 2012 at 23:19










January 27, 2012 at 09:36




January 26, 2012 at 21:03




January 26, 2012 at 20:56







January 26, 2012 at 20:02










January 26, 2012 at 18:42




January 26, 2012 at 17:17




January 26, 2012 at 17:08




January 26, 2012 at 15:55







January 26, 2012 at 14:57










January 26, 2012 at 14:43







January 26, 2012 at 13:51







January 26, 2012 at 13:17










January 27, 2012 at 08:28




January 26, 2012 at 12:47