Conscientious Objectors and that Dunkirk Spirit.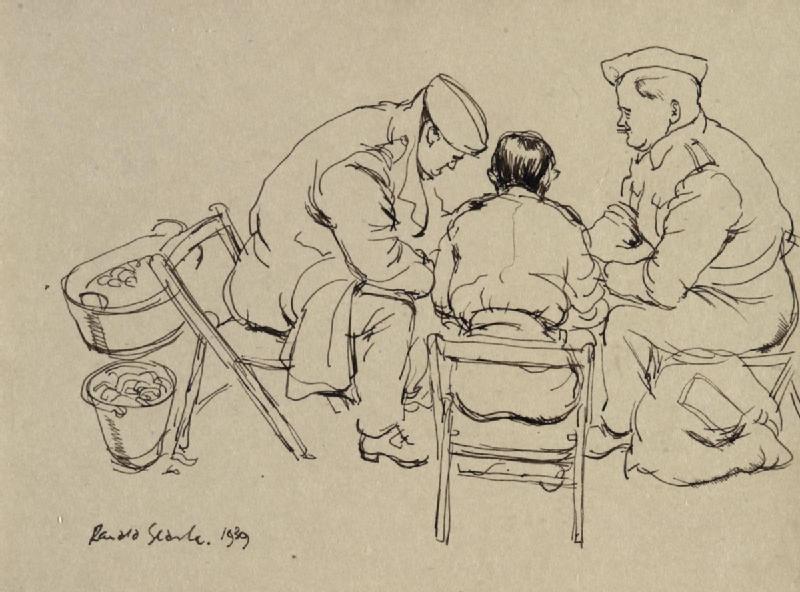 There is a historical precedent for the current uproar concerning – according to your political leaning – either 'benefit scroungers' or the 'deserving poor', and that is the position of conscientious objectors during World War ll.
Nobody took any notice of those who said they did not want 'to kill' during the affluent peacetime era, but when backs were to the wall and 'Jerry' was on the doorstep, they became the object of national derision, coercion, abuse and worse.
Much the same is happening to those in receipt of tax payers enforced largess now that the country is broke and the population scrabbling for every penny it can get.
As with those in receipt of benefit, conscientious objectors were not a homogeneous group. They came in many shapes and forms. Some, the Quakers, went to prison. Others found a way to enforce their right not to kill, placate their religious beliefs – and emerged as decorated heroes rather than objects of derision.
Since my own Father was one of those who emerged as a decorated hero, I have given some thought to how this transition was accomplished. It was a matter of lateral thinking. He, and many hundreds of young men like him – volunteered for bomb disposals. There they were saving lives, not taking lives. Such was the PR spin of their actions that even I didn't realise until recently that most of the Royal Engineers bomb disposal squad were actually despised and denigrated conscientious objectors.
I am not suggesting that those on benefits volunteer for bomb disposal – or even as human mine detectors, though I am sure some would cheer that suggestion; what I am suggesting is that there might be a halfway house between the polarised views of the Daily Telegraph comments sections – 'benefit scroungers should get a job' v. 'there are no jobs and why should they be penalised for having ten children'.
Assuming that there is an argument that one has the right to have ten children, particularly if it arrives through religious beliefs, and that a civilised society has a duty to support those children if you are neither capable of earning sufficient or there simply are no jobs available at Poundstretcher or wherever – does it follow, if you are hale, hearty and fit, that you also have the right to sit at home doing nothing more taxing than watching Jeremy Kyle?
This theory has been posited before, but has always fallen foul of the unions – 'we're not prepared to see our unskilled jobs, dustman, road sweeper, prison officer, whatever, handed over to the unemployed'; or the health and safety brigade – 'can't have just anyone painting old ladies fences'; or the bleeding heart liberals 'community service is a punishment and the deserving poor shouldn't be punished'.
There is another avenue of work, and that is the army. No, get your knee down! Not as soldiers – there is no reason why our military should be forced to take on everybody who is unemployed, they are a thoroughly professional service these days – however, they are also mass employers of the unskilled and potentially unemployable.
On every base, in particular overseas, somebody washes dishes, somebody peels potatoes, somebody operates the laundry and it is generally locals. Not a pleasant job, but it still costs money. Money that the MOD, or who ever pays the charwallah these days, could well do with saving.
Some of the 67,000 households that the DWP now say will be affected by the proposed benefit cap will undoubtedly contain the severely disabled, some will be single parent families – I am specifically discounting them from my proposal, I don't think the British public en masse feel the same rage about the level at which they are supported.
I am pointing the finger at those households who contain one or more able bodied men who are part of a household receiving benefits over the £26,000 level simply because they live in an expensive part of the country, and wish to remain there, or who have chosen to raise a large number of children.
Let the household keep its benefits for all the reasons which have been regurgitated a hundred times over – but is there any good reason you can think of why the men in the house shouldn't be out in Helmund peeling spuds or washing dishes rather than sitting at home crying 'there aren't any jobs good enough'?
At the moment it is a double whammy – not only do they not have to work in order to support their families – they get to stay home with them all day watching the telly.
Can you come up with another plan to give the 'employable but economically unemployable' a chance to gain the admiration of the nation and turn their fortunes round from being 'benefit scroungers' without upsetting the unions or impacting on the cheeeldren.
January 26, 2012 at 18:46







January 26, 2012 at 08:46







January 26, 2012 at 07:28




January 25, 2012 at 20:44







January 25, 2012 at 08:57







January 24, 2012 at 23:45







January 25, 2012 at 10:36




January 24, 2012 at 22:14







January 25, 2012 at 10:35




January 24, 2012 at 22:04




January 24, 2012 at 21:54




January 24, 2012 at 21:54










January 24, 2012 at 22:22







January 24, 2012 at 22:48




January 24, 2012 at 20:54




January 24, 2012 at 20:22




January 24, 2012 at 18:57




January 24, 2012 at 18:21







January 24, 2012 at 19:04







January 24, 2012 at 19:35










January 24, 2012 at 19:50










January 24, 2012 at 21:03




January 25, 2012 at
09:36





January 25, 2012 at 09:57




January 25, 2012 at 11:40

January 25, 2012 at
12:27


January 25, 2012 at 12:58

January 25, 2012 at
13:32


January 25, 2012 at 15:40

January 25, 2012 at
17:08





January 25, 2012 at 17:21




January 25, 2012 at 19:24




January 24, 2012 at 17:18







January 24, 2012 at 16:49










January 24, 2012 at 16:25







January 24, 2012 at 15:31