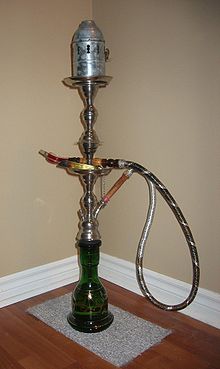 'Shisha Bar Danger' screeches the Birmingham Mail, helpfully regurgitating the misinformation in the 2009 BBC post which explained that Shisha smoking was '100 times more dangerous than cigarettes' – a claim which has been comprehensibly debunked by Christopher Snowden, ably assisted by Kamal Chaouachi who denounced the BBC coverage as 'complete nonsense'. Kamal Chaouachi is an academic who has spent his entire career studying the hookah pipe and its effects – but what would he know compared to the assimilated knowledge of the BBC Press Release Churning Department?
Snowden predicted at the time that:
Science by press release allows fresh 'evidence' to spread worldwide, reaching the public and opinion-formers with immediate effect. By the time any awkward questions have been asked of it, the message has been sent and the media has moved on.
Sure enough, the Birmingham Mail obliges and sends fresh reams of misinformation gambolling out into the spring cyber fields.
Why now? Ah, this new 'danger alert' was triggered because of 'a report' that 'young Asian women' were smoking Shisha 'unaware' of the harm that 'they may be' doing to their unborn child.
Jacqui Kennedy, director of enforcement at Birmingham City Council, has completely bought the BBC line and said:
"World Health Organisation research shows that, in one hour, a water pipe smoker can inhale the equivalent amount of smoke as released by 100 cigarettes."
What does this crackdown on behalf of an allegedly pregnant Asian woman who 'may be' unaware of the 'risks' assuming they exist consist of: that is difficult to say, for the Shisha Bars are out of doors at the rear of pubs, clubs and on industrial estates so are not breaking the existing legislation, nor is it yet a crime to permit a pregnant woman to smoke, so what exactly is Our Jacquie, Chief Enforcement Officer going to crack down on?
Birmingham has 15 registered shisha premises – a five-fold increase since the smoking ban was introduced in 2007.
But there are believed to be many more illegal shisha bars and new premises have emerged in Bromsgrove and Walsall.
Aha, Unregistered Premises, not paying proper business rates, not nearly as good a story as 'danger to unborn children amongst Asian population' is it?