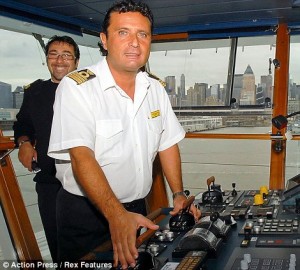 What exactly is it that predisposes some people to be heroes and some cowards? Is it the full panoply of 'little boys don't cry', 'trials of strength' and a suitable diet of 'boy's own heroes' that ensures little boys grow up to remember that they should stand on the deck of their ship until all the passengers have left?
It seems odd to me, that in these days of 'you are what you are born' – witness the relaxation of homosexual legislation, and the drive to ensure that adopted children can find their natural parents, that we should still cling onto the notion that little boys can be nurtured into 'real men' – prepared, in the words of Rudyard Kipling:
'To stand and be still
to the Birken'ead Drill,
Whilst all around them, other human beings – aka 'women and children' – are fleeing for their lives.
Women and children first is a noble tradition, and as a woman, and ex-child, one that I am dutifully in favour of; but I am not surprised that having made a catastrophic, and probably criminal, navigational decision, Captain Shettino of the Costa Concordia should have behaved in a manner that is now being universally described as 'Cowardice'. Very few people's failures to live up to job expectations are that public, even those soldiers who were shot for desertion or cowardice in the face of the enemy weren't subjected to the knee jerk commentary from every media monkey and social networker in the Western world.
We have some magnificent men and women in the armed forces, who are rightly fêted for their bravery – however, they have self selected for a role of daily facing death on behalf of others, I am not sure that the Captain of a cruise liner actually believes that he might be required to stand on the metaphorically burning deck and sacrifice himself.
In an ideal world, Captain Shettino wouldn't have 'fallen' into a lifeboat, wouldn't have needed to be castigated by the coastguard for deserting his post, wouldn't have run crying and wailing into the arms of the chaplain; I'm sure the families of those who have lost their lives are rightfully angry with him – but does it really befall the rest of us to complain that someone failed to be a hero?
If it does, had we better not reinstate 'hero values' in every schoolchild, male and female; train them not to cry, spank them when they misbehave, insist that they continue their task even when cold, wet, tired and dispirited, on the off-chance that we might expect them to be a hero one day?
We can't have it both ways. Particularly since I suspect that the reaction might not have been so extreme if Captain Shittino had been female – although I have no doubt in that case that the media would have been calling for a return of 'real men' as ship's captains!
How much of the, in particular, Italian social media reaction can be attributed to a lingering sense of disgrace regarding their behaviour during the Mussolini years, and the yoke of stale jokes hung around their neck ever since – pace 'The Italian Book of War Heroes', a useful source of blank pages on which to note the planting dates of your cabbage plants – and the feeling that Shattino had opened the door to another few decades of derision, is difficult to judge.
Is there even the slimmest evidence that the outcome of the disaster would have been affected one jot by his presence on board or not? On board but unconscious? Trapped somewhere and unfound? How about trapped and managed to release himself at the last moment, emerging triumphant as the last man to jump ship – might that have left him just facing the criminal charges of negligence over his original mistake, but without the unpleasant undertones of most of the hysterical coverage? ('Seen hours beforehand dining with a beautiful woman' is a personal favourite of mine – there would be outrage on any cruise ship if the tradition of the captain's table, which guests vie to attend and dress up in their finest, was not observed – for some it is the highlight of their holiday).
The man made a catastrophic decision which has taken many lives and ruined others – he should be judged for that, and convicted if guilty – but I have an uncomfortable feeling that we have appointed him an icon of another age, and that he will actually be tried for all manner of things – 'dining with a beautiful woman', 'emptying the safe' (I believe it is supposed to be the captains duty to do so if possible, and don't they normally carry a gun these days?) failing to uphold the tradition of the Birkenhead, being a weak and fallible creature who went into panic mode when the full enormity of what he had done hit him, and generally being a product of the modern age.
How do you train a man to be a hero these days?
January 22, 2012 at 17:18







January 22, 2012 at 12:47







January 22, 2012 at 09:12







January 21, 2012 at 23:16




January 21, 2012 at 22:56







January 21, 2012 at 22:41







January 22, 2012 at 15:39




January 21, 2012 at 22:36




January 21, 2012 at 21:27










January 21, 2012 at 21:02




January 21, 2012 at 20:05




January 21, 2012 at 19:29




January 21, 2012 at 18:13







January 21, 2012 at 17:20







January 21, 2012 at 18:57




January 21, 2012 at 16:05




January 21, 2012 at 15:51




January 21, 2012 at 15:36







January 21, 2012 at 15:30










January 21, 2012 at 14:45







January 21, 2012 at 13:01







January 21, 2012 at 14:46










January 21, 2012 at 21:53




January 21, 2012 at 22:06




January 21, 2012 at 23:12










January 22, 2012 at 01:40







January 23, 2012 at 16:45










January 24, 2012 at 15:01




January 25, 2012 at 19:53







January 27, 2012 at 09:35







January 23, 2012 at 16:58










January 27, 2012 at 14:02







January 22, 2012 at 10:30







January 22, 2012 at 10:34







January 23, 2012 at 11:29







January 21, 2012 at 13:08




January 21, 2012 at 12:46