(No) Caution! Police at Work!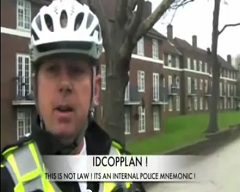 We all support the police. Don't we? I mean you do, don't you?
In fact it depends. I would happily still throttle the pair who seemed to think they were Starsky and Hutch and who tried to "book" an 18 year old novice monk Gildas for obstructing the traffic when his first, and somewhat dodgy, jalopy broke down in a violent thunderstorm (water in the electrics), as well as the bumptious little git who threatened to book me stopping on a zig zag when I had pulled over to ask him for directions a few months ago. On the other hand, to the smart female PC who let me off a naughty but completely innocent motoring offence and gave me a serious talking to and a practical lesser penalty on the spot, "fair play", as our footballers would have it. If a riot kicks off I shall be in the fight to help her out, should it be necessary. Or at least make the tea whilst she does the fighting.
It is interesting, by the way, how all these are incidents all motor car related – surely the most common way in which the boys and girls in blue get to interact with usually law abiding Joe Public.
So when a slightly bumptious Plod who doesn't really know his job gets it all wrong, well I can't help but smile a bit. This is what happened when one PC Stout (oh yes!) met a smart arsed barrack room lawyer cyclist who had – allegedly – just run a red light. The video seems to have been around for a while, but for some reason has popped up in various parts of the press in the past couple of days, and was drawn to my attention on Radio 2 today. The cyclist was wearing a head cam, of course. Now, running a red light is no laughing matter and can be dangerous for both cyclists and pedestrians. But I as I say I couldn't resist as smile as the somewhat bemused constable gets it all so spectacularly wrong.
I apologise for the dramatic and tendentious graphics, by the way. It is not my video. And it is quite possible that many will find the cyclist an annoying little prick. In fact rather than some great State sponsored conspiracy we have a constable way out of depth. But on a serious note, some may say that is almost as worrying.
Now, not that I am an expert in criminal procedure, but having done a bit of asking around, here are some of what I believe are the mistakes:
"ID COPPLAN" which the policeman refers to as justifying a power of arrest is not a law at all. It is a guidance code which helps officers to decide whether to make an arrest or not.
Being unnecessarily aggressive is not helpful. Calm authority and listening to what Joe Public has to say before making a decision is.
The constable failed to issue a caution before he spoke to the cyclist. As I understand it under PACE (the Police and Criminal Evidence Act 1984 and associated Codes of Practice), whilst there is no actual requirement that an interview before actual arrest must be conducted under caution, although once arrested a caution is mandatory. However, if it was in the policeman's mind that he was intending or considering issuing a penalty then my understanding is that he should have done so as a rule of best practice in the form prescribed by stature: "You do not have to say anything. But it may harm your defence if you do not mention something which you later rely on in court. Anything you do say may be given in evidence."So the cyclist was right; he did not have to answer the questions about the offence at all. Certainly once that issue was raised by the cyclist the constable should have "read him his rights". And told him what the position was. He didn't seem to know.
He is a cyclist not a motorist. He does not have any documents to produce. "Sigh".
What the policeman should have said is: Alright, SIR (*sneer*) I want to issue you or may want to issue you with a summons for busting the red light and ask for a name and address. If he failed to provide a name and address he could then be arrested under section 24 or 25 of PACE (I am not sure which but I am sure our dear readers will clarify). The policeman seems to grope towards this, but in much the same way as I grope towards my shopping list when I have left it at home and I am in the supermarket two days later, i.e. incompetently. Er carrots….no…er….?
Suspects are entitled to record an interview just as much as the police are required to at the police station. He has no right to manhandle the camera or the suspect. If a policeman approaches me and says that he wants to speak to me there is no law which says that I am not perfectly entitled to keep my camera helmet on, or indeed say: Yes, officer, but I wish to record this interview for my own protection and his. I do not see any reason why the policeman can arrest me for the short delay whilst I get my camera phone out start recorded. They record – you can record.
He has not arrested the cyclist at that stage when he goes for the camera. He is not entitled to touch him and restrain him unless he had stated that he was arresting him, or in self defence, or to prevent a crime. "The merest touching is a battery", as the phrase of the common law goes. That was an unlawful act and an assault.
It seems inexperienced and not too bright policemen are being let out without the faintest idea of what the basic law is. The cyclist may have been an annoying little sod, but he has his rights. All in all, if policemen are going to stop and threaten to hand out penalties it might be useful if they know what they are doing and don't get upset if Joe Public asks broadly the right questions. Who is training these people? How? If they do not know this then what other mistakes will they make?
I bet he had been on all sorts of PC race and gender awareness courses. Pity no one told him how to deal with a smart arse and what his lawful powers were.
On a lighter note, however, it did remind me of one of the great scenes from Monty Python and the Holy Grail. Can you guess which one…?.
Here is a clue:
"Shut up! Shut up! Bloody peasant!"
"Argh! Come and see the violence inherent in the system!"
Gildas the Monk
January 20, 2012 at 15:15










January 24, 2012 at 23:20




January 20, 2012 at 07:41




January 19, 2012 at 18:06




January 19, 2012 at 11:42







January 19, 2012 at 14:06










January 19, 2012 at 19:38










January 20, 2012 at 07:59




January 19, 2012 at 11:31







January 19, 2012 at 11:47




January 19, 2012 at 12:23




January 19, 2012 at 15:14







January 23, 2012 at 13:22







January 23, 2012 at 14:09




January 19, 2012 at 11:21