More comebacks than Liberace.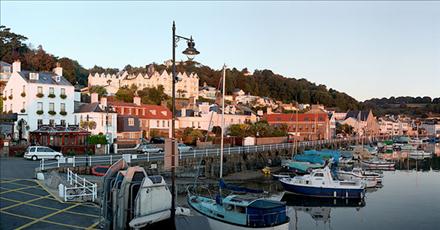 Ms Raccoon is amongst you once more – and has enjoyed a perfectly splendid time in Jersey.
Arriving on the late night ferry from St Malo, tired and dishevelled, disorientated, driving on the wrong side of the road, amongst people who spoke a strange language, I discovered that the excellent B & B whence I had previously resided was bally well closed. A neon glow in the West appeared to be the only sign of human habitation. Applying myself to the door of said hostelry I demanded a bed for the night – they quoted me a quite ridiculous figure that the advertising on this site couldn't possibly support. I quickly calculated a figure slightly lower than the modest sum the firmly closed B & B would have charged me for the week and grandly informed them that there was no possibility of me parting with anything in excess of that sum. They agreed to host me for said pittance, a little too quickly I thought, and it was with some trepidation that we mounted the dimly lit stairs to what we hoped was at least a horizontal surface – we could always book out in the morning.
I explain that for I would not want you to think that you provided me with the means to lay my head in the bridal suite of what proved to be one of the best hotels on the island. Utterly fantastic. What I believe they call a 'boutique hotel', by which I mean that they had dispensed with the candlewick bedspreads, and replaced them with hand stitched (by some Chinese peasant) gold and brown satin coverlets; they had further appeared to cover the walls with the remnants of someones suede coat. I jest. It was a fabulous room, with a superb view over the harbour at St Aubins. The next morning we explored further and discovered our temporary home boasted three excellent restaurants, a proper bar, all beams and granite walls – and a collection of staff that could not have been improved upon.
We have wanted for nothing, waited on hand and foot, fed the finest food, and yes, they did keep to the deal I had so truculently struck with them! Just goes to show that cheek does pay off – we had managed to catch them between an exceptionally busy Christmas and an equally busy late January. The weather has been wonderful – and yes, there was free wi-fi available, and I did have my iPad with me – but be fair, under the circumstances, would you have given you lot a second thought? No matter, I didn't.
I have been in seventh heaven, just listening to bar room banter, munching my way through a full English breakfast every morning, bacon, sausages, everything, (there is a God); strolling round the harbour to buy the English papers on the same day they are published, all manner of luxuries. I do recommend it if you have reason to visit Jersey, everything about the Old Court House is quintessentially 'English' – though they would probably be offended by that description – but for an ex-patriot who had decided to award herself a week in Jersey to celebrate having survived six months of the French health system, it was totally perfect.
Tomorrow I shall get my head around Moribund Milliband and Calamity Cameron, but after a long drive back to the Dordogne, I am going to lay my head on my infinitely inferior pillow and imagine that I can hear the tide coming in again and releasing the million pound yachts from their sandy moorings….
An unashamed plug – they deserve it!



January 16, 2012 at 21:55




January 16, 2012 at 20:57







January 16, 2012 at 19:41







January 16, 2012 at 19:19







January 16, 2012 at 18:30




January 16, 2012 at 17:51




January 16, 2012 at 16:52




January 16, 2012 at 16:52