Exploding Tits and Titter Ye Not.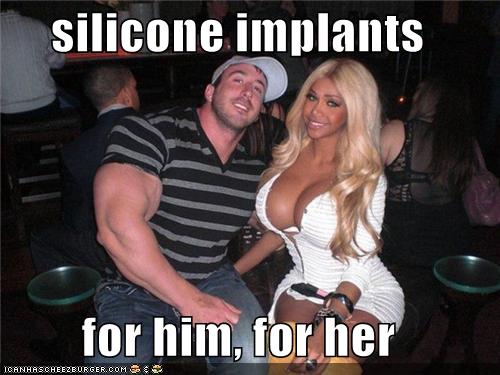 The nit-picking over tit-nicking and who should pay for it continues.
Now it has been revealed that Bluestar International had supplied industrial grade silicon to PIP from its Rhodorsil range which was meant for making tyres. France's RTL Radio obtained a breakdown of the materials used in the faulty implants, including Baysilone, Silopren and Rhodorsil, all of which are industrial products not tested or approved for clinical use.
Between 300,000 and 400,000 women in 65 countries from Europe to Latin America are now in uproar over the news that they have willingly, if unwittingly, submitted to invasive surgery to implant a 'spare tyre' in their chest – many of them will have had surgery to remove the spare tyre from around their waist as well. It's a crazy world, but before you assume that it is an entirely female world – PIP used the same material to make male chest and testicle implants as well…
The media have concentrated on the difference between the French and the British health authority reactions. The French have recommended that all implants be removed. The British are loudly complaining that they have to pay to have their implants replaced. Did you notice that? The difference between removed and replaced?
The French have no more plans to replace all silicone implants at governmental expense than the British government do. Lets have a few facts and figures to fill out the news reports shall we? Fact implants to augment the flat chested media, if you will.
50,000 British women a year decide that having any grade of silicone implanted in their breast is a good idea – despite the long standing medical fears about this. 20,000 of these women fly to clinics abroad in order to lessen the cost.
A mere 3,000 women every year comprise the group that one might have some sympathy with – those who have reconstructive surgery after a mastectomy for breast cancer. These women will already be being closely monitored by the NHS for any problems occurring in the breast area – that's what happens after you have breast cancer. I can say with some feeling that worrying about what you look like is possibly the last thing on your mind if you have been lucky enough to get a stay of execution where cancer is concerned – but if these women have been persuaded by the NHS and society in general that the final icing on the recovery cake is to have yet another operation – and more in the future – to have a lump of silicone implanted in place of nature's bounty, then so be it. They deserve to have it removed and replaced by the NHS – if it is causing problems.
That still leaves 48 thousand women who have had this operation – and look forward to more in the future – for purely cosmetic reasons. You noticed that I said 'and more in the future' – that is because all silicone implants require replacing. So I have little sympathy with the 'facing further invasive surgery' argument – they already were. Reuters reports that silicone breast implants have to be replaced numerous times throughout a person's lifetime, which involves subsequent surgeries that are far more complex and high-risk than the initial one. And besides the high costs associated with this residual maintenance, each surgery carries with it additional health risks, such as increased inflammation and serious infection.
Some of the horror stories detailed to the press defy belief.
Mother-of-two Sarah House has been left unable to sleep and suffering a never-ending 'nightmare' after she found out a faulty implant had ruptured.
Poor woman, but what did she do? Despite being 'uanble to sleep' and 'suffering a never ending nightmare' – she rushed back to her surgeon and had another two (I assume it was two) lumps of silicone implanted in her. It cost her £7,500, (just before Christmas for added pathos).
Having always felt self-conscious about her small bust, Catherine Kydd paid £4,000 to have her size increased from 32A to 34C in 2004.
Yep, despite a family history of breast cancer (made more difficult to detect by the presence of implants), despite her implant having ruptured, she too, rushed back to the surgeon and persuaded him to put in another two lumps of silicone.
So for these women, it is not about having the implants removed, as per the French advice, but about having them replaced so that they can continue to have a foreign substance in their body without worrying about it. The NHS will still remove free of charge any implant which has ruptured – as they will perform lung surgery or liver transplants for those who willingly risk damaging their health by smoking or drinking – but they don't provide lung transplants for smokers 'because they have been warned of the risk of lung cancer if they continue to smoke' and are having sleepless nights over it.
Silicone implants were banned in the USA as long ago as 1992, although they are now available again, albeit in a slightly different form, there remain grave concerns regarding the advisability of having any elective surgery, or any foreign body implanted in you – anyone claiming to have researched this area before going ahead with surgery obviously needs some lessons on how to use Google.



January 8, 2012 at 10:15










January 8, 2012 at 19:51







January 10, 2012 at 23:53







January 7, 2012 at 11:09




January 7, 2012 at 09:40




January 7, 2012 at 01:01







January 9, 2012 at 12:13




January 7, 2012 at 00:06







January 9, 2012 at 12:06







January 6, 2012 at 22:11







January 6, 2012 at 19:30




January 6, 2012 at 18:13







January 6, 2012 at 19:32







January 6, 2012 at 20:12










January 6, 2012 at 22:23




January 6, 2012 at 17:29




January 6, 2012 at 16:31




January 6, 2012 at 14:05







January 6, 2012 at 14:14







January 7, 2012 at 20:39




January 6, 2012 at 13:53










January 6, 2012 at 13:25




January 6, 2012 at 13:23







January 6, 2012 at 13:41







January 6, 2012 at 14:11










January 6, 2012 at 15:29










January 6, 2012 at 18:51




January 6, 2012 at 13:00







January 6, 2012 at 12:49







January 6, 2012 at 12:47







January 6, 2012 at 12:51







January 6, 2012 at 14:07










January 6, 2012 at 14:55




January 6, 2012 at 14:26







January 6, 2012 at 16:47







January 6, 2012 at 20:02










January 8, 2012 at 22:43