A – you're adorable… An alphabetical review of 2011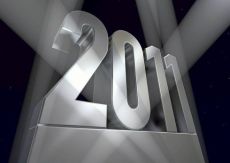 An alphabetical review of 2011
A is for Arab Spring, Aiden Burley, Adele, Aflocalypse and Azerbaijan
The wind of change whirls around the Arab world in Tunisia, Egypt, Syria and Libya but is democracy going to take root or is it a scoring opportunity for a new tyranny of radical Islam?
Adele becomes one of the world's most successful and acclaimed vocal artists with her latest Album "21" selling millions and topping the charts across the world, but finishes the year on a quieter note as she contemplates an operation on her vocal chords because the strain of her raw and gutsy singing has caused damage. Let's hope that works out. Latest news is that it will.
Amanda "Foxy" Knox was cleared of murder by an Italian justice system which appears to have been organised by a committee of crazed baboons high on smack.
In January tens of thousands of dead devil crabs were washed up on the Kent coast and seemed to be part of the "Aflocalypse" phenomenon saw thousands of birds falling dead from the sky in the US, Sweden and Italy.
On a less serious note, no year would be complete without a "Tory MP Dresses Up As A Nazi/Golliwog/Black and White Minstrel" affair, and Aiden Burley duly obliged. Thanks, Aiden.
Azerbaijan wins the Eurovision song contest with the catchy ditty "Boom bang-a-Borat." I made the title up, obviously. Not the rest.
B is for Broken Europe, Berlusconi, Bunnies and Bankers
Europe continues its calm and peaceful progress to 1000 years of Nirvana under the rule of a faceless Super State run by people we have never voted for, by almost falling apart. And speaking of which…
Silvio Berlusconi's dignified corruption and scandal free reign as Italian premier is sadly brought to an end thus allowing him more time to shag 17 year old prostitutes. Bunga Bunga! Speaking of which….
Bunnies return as the Playboy Club re-opens in London. Germaine Greer is not invited to the opening night party. Some people were, such as….
Bankers. They are still out there, still bleeding us and still taking the bonuses. B is also for "bastards". C is for Christopher Hitchens, Conrad Murray and Charlie Sheen.
Ardent atheist, polemicist, wit and orator Christopher Hitchens dies after a long and brave battle against cancer. I hope St Christopher gently pulled his leg before opening the Pearly Gates wide.
Michael Jackson's personal doctor Conrad Murray is convicted of manslaughter for allowing the weird singer to self administer enough tranquilliser to stop a charging rhino.
Charlie Sheen is sacked from US comedy "Two and a Half Men" and responds with a multi-million dollar lawsuit, and later receives a multi-million pound settlement. He continues to tweet erratically.
D is for Dale Farm, "Doors to Manual" and Dominique Strauss-Khan
Some contend that the God fearing, hard working, law abiding and tax paying free peoples of Dale Farm faced a wave of ethnic cleansing by the racist and fascist Basildon Council. And that hundreds die in specially constructed death camps and little children die of starvation. Others prefer to think that the law should apply to everyone and there was a costly victory for principal.
Kate Middleton's mum, derided as "Doors to Manual" by some for her relatively humble background as cabin crew, achieves the ultimate "F*** you" moment as she sees her daughter marry the future king in the wedding of the century.
Dominique Strauss-Kahn helps Franco-USA relations by being involved in a rape allegation by a New York chamber made. At home he bolsters the reputation of French banking sector with endless allegations of sleazy and possibly illegal infidelity. And these people run things…? And we let them….
E is for Euro zone, Ed Balls, Elizabeth Sladen and Earthquakes
The Euro zone creaks mightily like some vast and towering scaffolding steel edifice which has been glued together with a rather sub standard batch of blue tack. In a very high wind. And when it collapses it is apparently going to take all of us down with it. Deep joy for the New Year.
Ed Balls continues to be the nastiest bully in British politics. The man jointly responsible for massive overspending and calamitous government debt is unable to conduct one interview where he is challenged about this without trying to threaten the interviewer. He continues to make his witty "flat line" gesture at every opportunity and glare like a fanatic on speed. Elizabeth Sladen, who played Dr Who's assistant Sarah Jane and my first crush sadly passed away.
E is also for earthquakes, as sadly both Japan and New Zealand are hit. In New Zealand an earthquake devastated parts of Christchurch in February leaving nearly 200 dead. In Japan an earthquake and the subsequent Tsunami killed perhaps 16,000, and…
F is for Fukushima
The Japanese nuclear power plant crippled by the Tsunami at one point threatened to go into melt down, and there are acts of incredible selfless bravery as workers go in the face of radiation leaks.
H is for Hacking, Higgs Boson and HP7G
Phone hacking dominated and continues to dominate the news, with endless hand ringing in front of the Commons Home Affairs Select Committee and the Leveson Inquiry.
Scientists at CERN continue to search for a particle which apparently must exist, otherwise everything else can't and the Universe collapses. It is having none of it, but does set up a Twitter Account (@HiggsBoson2011).
The Harry Potter films finally concluding with Harry Potter and the Deathly Hallows Part 2, or "HP7B" as it is known to devotees of Radio 5 Live's Mayo and Kermode film review show. Where have the years gone? Watching the young stars was a bit like seeing the children go off to university, all grown up now. *Gulp*.
I is for Iraq and Iran
The last American combat troops leave a stable sovereign democracy. Not. Sunni and Shia may well melt down in civil war. Car bombs explode. The baleful influence of Iran continues and it continues its search for nuclear weapons. If not Apocalypse Now, then Apocalypse When?
J is for Jimmy Saville.
The strangely warbling and eccentric DJ and fanatical runner passes away and lies in state at the Queen's Hotel, Leeds. It was actually one of Leeds' more spectacular days. He is then buried and his coffin is rumoured to have been set in concrete to prevent looters and grave robbers. Such is Leeds.
K is for Kate, Kim Jong Il and Kepler 20B
"Waitey Katie" finally gets her man and marries her prince charming in a ceremony which was everything about Britain at its best. She then goes on to be a style icon with effortless ease and a dazzling smile. But millions of women the world over cry with one voice: please Kate, don't get any thinner! Kim Jong Il, Dear Leader, crazed dictator and world's greatest golfer (with a round of 38 at his first go) becomes Kim Jong Dead. The crazy world of North Korea remains a mysterious unpredictable and vile place.
Scientists discover Kepler, a planet 600 light years away, and identify it as the first planet which could be orbiting in a zone which might sustain life. The first spam e-mails and junk mail are arriving there about now.
L is for Libya and Liam Fox.
iDave turns the Royal Air Force into the Rebel Air Force and with the help of completely bending an UN Resolution out of shape bombs Gaddafi out of power and in to the hands of a mob who promptly shoot him dead. And one of his sons for good order. Score one for Yvonne Fletcher, I'd say.
Ironically Defence Secretary Liam Fox then falls from grace in a strange débâcle involving his best man Adam Werritty who seemed to be around rather a lot, especially on official trips. Which is odd because he was not an official at all, and no one seems to know how this was all being paid for or why he was handing out business cards saying he was. Dark rumours spread. I bet Liam pines for the days when he was rumoured to be getting it on with Natalie Imbruglia.
M is for Manchester City, Merkozy, and McFly
Manchester City become Manchester United's very noisy neighbours. With the aid of almost unlimited financial resources of the Abu Dhabi ruling family behind them they adopt the pragmatic tactic of simply buying all the best players in the world, and even thump Manchester United 6-1 away.
In the Euro Zone the unnatural bonding of a German Chancellor and a French President produced a beast called a "Merkozy". One wonder how long before it orders its combined armed forces to invade somewhere, but then to stop for casual sex, a cigarette and a really good lunch.
McFly (some sort of pop group that prepubescent girls like) dominate the world when one wins "King of The Jungle" and Harry justly wins Strictly Come Dancing, despite the bouncing ball of theatre school trained energy that is Chelsee Healy. Yes, I did spell that right and yes, she is as common as you would imagine. Sweet though.
N is for News of the World.
Back to the phone hacking scandal. At a time of global recession and geopolitical re-alignment as China is called on to bail out Europe every waking minute of every news program appears to be dominated by what grubby Fleet Street hacks and their pet private detectives have been up to. In an effort to placate the mob the Murdochs offer the ultimate sacrifice by closing down the paper and thus putting lots of staff who have done nothing wrong on the dole as the seedy but great British Institution is shut down.
O is for Oliver Letwin, Olympic clock, Occupy Everything and Osama Bin Laden
Oliver Letwin takes to tidying his office by dumping letters from his constituents in a park bin.
The Olympic Clock presages the likely efficiency of the forthcoming London Games by promptly breaking down And won't we all just love those Soviet Style special lanes reserved for the rather sinister sounding "Olympic Family"?
Around the world scruffy posh and muddled people with nothing to do protest about the capitalism that made them rich by dressing up as peasants and camping out in rather irritating places, such as in front of St Paul's. They are unclear about what they want but do seem to spend a lot of time holding anarchic-syndicalist debates in Starbucks. Which is sort of ironic….
Meanwhile it was not a good year for Osama Bin Laden. The world's most wanted man had been living in a villa in Pakistan until he was found and promptly given a very bad headache by US Special Forces. State sponsored murder or just act of war? You decide. P is for Pikeys and Pippa's Bottom
As for our Travelling Friends, enough said. See also Dale Farm.
Meanwhile the real star of the Royal Wedding was Pippa Middleton's bottom which excited world wide attention, as well as Prince Harry's (allegedly). Go Harry! Pippa's Bottom is now going on world tour and is likely to opening a supermarket near you soon.
Q is for Quantitative Easing.
Clever, eh? As the economy "flat lines" (*yawn*) the Government responds with the brilliant tactic of printing money. Well, it worked for the Weimar Republic……
R is for Ryan Giggs, Riots, Rihanna and Rebecca Brookes
Footballer Ryan Giggs was awarded BBC Sports' Personality of the Year in 2010, but this year proved he was much more interesting than we thought as it turns out he has been having a long affair with Big Brother contestant Imogen Thomas and is accused by the now defunct News of the Screws of also having an affair with his sister-in-law. He shoots, he scores!
Riots return to the British streets in a big way as first Tottenham then everywhere else goes up in flames. The poor oppressed underclass pour out onto the streets and rage against capitalism by nicking every pair of trainers and wide screen TV they can lay their hands on. The British justice system goes into true reactionary mode by locking up petulant teenagers who have nicked a bottle of water for 4 years. Meanwhile, no bankers are charged.
Lady Gaga still rules my heart, and earns most bucks, but pop star Diva of the year is the bootilicious "Rhi Rhi" who is present in some form or other in every other record being released. Each of these songs involved a pounding beat with a chorus but no verse and a video on which she displays her admittedly long legs. Even Cheryl Cole names her as her girl crush. Now there's a thought gentlemen….. However when she is filming in Northern Ireland a farmer tells her to put her top back on.
Back to phone hacking *sigh*. Rebecca Brookes is hauled up in front of the Commons Home Affairs Select Committee. I would just like to say that she has piles of red hair and big doe eyes and is accordingly INNOCENT OF EVERYTHING, OK! R is also for redheads. S is for Southern Cross, Stephan Lawrence, Sirte, Socrates and Super Injunctions
Southern Cross collapsed and highlighted the epic and scandalous lack of thought and care which is directed to the care of the elderly in the UK.
The Stephen Lawrence case continues. The jury is out. Literally.
Sirte was the Libyan city where Gaddafi made his last stand, and ended up hiding in a culvert before being given rough and instant justice.
Socrates. Not the pre-eminent and seminal Greek thinker, but a much greater figure namely the captain of the Brazilian 1982 World Cup side, the greatest side never to win the World Cup. He did not run but simply strode around the pitch like a colossus. A trained doctor, he lead a playboy devil may care life and drank and smoked himself into an early grave aged 57.
Super injunctions were every celeb and footballers accoutrement of choice, but ultimately appear to be being rendered useless by the marvel of social media. One hopes….
T is for TOWIE, Teletebbie Hat, and Tulisa
TOWIE is a television programme called "The Only Way Is Essex". It is called a "structured reality" programme. It is about people whom I believe are called "chavs". It is immensely popular. You will be pleased to know I have never seen it.
At Will and Kate's amazingly stylish wedding Princess Beatrice wears a bizarre hat that makes her look even more like a teletubbie. It is later sold on e-bay for thousands.
Tulisa from NDUBZ (it's an urban band) replaces Woar Chezza on X Factor and is destined for great things, including World Domination.
Utoya
Utoya is transformed from a peaceful Norwegian island into a slaughterhouse by crazy proto fascist Anders Breivik. Scores of teenagers are cut down and in combination with attacks in Oslo 77 die. Tragic.
V is for Veto
iDave picks a fight with Merkozy (see above) as he declines to sign up to a new EU Treaty. This seems to go down well at home, and badly with the Merkozy Monster.
W is for Wendi Deng, Witches and World Cup
Meanwhile back at the Commons Home Affairs Committee (yawn) an oafish idiot going by the handle of "Johnny Marbles" (Jonathan May-Bowles) tried to stick a custard pie on Rupert Murdoch. To the rescue comes Tiger Wife Wendi Deng Murdoch who dishes up a smashing right hand, and May-Bowles gets six weeks. Crouching Wendi, Stupid Marbles!
Meanwhile witches in Romania place a curse on the government for taxing their profession.
Meanwhile England have a horrible Rugby World Cup with great drinking and dwarf throwing but dull play. New Zealand win in an emotional final.
X is for X factor
Because nothing else begins with X. But it did sort of flop in the USA, which is a good thing. Z is for Zara Philips
HRH's feisty and some would say pulchritudinous granddaughter gets married to rugby hunk Mike Tindall. He celebrates by going to the World Cup with England, getting off his face, sticking his head down some blonde's cleavage and dwarf tossing. Allegedly.
And that's it!
G the M
December 31, 2011 at 22:21




December 31, 2011 at 22:10










December 31, 2011 at 22:08




December 31, 2011 at 14:34







December 31, 2011 at 13:37




December 31, 2011 at 11:48







January 1, 2012 at 10:29




December 31, 2011 at 11:00







December 31, 2011 at 10:55







December 31, 2011 at 10:14




December 31, 2011 at 08:34







December 30, 2011 at 22:49







December 31, 2011 at 11:44










January 2, 2012 at 14:04