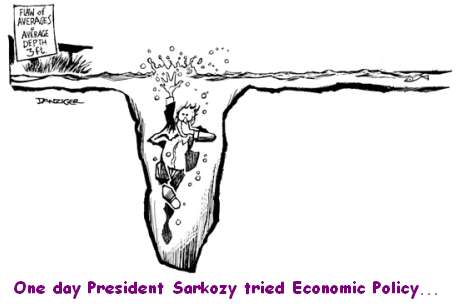 For the last couple of days President Sarkozy has been looking slightly like a 1.65 metre man standing at the bottom of a 1.75 metre puddle having a rhetorical go at the old enemy, but blowing a lot of bubbles instead.
I want to suggest that, rather than responding with scorn, amusement or hostility, we should try compassion, and I have a suggestion.
Mr Sarkozy's problem is that the markets don't trust France to repay its debts as much as previously, so the interest rates have gone up … and up and up.
And the interest rates which the French Government have to pay have become much higher than those required of the UK.
The Chancellor of the Exchequer Mr Osborne has a scheme to help small businesses borrow money at more competitive rates:
The biggest new policy is a £40bn "credit easing" scheme to make it simpler to underwrite bank loans to small firms.
Small businesses with an annual turnover of less than £50m qualify for the scheme.
Mr Osborne says it will cut the average interest rate for those firms by 1%.
Is it too much to suggest that this scheme be extended to the help of France, and the UK use our greater creditworthiness to borrow money to lend on to France, at a modest additional margin, thereby helping both countries?
Perhaps we could split the difference, and lend to France at 2.5%.
What say you, Mr Sarkozy?
Angevin Empire Mark 2, here we come?
I'm sure someone will come up with a good reason why we shouldn't do it, but just this once …?
December 20, 2011 at 13:59







December 19, 2011 at 15:28







December 19, 2011 at 16:30










December 19, 2011 at 17:39




December 19, 2011 at 10:06







December 19, 2011 at 00:48







December 18, 2011 at 12:23




December 17, 2011 at 20:05




December 17, 2011 at 19:59







December 17, 2011 at 17:05




December 17, 2011 at 15:44




December 17, 2011 at 15:13







December 17, 2011 at 18:37










December 18, 2011 at 09:29




December 17, 2011 at 14:54










December 17, 2011 at 14:27










December 17, 2011 at 14:27




December 17, 2011 at 16:03

December 17, 2011 at 13:50










December 17, 2011 at 15:47







December 20, 2011 at
11:33