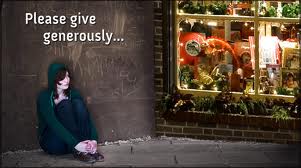 It must be Christmas – guilt inducing adverts and press releases have increased dramatically.
In between Fedosi starving in the arms of her well fed Mother, (only £2 a month) and saving Ayesha from marrying at an age which would not be legal in the UK (quite expensive) and Sanaa, paraded hourly in all her hare-lipped glory for us to recoil from and reach for our cheque books, we learn this morning that we, and our reluctance to dig deep, are the sole reason that 'Ben and Matt' are homeless and are likely to die at a mere 47 years old.
'Ben', 25 years old and begging on the streets of London 'lost' his family. We are not told how, though I suspect if it was through accident rather than negligence we would have been treated to the full details. It is only the 'loss' of his family that resulted in Ben begging for handouts in a street doorway. We can put this right, we can be Ben's family and put a roof over his head. Are we not a community? Are we not duty bound to step in where Ben's family have so miserably failed to support this fine young man at sucgh a tender age? Hmmn.
Then there is 'Matt'. 'Matt' lost his council accommodation. Misplaced? Put somewhere safe and couldn't remember where it was? Was there no friend to help him search for it again? I presume, though we are not told, that Matt also managed to 'lose' the wife and children that had enabled him to qualify for council accommodation in the first place – have we not just been told that social housing is not available for the single man? No matter, it is not Matt's responsibility, at Christmas it is ours to give generously and put a roof over Matt's head.
Leslie Morphy, chief executive of Crisis, said: "It is shocking … homeless people are dying much younger than the general population. Life on the streets is harsh and the stress of being homeless is clearly taking its toll. This report paints a bleak picture of the consequences homelessness has on people's health and wellbeing. Ultimately, it shows that homelessness is killing people."
Killing people? I must give money quickly. What does Crisis do with my money?
Three young ladies trip down the road, part of the army of 10,000 volunteers, to give Matt and Ben a sandwich each and a cup of tea. They even have to assist in unwrapping the sandwich for them…no, Ben and Matt are not one armed service veterans, it's just that they are both chain smoking and obviously can't be expected to put down the cigarette they prioritised over food in order to unwrap our generosity. Perhaps there is another Charity that provides cigarettes for the homeless. As a smoker myself, I'd be glad of the address if you know it. I've always had to buy food ahead of cigarettes in order to keep myself alive to work for the cigarettes.
Before I reached for my cheque book to give Matt and Ben what they deserve – how could I think of feeding myself when these poor mites were sleeping in shop doorways and likely to die at 47? – I took a look at Crisis at Christmas to see what they had done with the 14 million quid we gave them last year…..
First of all they had to give 2 million quid back to David Gilmour. You know, the rock star, sold his house in Holland Park and gave all the money to Shelter, famous for helping the homeless, yes, him. That wasn't the sum total of what he had given Crisis, it was the amount they had agreed to give back because they never did get round to building the shelter in the Elephant and Castle that Matt and Ben could have lain their weary heads in. That must have been an interesting negotiation. I wonder if I can get my tenner back?
Then they gave 5.3 million quid to the army of 'fundraisers', all those people who host art gallery openings and balls in London hotels and the like.
They gave 233 homeless people £2,500 each to change their lives. Unfortunately they don't know what they did with it, because the 14 million quid we gave them didn't stretch to figuring out what happens when you give a person of no fixed abode 2,500 quid to change his life…..no really, I am not making it up, its all there in the accounts.
Crisis Changing Lives programme continued to grow, with 233 grants of up to £2,500 awarded to homeless people across the UK. totalling £220,000 We awarded 18 more Crisis Changing Lives grants than our target and average awards were higher than anticipated. The number of people we know of who progressed into paid employment was significantly below our target as unfortunately limited resources didn't allow us to chase up the outcomes of all previous grant recipients.
It's not all doom and gloom though – one of the previous years recipients of 2,500 quid grew wheatgrass with it…
We were delighted, however, to learn that a previous award recipient – Brian Chamberlin – has now won contracts to supply his wheatgrass to major high street chain Lush.
Did they use the money to put a roof over anybody's head though? Well, yes, with a little help from their friends at Dolphin Square…
Crisis, in partnership with the Dolphin Square Foundation, also directly funds and supports Westminster SmartMove. This helped 60 homeless people to move into their own accommodation.
I make that around £100,000 a head – perhaps they could have found cheaper accommodation outside London, after all, Ben mislaid his family somewhere in Birmingham, he doesn't have any ties in London other than that shop doorway.
They did spend a lot of time and money 'empire building' running training courses, teaching local authorities how to put a roof over someone's head, and lobbying MPs for more funds.
This year we expanded our national advisory service in partnership with the Department of Communities and Local Government and the Scottish Government, assisting local authorities and voluntary sector agencies to develop new services to help homeless people find and keep a home in the private rented sector (PRS).
They spend a huge proportion of their income working 'in partnership' with local authorities providing 'education' and 'support' to people who haven't worked for years. A noble aim – but aren't there already a number of commercial companies getting a 'bounty' for getting people back into work? Fair play to them, they managed to help 195 people to get a job. This includes, according to their accounts:
People from the 10 countries of Eastern Europe that joined the European Union since 2004 have unfortunately formed a growing proportion of the homeless population when their employment has ended or work did not materialise in the first place. The majority of them still want to work and with funding from the Oak Foundation Crisis established a specialist programme. We have met with 128 clients and supported 58 of these into employment.
Oh dear, sympathy is running very low – I started off feeling totally guilty thanks to their press release about Matt and Ben sleeping in a doorway and now find that I'm donating money to get Polish plumbers back in work, and pay society hostesses for inviting their friends round for a shindig, and giving Charlie Gilmour's Dad his money back …
And this isn't even a 'fake charity'. It'll have to be Sanaa's hare lip then, at least I can feel decently guilty about that.
January 13, 2012 at 16:28




December 26, 2011 at 10:05









December 22, 2011 at 19:03




December 22, 2011 at 09:33




December 22, 2011 at 00:00







December 21, 2011 at 19:17







December 21, 2011 at 18:19







December 21, 2011 at 18:53




December 21, 2011 at 13:01







December 21, 2011 at 18:13







December 22, 2011 at
11:43





December 22, 2011 at
15:43


December 21, 2011 at 12:36







December 21, 2011 at 11:05